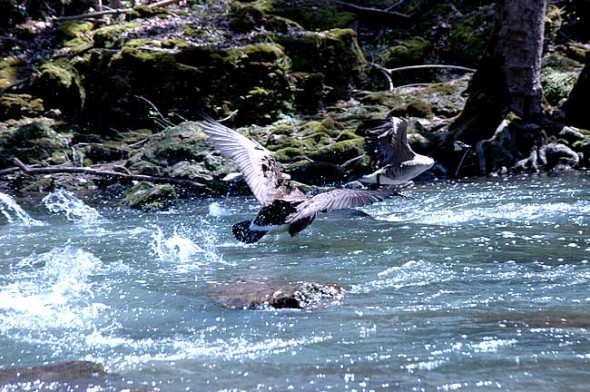 This Canadian goose couple was protecting its tiny stretch of the Little Miami along the bottom of the Clifton Gorge on Friday afternoon, and after chasing off an interloper, settled down to clean and preen. (Photo by Lauren Heaton)
YSI receives Third Frontier grant
YSI Incorporated is one of six statewide projects recently funded by the Ohio Department of Development's Third Frontier grant, which seeks to spur economic development in Ohio, YSI leaders found out recently.
"This is pretty exciting. If it all comes together the way we planned, it will be significant for the company," YSI Incorporated CEO Rick Omlor said in an interview Monday.
YSI, in collaboration with the University of Cincinnati and Riehl Engineering, will receive a $1.1 million grant, which was the largest grant awarded in the program. Altogether, $4.9 million was awarded.
YSI received the grant for a project that has been underway for about a year, according to Omlor. The project is the development of an advanced nutrient sensor that will enable the monitoring of nitrate, which is a major pollutant associated with fertilizers and wastewater.
While it's too soon to tell exactly how the grant will affect YSI, company leaders believe that there is a significant market for the nitrate sensor, according to Omlor, who said if all goes well, the company should see some expansion within a year or two.
For more details, see the April 15 story in the print edition of the Yellow Springs News.