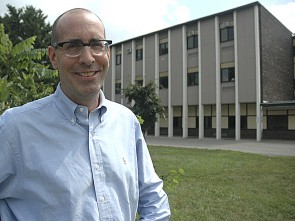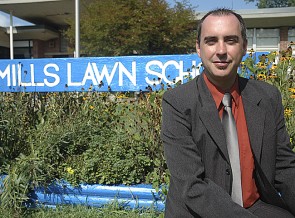 Along with the kindergarteners and seventh graders, who start their first day at a new school this week, new McKinney/Yellow Springs High School Principal Tim Krier and Mills Lawn Principal Matt Housh will be piloting in new territory this year. (photos by Megan Bachman)
New light, new faces at schools
All-day kindergarten at Mills Lawn Elementary School and flexible credit opportunities at the high school are two of the many changes Yellow Springs School District students can expect when classes resume on Wednesday, Aug. 25.
Along with the district's two new principals, this year new teachers and staff members, improved classroom environments and recently developed programs will enhance learning opportunities for the district's incoming students. At Mills Lawn, where enrollment is up 40 students to 377, new faces have joined the staff, lighting upgrades have brightened the halls and classrooms, combined classes will offer new perspectives and all-day kindergarten classes will prepare young learners.
A recent graduate of Wilmington College, Jennifer Scavone will teach fourth grade at Mills Lawn and is excited to begin her first teaching assignment, said Mills Lawn Principal Matt Housh.
In addition to some shifting of current staff, Housh is also pleased to welcome Kari MacLennan as the new school psychologist and recently retired Yellow Springs High School Principal John Gudgel as an interim counselor while Linda Sikes is on sabbatical.
"It's awesome to have him here to use his knowledge — he will be vital to brainstorming ideas," Housh said of the 30-year-veteran educator.
Classrooms will be brighter while saving energy with new lighting installed throughout the building.
"We had these old, yellow, sickly-looking lights," Housh said. "Everything looks different already. The staff can already tell the difference and it will be great for the students."
Since some grades are larger than others, different age groups will be combined this year, with third and fourth graders learning alongside one another in one class and some fifth and sixth graders sharing a classroom. Combining classes, which hasn't been done in the last five years, is common for small schools and is a flexible model that offers a new learning experience for students, according to Housh.
"You have different perspectives with different age levels," Housh said. "Having them in the same class allows more connections and more opportunities for them to share different perspectives."
In addition to adding a second kindergarten class, kindergarten will last all day, a change the Yellow Springs school district will need to comply with new state guidelines.
"In order to help with readiness later on, the state believes it will increase preparation for kids, get them more acclimated and more successful later on," Housh said.
In his first year as Mills Lawn's principal, Housh looks forward to aligning students, parents and staff with the district's educational goals.
"It's making sure all of our energy is pointed in the same direction and being the best that we can possibly be," Housh said. "We are already an excellent school and district, so I feel lucky coming into this situation and working with students and teachers who are already great."
Housh said he also hopes for parents to be involved in the school.
"I believe in community engagement — parents are vital to their child's schooling and I want them to be encouraged to be connected to the school this year," he said.
One opportunity is the Mills Lawn PTO's first event, an annual pool party, on Saturday, Aug. 28, from 8 to 10 p.m. at Gaunt Park.
Building improvements at the high school and McKinney School are only the most visible changes to those schools this year. In addition, alternative ways for students to gain credit, new staff and courses and an influx of international students expand learning opportunities at the schools.
A new, energy-efficient heating, ventilating and air conditioning system will keep students at both schools cool while new lighting helps them see better.
"It looks beautiful," said Principal Tim Krier of the lighting improvements. "It's a great color and it adds some nice spirit to the place."
Also renovated at the high school was the music annex, where the roof was fixed, ceiling and floor painted, walls stained and refinished and sound reflectors and absorbers installed to enhance the room's acoustics.
With a new "credit flex" policy, high school students can earn credit for studies outside the classroom, which will allow them to accumulate credits faster or recover the credits they need to graduate.
"We can meet some needs that more conventional schools would not otherwise consider," said Krier. "It has a lot of extraordinary potential for a community like Yellow Springs with the kind of community resources we have."
In adopting the new policy, which was recently mandated by the Ohio Department of Education, the high school will accept applications from students for non-traditional academic experiences to count toward their school credit. For example, a student could take an online course, study with a local Latin scholar, or research and visit a particle accelerator with their physicist parent, Krier said.
The credit flex policy will expand learning opportunities, as students can take classes not available at the high school. It will also allow those who are behind on credits to make them up outside of the limited summer school offerings.
"We're now thinking about the school day in a different fashion," said Krier. "It's how do we start to make connections that are out there already, to allow kids to be part of the community and the community to be part of the kids."
New faces this year are the McKinney Intervention Specialist Hilary Riepenhoff, and eight international students joining the student body. Represented are the Netherlands, Sweden, Germany, Chile and Austria, making the school "a mini-UN," Krier said.
Finally, a new course will be offered called "Writing for Publication," where students will not only learn journalistic technique but create a publication for the school.
Beginning his first year as the high school and McKinney School principal, Krier looks to make secondary education in Yellow Springs a national gem.
"One of the things I'm so excited about is being able to join a district where there have been really creative, innovative approaches to education," Krier said. "We will deliver a standards-based education in a really compelling, unique way."