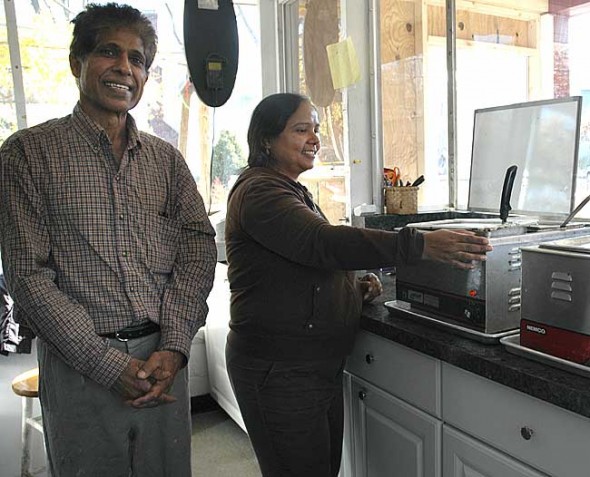 Corner-copia: saag paneer in winter, the homemade way
When Akhilesh and Pratibha Nigam arrive at the Indian Food Corner — located at Corner Cone on Dayton and Walnut Streets — in the morning, they start each dish from scratch. If they're making saag paneer — which they undoubtedly are, since the spinach/cheese favorite is one of their five menu items — the couple starts by boiling fresh spinach (the saag), then chopping it fine before adding chopped onion, curry and garlic. They cook the mixture until it's soft, and then add the paneer, which is the cheese they just made from milk and vinegar. The two parts combine, then simmer into the final product. The process takes about two hours, and because they make only small batches, the Nigams repeat this several times a day.
Nothing at Indian Food Corner sits around all day, the owners want you to know, because they place a high value on serving food that is fresh.
"We eat the same way here as we eat at home," Pratibha said in a recent interview. "Our way is the home way."
Besides the saag, the Indian Food Corner offers chole (a chickpea dish), navratan korma, lentil soup, chicken tikka masala and several varieties of home-baked naan, including garlic, green onion and turmeric.
The fresh food approach must be working, as the couple report that, barely into their third week, business is very, very good. In fact, the day after they opened they ran out of food before closing. But as problems go, that's a good one, and they are pleased, but not surprised, that villagers like their cooking.
"We love Yellow Springs. I feel at home here," Akhilesh said. "People are so nice. And they like Indian food."
The Nigams suspected that their take-out business — while customers may eat on the Corner Cone patio, there is no inside seating — would be good because, when they ran their restaurant, Nigam's, in Beavercreek, many Indian food lovers came from the village. Some of those familiar faces now show up at their new business.
"Many people here know us, and they know what to expect," Akhilesh said.
The Nigams closed the Beavercreek restaurant several years ago because they wanted to spend more time with their small son. Now that he's in high school, the couple has time to return to their cooking passion, but they're careful to not let their business overwhelm them. The Indian Food Corner is open 11 a.m.–7 p.m. Thursday, Friday and Saturday and noon–4 p.m. on Sunday, and that part-time schedule is just the amount of commitment they desire. And while the Nigams plan to rotate their dishes to offer customers variety, they plan to keep their menus small.
The couple moved from India in 1995, following in the steps of Pratibha's brother. Now, they live in Beavercreek, where they grow in their own garden the potatoes and peppers they use in their cooking. In India, cooking is considered essential to a happy home, Pratibha said, and the couple brings that respect for good food to their new business.
"Cooking is Indian culture," she said. "All of our mothers taught us. In every home, food is what brings the family together."
Corner Cone owner Bob Swaney is delighted that the Nigams' new business will keep his ice cream stand lively throughout the winter. Mainly, he said, he wants to see the building used rather than have it empty six months out of the year.
"And, I like Indian food," he said.