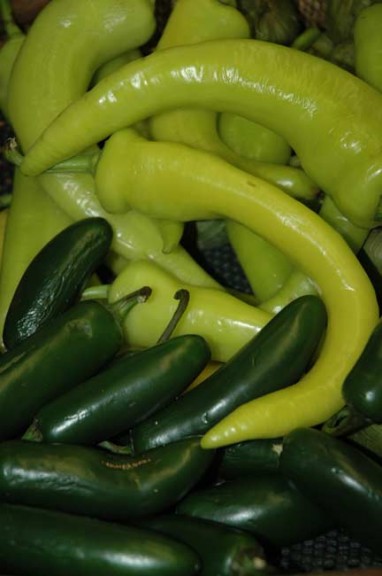 BLOG — Chilis that came before the McKinney Chili Cook-off
Eliza Minde-Berman ate a spoon full of her vegetarian chili at the Emporium and pondered its taste.
"It's sort of spicy… but not quite," she said, taking another bite. "I taste corn, which I like! And big green peppers, which I kind of like."
As a kindergartner, Eliza was very discerning. She was right. The vegetarian chili that Nora had cooked up that day featured the flavor of the actual vegetables, in a soupy, sweet broth with a hint of smoke from the chipotle chilis. It was sort of spicy, but not in a way that knocked you down.
The chile con carne on the same day was a very different experience. The classic version of the stew was richer, fuller bodied, and it had a more unified taste.
In a side-by-side taste test, the traditional meat version won my vote. But who am I to judge a chili? After a quick Google search I soon learned that Wild West may have died out, but the wild western world of chiliheads is alive and kicking up some heat.
The International Chili Society exists for those "who eat, drink, breathe and sleep chili." According to the Web site, "Our sole purpose is to promote, develop and improve the preparation and appreciation of true chili" and to "further the camaraderie of chiliheads."
The organization holds an annual World's Championship Chili Cookoff, which will be held in Manchester, N.H. in October. It keeps a record of all the chili champions, starting in 1969 with C.V. Wood, Jr., the man who built Disneyland for Walt Disney, and Joe DeFrates, the only man ever to win the National and the World Chili Championships. Defrates also guessed that the reason chili had such universal appeal was because, "Chili powder makes you crazy."
What's to know about chili, according to the site, is that it consists of a mixture of meat, beans, peppers, and herbs known to the Incas, Aztecs, and Mayan Indians long before Columbus and the conquistadores. The dish matured as Canary Islanders, transplanted in San Antonio during the 18th century, used local peppers, wild onions, garlic, and other spices to recreate the foods they had cooked for generations in their native land. And the cattle drivers and trail hands further popularized the dish throughout the Southwest, likely using ingredients such as buffalo, jackrabbit, armadillo, rattlesnake, or whatever was on the trail.
The recipes for chili are as diverse as the stories behind its inception. There is the "original" San Antonio chili that uses beef, pork fat and red, ancho and Serrano chilis. There is Mexican chili, Super Bowl chili, habanero hellfire chili, white bean chili, Cincinnati chili with cinnamon, cloves and chocolate, and even Seafood chili with clam juice, red wine and clams, mussels and grouper.
All this to say that Yellow Springs has its own chili traditions, starting with this year's 17th annual McKinney School Chili Cook Off. The event heats up on Saturday, March 12, at 6 p.m. at the Yellow Springs High School Cafeteria.
There are many ways to be a chilihead in this event, including coming to hear great music and taste the line of distinguished chilis to judge which one is best. More competitive participants can enter their own famous recipe in the cookoff for a chance to win prizes. And the event still needs volunteers to decorate, donate fruit or dessert, feed the judges and help get the party started!
To enter a chili, pick up an entry form at the Yellow Springs library, Current Cuisine or the Yellow Springs High School, or print one off at http://www.yellow-springs.k12.oh.us/. Entry fees are $5 for students, $15 for adults.
To volunteer or offer to bring a food item, contact Kim Miller, at 319-6017 or e-mail millerzoo@aol.com.