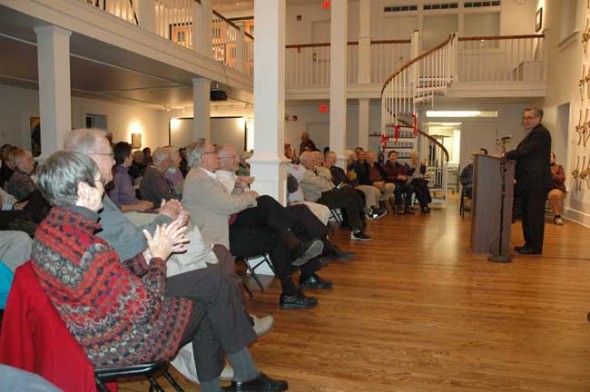 Optimism at Antioch College, and hard work ahead
With its first class of new students now at Antioch College, and new faculty and staff on board, the mood is hopeful on campus, according to President Mark Roosevelt at a talk to the community Friday evening.
"It's been a wonderful couple of months," Roosevelt said. "Walking around campus, you can feel the optimism."
Roosevelt gave an update on the college to an overflow crowd at Herndon Gallery. Before the talk, several hundred community members joined with students, faculty and staff for a potluck at the college art building. The event coincided with meetings of the college's board of trustees and alumni board.
The number "35" has special significance for the college, Roosevelt said, as there are 35 students in its initial class. And the college recently received a check for $35 million from the sale of the college's YSI Incorporated stock after the global corporation ITT acquired YSI in the summer.
But the question of how to create an economically sustainable college remains Antioch's most significant challenge, Roosevelt said, emphasizing that college leaders do not yet have clear answers.
"That is the big work ahead of us," he said.
However, Roosevelt encouraged the college community to be undaunted by the size of the task, comparing the challenge to that of the Pittsburgh public schools, where he previously served as superintendent. When Roosevelt and other school leaders decided that Pittsburgh needed to launch an ambitious effort to guarantee college scholarships to all high school graduates, "We didn't have a dime," he said, yet in a year the schools had raised $150 million.
See the Oct. 27 Yellow Springs News for a more detailed story of Roosevelt's talk.