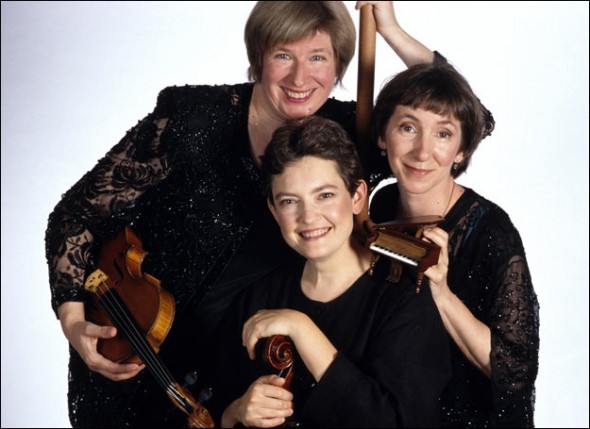 Triple Helix Piano Trio (photo by Susan Wilson)
Beethoven brings amateur and professional musicians to the stage this weekend
The local community orchestra rehearsed Beethoven's "Triple Concerto" with conductor James Johnston in preparation for a performance of three's this weekend. Aptly named "Triplicity," the concert features three ensembles, including the amateur Yellow Springs community chorus and orchestra, and a professional group, the Triple Helix Piano Trio, who will solo with both local groups.
The groups present "Triplicity" on Saturday, Nov. 5, at 7:30 p.m. at the First Presbyterian Church. The performance includes the Triple Concerto, Beethoven's Leonore Overture and the world premiere of Yu-Hiu Chang's "It Is An Illusion You Were Ever Free" for soprano, alto, tenor, bass.
Tickets are $10 for adults and $5 for students.
The concert is a double booking for Triple Helix, which will perform again in a purely professional setting the following night as part of the Chamber Music Yellow Springs 2011–12 concert series. Triple Helix performs alone for CMYS on Sunday, Nov. 6, at 7:30 p.m., again at the Presbyterian Church.
The community concert is made possible by a grant from the Yellow Springs Community Foundation.
See more on this story in this week's Yellow Springs News.
Listen to the orchestra rehearse a bit of the Beethoven Triple Concerto (excerpt by yellowspringsnews)
Beethoven Triple Concerto excerpt by yellowspringsnews