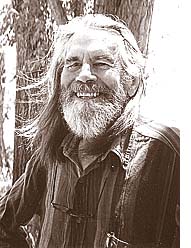 Martin Murie died Jan. 28 after a brief illness.
Biologist, teacher, writer, and ranter, Martin called himself a "varmentalist." He was an activist for nature and wildness and against war and corporate domination. Anyone meeting Martin at a demo, in a classroom, or on the wrong side of a "No Trespassing" sign found right away that his smile was to the core and his readiness to listen and argue was an open invitation. He had a confidence in folks, in the human animal, that kept him up and fighting for justice. "Because we are sociable, we work together," he said.
Because he was a prolific writer, Martin also holed up and wrote his letters to the world, his many books, essays and reviews. He called them "rants."
He wrote rants as openers, urging others to bring forth opposing views and join in the shared work of discussing ideas, always a great pleasure for him. He read and considered other people's ideas, current and past, every day in hundreds of books, journals, newspapers, diaries, letters, poems and e-mails from family, friends and anyone else who shared his interest in the world. As he wrote in Seriously Insistent: "I know this much for sure, that a big share of the openings this mind of mine has undergone came from meeting other minds in more than a passive or one-way manner. That is to say, by argument, which leads me to favor an argumentative way of life, of the two-way kind: listen/ talk/ listen/ talk."
Martin grew up in Jackson, Wyo., where both parents were conservationists and biologists. Like some other young folks in Jackson, Martin was good on skis and joined the U.S. Army's 10th mountain division to fight fascism in Europe. When the war was over he came home to Wyoming and worked in the mountains for a time before heading off to Reed College to get his degree in literature and philosophy. It was here that he met his life partner, Alison.
After finishing a zoology PhD at UC Berkeley, Martin taught at UC Santa Barbara and then at Antioch College in Yellow Springs, from 1961–1975. He stood up for students' rights, protesting Antioch's decision to end financial support for the working class and black students in the New Directions program. Students, faculty and employees went on strike and closed the campus in 1973. In the end, 20 students were expelled and seven faculty fired, including Martin Murie. Antioch made some concessions and reinstatements, but by 1975 Martin was ready to head for the full-time work of writing and ranting from the northern edge of New York's Adirondacks. He had joined the anti-war protesters in Ohio during the Vietnam War and when he and Alison got to northern New York, they stood in the town of Malone at the Veteran's Park, with signs and leaflets opposing war. Soldiers home on leave came to argue with them and sometimes ended up joining them. Through those northern winters, Martin and Alison rarely missed a Saturday demo.
Former students remember field trips with Martin as times of shared excitement in the world, discovery of what is wild in the woods around us as well as right inside each of us. Bring him a road-killed kingfisher and see the thrill in his eye: "Look at that! Look at those feet!" His appreciation of the detail, his strength for holding the big picture, gave him the perspective of poet and philosopher. He also could draw and illustrated many of his books with a Bic pen. No special equipment needed.
Martin wrote in the cabin built onto the woodshed on their old farmhouse in Skerry, N.Y. Though he loved the north country and participated whole-hog in his outdoor and indoor life there, he was a son of the west, a man of the sagebrush country, and took many a road trip back. When he hit the road in his pickup he was collecting material for the current novel, but he was also keeping his connections lively and strong with the people and places, the land and the big sky that inspired and fed him as a writer and a human animal. His family members enjoyed an open invitation to come along and often did, meeting up with friends and strangers all along the way. Martin talked and listened to so many, over coffee, over a fence top, along a creek bed, in the cab of the truck. He was always pleased to meet you, also pleased to notice and note every kind of moth, spider, mammal, meadowlark, bush, cactus or big tree in a valley.
Along the way, Martin met many another western writer and traveler whose politics and perspective fired him up. One of these was Jim Stiles, editor of the Canyon Country Zephyr in Moab, Utah. The two became best comrades on that long dusty road, the one paved with clear-eyed outrage over certain current events, surprise and laughter over others. Martin's column, "Losing Solitude," came out in every issue of the Zephyr for years. It was one of his regular rants.
In the winters back in northern New York, Martin ran a trap-line for rabbits and he and Alison grew some vegetables. They built a composting toilet and cut grass with a scythe to keep it properly fed. A small potbelly stove thawed them out in the winter and water came in from the springhouse in a bucket, no pipes to freeze. Alison filled the living room with her looms and they both enjoyed making the rounds of craft fairs to sell the rugs and tapestries she made. These works and others can be admired on the Packrat Nest Web site Martin set up, a collection of finds.
Alison Murie lives in Xenia and their three daughters Raven Murie, Norah Byrnes and Janet Murie in Yellow Springs. The Muries' five grandchildren are Jonas Byrnes of Yellow Springs, Alex Byrnes of Chicago, Ill., Rose and Olivia Byrnes of Carrboro, N.C., and Linnet Leuba of Vancouver, British Columbia. Martin's sister Joanne lives in Massachusetts and his brother Donald in California. There are numerous nieces and nephews.
Martin Murie leaves behind gifts and warnings: stand up and act, do it with others. Crawl carefully through barbed wire, and don't ever forget that smile.