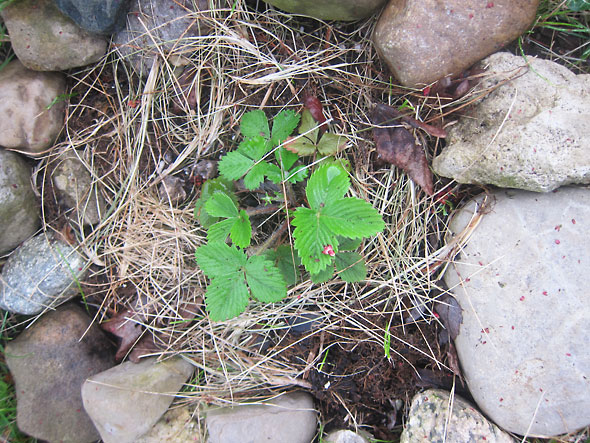 BLOG-Springing from the Ground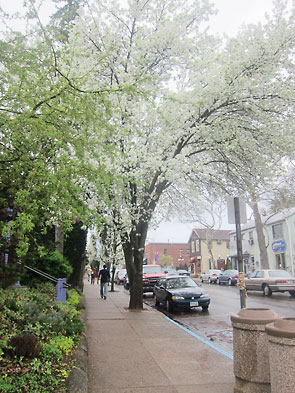 Spring arrived on schedule with trees about the village blooming and leafing in an impressive display of colors. This past week the white blossoms on our pear trees burst forth quickly followed by the pink cherry and purply redbud. Even in the on and off rains on Friday, the treasures of Yellow Springs' public and private gardens were rich indeed.
I ventured out into Friday's rain for a quick lunch at the Winds and a lingering tour of my neighborhood garden plot. Last year, wild grasses took over the garden and I resolved to be more vigilant. I hoped to do some clean up but, since the rains precluded any working in the soil, I opted for a survey of the encroaching weeds and the harvest of wild onion.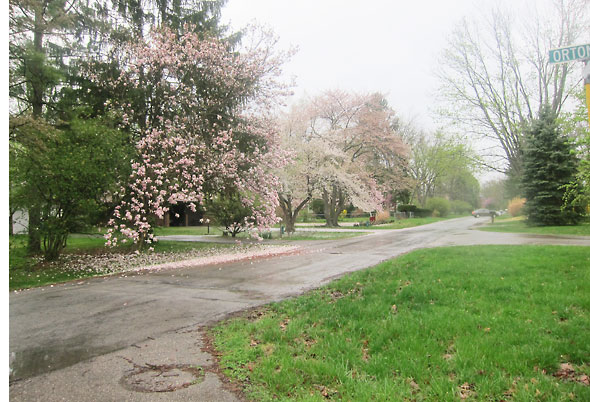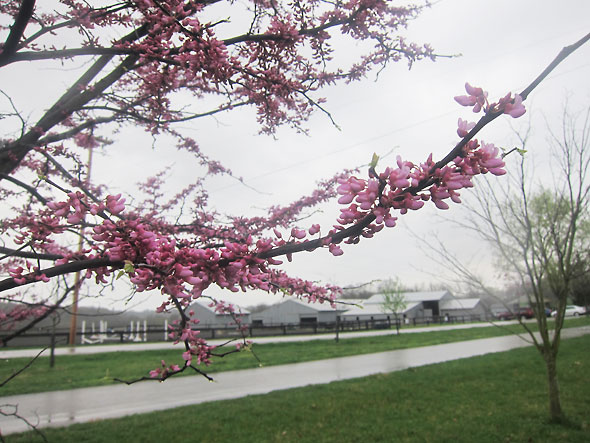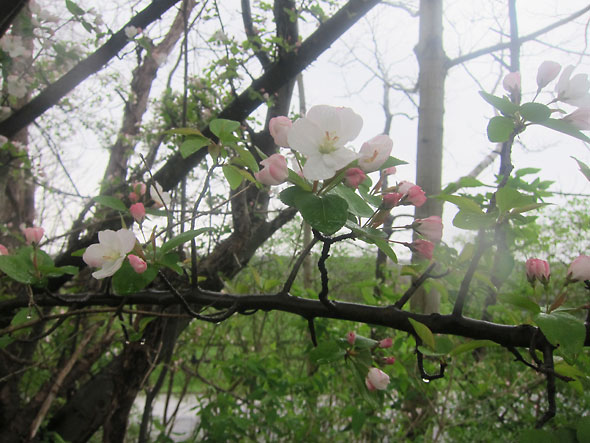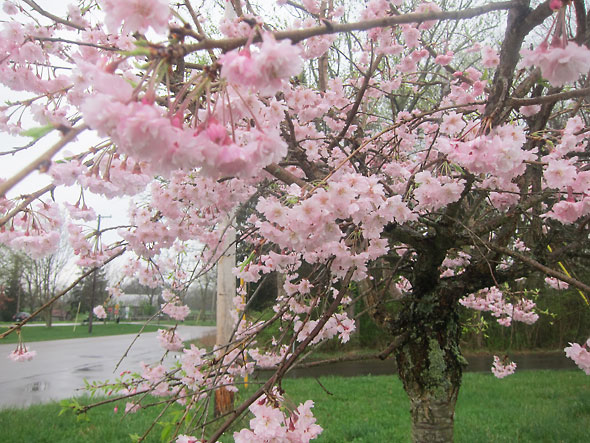 My own gardens at home were sprouting with their own treasures. The west garden—a mix of shade tolerant herb and native wildflowers—is doing especially well. Houses closely spaced together can create a warm, sheltered microclimate that offers a longer growing season and more protection from wind than a more exposed plot. Here, I have already harvested leafy stalks of parsley for last week's chili and have trillium and strawberry flowers near bloom. Also, the tart spring greens of rhubarb and sorrel are off to a good start. The front southern plot has more issues than high points; but the collard greens are ready for picking, and the rosemary and thyme overwintered beautifully.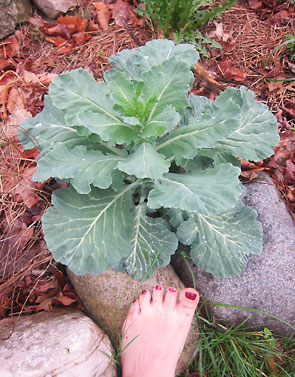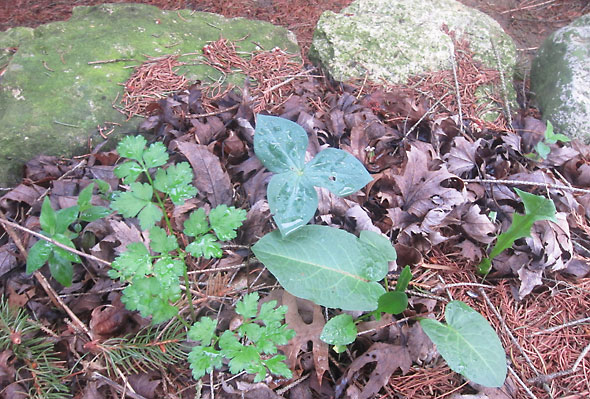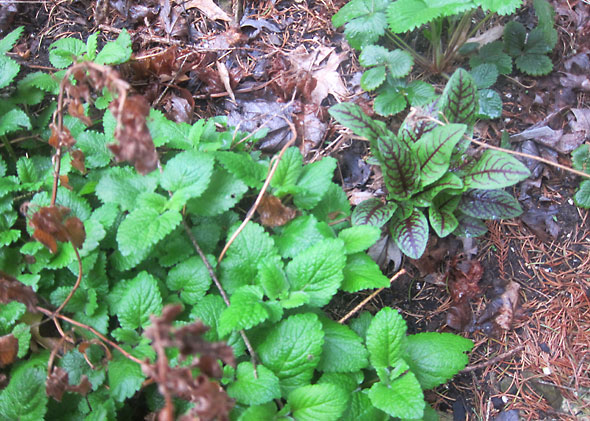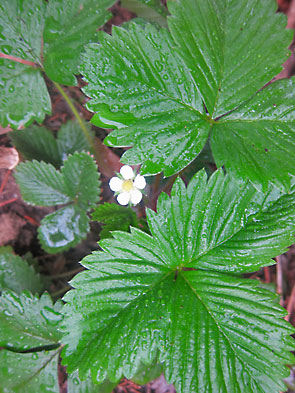 Back on Corry Street, I find tuffs of grass and wild onion poking through the straw covered bed. My plot is 10 ft by 40 ft of excellent soil but a seed bank loaded with grass. The only other encroachers appear to be a mustard plant, mint, and the wild onion. When I laid down the straw this winter, I had covered all the plants but the wild onion, and now I have come to harvest. My stock of local garlic has waned, and wild onion substitutes nicely. Wild onion looks like a silvery chive and grows in the cooler months of the year. A favorite among foragers, it smells like garlic when picked. I strip several clumps of their thicker stalks leaving a good 2/3 of each plant to continue producing. My plan is to add the onion to a trout dish for Friday night dinner.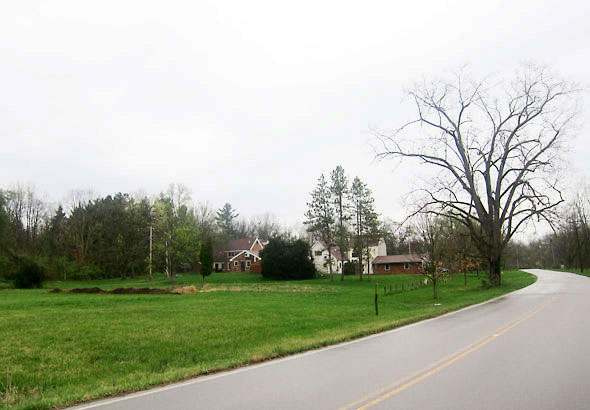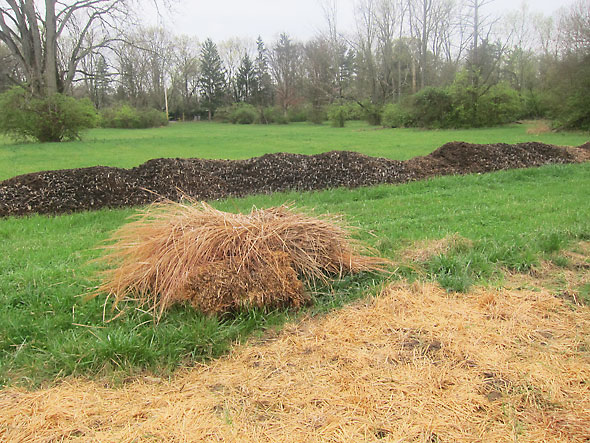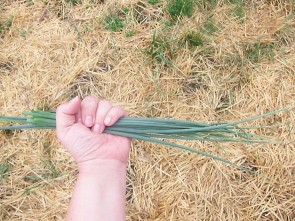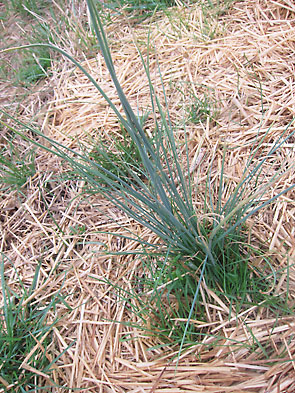 I ordered the steelhead trout from Current Cuisine last week and at 6pm I went to pick it up. I had plans to roast vegetables but soon recalculated. In crossing the street, my daughter and I crossed paths with one of the young men of the local band Wheels. He was looking more rock star than normal so we quickly surmised he was setting up for a nearby gig. Sure enough, the chalkboard at the Emporium boasted a 7-10pm show, and we knew time was of the essence. The roasted vegetables on our planned dinner menu were replaced with a lovely batch of couscous from Current Cuisine's deli case. We raced home, broiled the fish to heavenliness, and turned around the whole family within the hour to head downtown for a rocking good evening with our favorite band.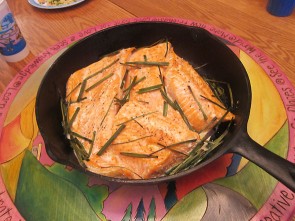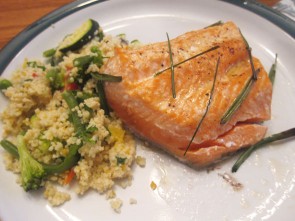 Spring is a time of improvisation especially for the gardener. Yes, we plan through the winter; but each growing season is different, and this year's season is coming on especially strong. Friday seemed in particular the soul of improvisation with nature—and Yellow Springs' youth—sporting a fresh look and inspiring us to full lush life.