The trout beckons, in key of A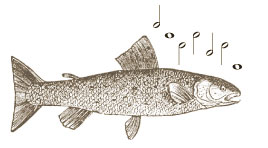 When Austrian composer Franz Schubert was 22, he wrote a serious quintet for strings and piano known as "The Trout." A century and a half later, a group of promising musicians also in their 20s, including cellist Jacqueline du Pré and violinist Itzhak Perlman, performed the work at the Queen Elizabeth Theater in London. A film documenting that performance and the rehearsal banter between the players before all five were launched into international stardom will be screened at the Little Art Theatre next weekend as part of a fundraiser for the local Chamber Music Yellow Springs. As a tribute to Schubert's composition, The Winds Cafe will host a trout dinner following the film.
The All About Trout fundraiser will take place on Sunday, April 15, beginning at 4 p.m. with the film, which will be preceded by a talk about the film and Schubert's work. Guests will then be invited to swim up to the Winds around 5:30 for drinks and dinner starting at 6. The cost is $75 per person, $50 of which will benefit CMYS. To sign up for dinner reservations before the April 11 deadline, contact CMYS board member Nina Myatt at 767-1695.
Schubert's "Trout" is based on a poem by the same name, "Die Forelle," or "The Trout" in German, written by a poet by nearly the same name as the composer. The poet, Christian Friedrich Daniel Schubart, wrote his work in 1782 from the dungeons of fortress Hohenasperg, where he was serving time as a young political prisoner. According to an article on the poem that appeared in Harper's Magazine in 2008, Schubart openly supported the American Revolutionaries and subversively criticized the duke of the land, and for that was punished. The poem reads like a child's tale about a little trout in a babbling brook that was ensnared by a greedy fisherman, but judging by the context, was likely somewhat biographical.
Schubert composed his "Trout" in A major in 1819, and 150 years later, when five young musicians came together to rehearse and perform it, filmmaker Christopher Nupen captured it on film.
Reviewers raved about the way the film allowed audiences to take such an intimate look back at these young musicians before they became famous. British cellist du Pré made her professional debut at age 16 and was loved in her time for her musical joy and expressiveness. She met a tragic end when multiple sclerosis ended her career at age 26 and led to her early death. She was married to pianist Daniel Barenboim, who also conducted widely and is now music director of La Scala in Milan. Violinist Itzhak Perlman is now one of the best known violinists of the 20th century, and violist Pinchas Zukerman and bass player Zubin Mehta both went on to illustrious careers, Mehta as conductor of groups such as the New York Philharmonic and the Israel Philharmonic Orchestra.
CMYS is dedicated to furthering love and support of chamber music, which means connecting young people to music, according to CMYS board member Katherine Kadish. Each season the organization finds funds to bring professional ensembles to the village to perform and often conduct workshops with students of music in the schools and area universities. The most recent of those events was with the Harlem Quartet, who performed and worked with students at both Antioch College and Yellow Springs schools in March.
"Connecting music to younger people is so important. The things that happen to you when you're young, even if you don't realize it for a while, those are the things that stick," Kadish said. "To enrich people's lives with music that they can enjoy for the rest of their lives…there's nothing like that."
Inspired by the freshness of youth and spring, the menu for the trout dinner at The Winds includes spring greens and asparagus salad, roasted trout with spring vegetables and verjus sauce, and lemon tart with fresh berries. Participants are encouraged to sign up early.