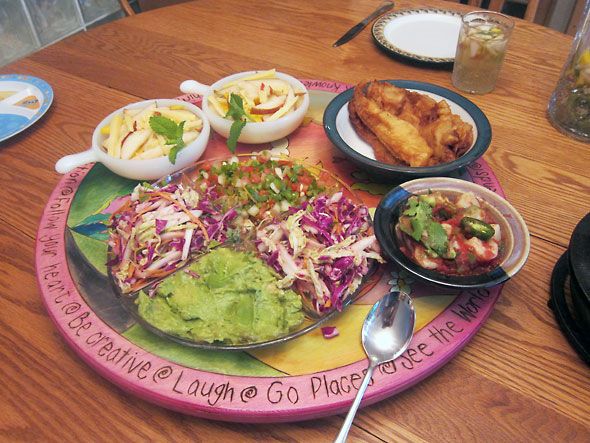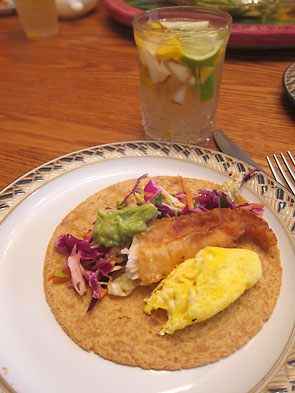 I was introduced to fish tacos in the backyard of a Yellow Springs rental over a decade ago. My friend Scott—fellow grad student and Dino's Cappuccinos regular—hails from Southern California. I had a three year tour at Los Angeles Air Force Base, but Scott found my experience wanting as I had never tried, never even heard of fish tacos. "How can this be possible?" he said and set about rectifying the matter. He tossed coleslaw, grilled tilapia, and—wow—hooked me for life.
I love fish tacos so, when Cinco de Mayo rolls around, I put this great dish on the menu. This year's festivities coincide with the Kentucky Derby; so, in light of the day-consuming road trip ahead, when to eat our homemade tacos was a question. Rather, that was a question until the obvious hit me: Breakfast! "Wait," you say, "fish for breakfast?" Yes, please. My ancestry is Norwegian. Grandmother Katherine told me that Grandfather's uncle owned a fish cannery in Oslo which is akin to owning a Pepsi factory in America. As far as I am concerned, fish at any meal—breakfast, lunch or dinner—is a good and proper thing. My husband's and children's acceptance of this truism is not a forgone conclusion, but then again they did a splendid job on the morning's spread.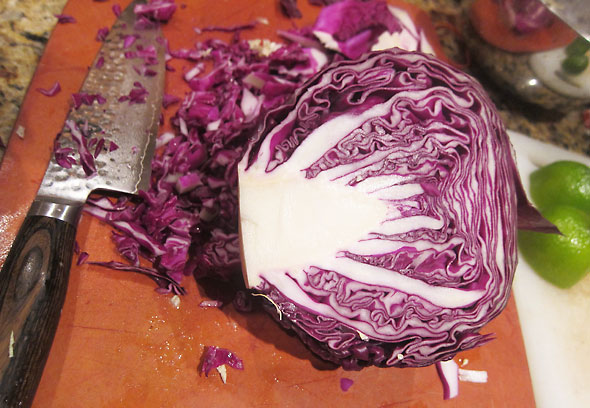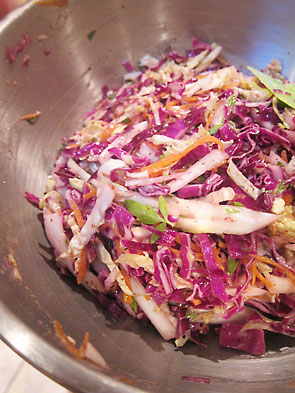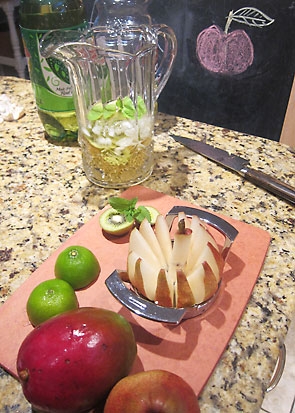 I made the coleslaw first. The no mayo recipe came from Mark Bittman's How to Cook Everything and, for the occasion, I chose the Mexican style slaw with lime juice and carrots. I skipped the chile to keep the dressing mild for the kids. The next item for prep: virgin sangria. Sangria is a punch made with wine, fruit, and spice. For breakfast, I went non-achoholic substituting white grape juice and ginger ale for wine. The fruit included pears, kiwi, mango, and lime wedges. The beverage is lovely with lemon balm and a cinnamon stick. I combined all in Grandma Katherine's crystal pitcher, its beautiful pineapple pattern a perfect host for the exotic ingredients.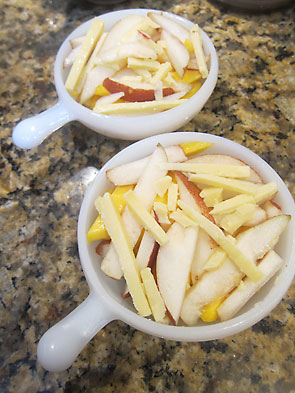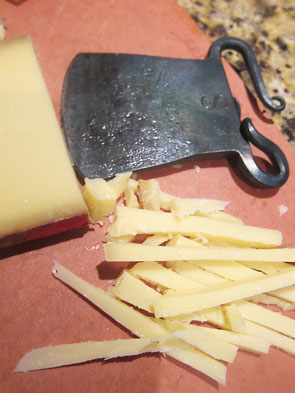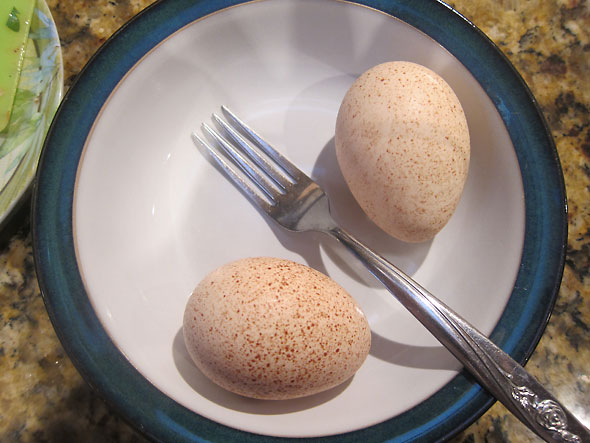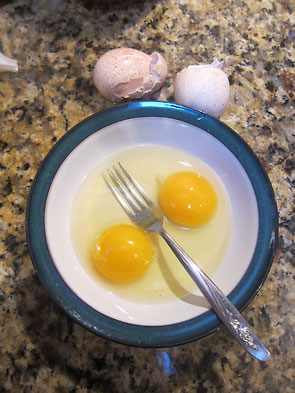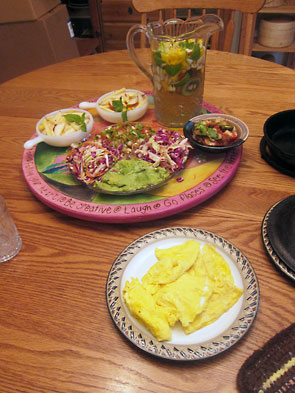 The mango was plentiful and perfectly ripe that I felt it needed its own setting. Aside from the fruit I diced for the punch, I slivered more for a salad. Reminiscent of the salad we had experienced on a tapas bar in Bethesda, Maryland, I included wedges of a soft pear and a hard cheese, a comte from Katzinger's Delicatessen, Columbus OH.
With rest of the menu set and the coleslaw chilling in the refrigerator for an hour or so, I returned to the tacos. In addition to the fish, I made cheese omelets to fill the tacos. For the omelets, I used two duck eggs from Rocket Acres Farm, a family owned farm just north of Yellow Springs. Their speckled beauties had yolks that voluptuously domed up from the mixing bowing. The two made four exquisite omelets handily.
The rest of the feast came from Current Cuisine, the delicatessen at 237 Xenia Ave. The Currents' have many wonderful dishes available for the Cinco de Mayo festivities—tamales, quesadilla, empanadas as a mere sample—and are particularly well stocked with chips. So grab a bag. I grabbed breaded filets of tilapia perfect for fish tacos along with guacamole and pico de gallo, a chucky salsa. Preparing the dish to their content, the family ate heartily each enjoying the fish, egg, and veggies wrapped snuggly in a warmed tortilla. The meal—which surely reflected a Latin tradition more than my Norwegian—was a most healthy, festive start to our day's adventure.