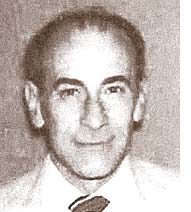 Frank M. Riley of Yellow Springs passed away on Thursday, April 18, at Greene Memorial Hospital. He was 84.
Frank was born on May 17, 1928 to the late Frank and Elsie Mae (Shinkle) Riley, in Jamestown. He worked hard advancing to become vice president of his division at the First National Bank of Dayton. He retired in 1998, after which he spent much of his free time collecting, cultivating his flowers and plants in his own greenhouse and mowing, a chore that he greatly enjoyed.
Frank was preceded in death by his parents, as well as a sister, Rosalie Johnson. He is survived by a niece, Rosalie (James Jr.) Shattuck; nephews, Wesley (Roxanna) Rouch and Michael (Brenda) Rouch and numerous great-nieces and nephews. Funeral services were held Tuesday, April 23 at Jackson Lytle and Lewis Funeral Home in Yellow Springs, with burial in Glen Forest Cemetery. Condolences may be made to the family by visiting http://www.jacksonlytle.com.