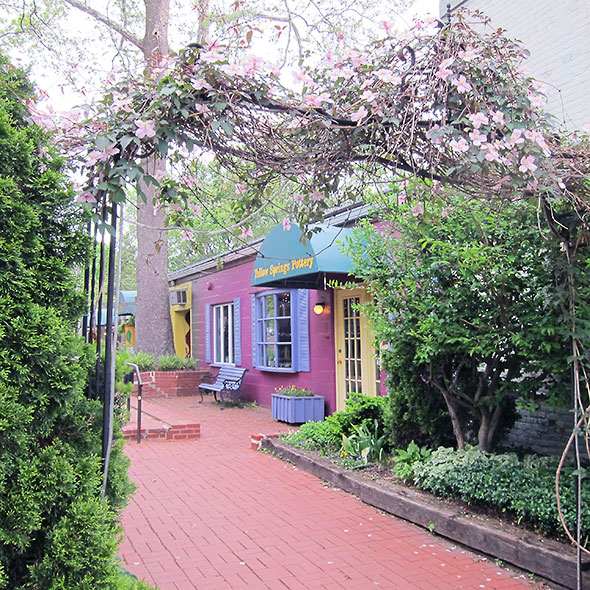 When friends and family come to visit, they are invariably charmed by our village. Near the end of their stay, most wander downtown in search of a keepsake to mark their visit, and many come back with a treasure from the Yellow Springs Pottery, 222 Xenia Avenue.
Anchoring the shops of Kings Yard, the store is just beyond a flowering archway. Lit by a south facing bay window, the artist cooperative brims with delightful creations. The work of its ten members hover on airy, layered shelves. Their pieces express a broad range of color, texture, and mood.
My first purchases were modest: small mugs to share cups of coffee with a friend or to sip the highly caffeinated chai that kept me awake throughout my graduate studies. In my twenties, I dreamed of owning a teapot or casserole dish by Evelyn LaMers. Imagine my delight at returning to the village 15 years later to find her still there at the pottery…her teapots as elegant as ever.
The fine quality of the work draws me in to Yellow Springs Pottery. The granite kitchen countertops of our home are gorgeous, but the rock hard surfaces are rough on our dishes. Veterans of many moves, plates and bowls started to fail—developing slow fracturing cracks—after they rattled too many times against the unforgiving countertop. Porcelain, be afraid! Stoneware, though, survives.
The pottery soon became my first stop to replace the blown out dishes from lesser sources. At the pottery, I found resilient strength and beauty fused. These days I am most entranced by the bowls of two potters: Janet Murie and Justin Teilhet. Justin Teilhet makes tall modern vases; occasionally, though, he will offer bowls that evoke oversized olives. Black or green on the outside, a deep meaty green within, and a bright red dot in the center like a spicy pimiento, his compact bowls are a favorite vessel for rice and noodle dishes held directly under the chin and eaten with chopsticks.
After the restraint of my youth, I now collect the bowls of Janet Murie with great exuberance. The salad bowls cradle my breakfasts, lunch, and dinners; her largest bowls spin on the counter as I kneed my bread dough. Bread making is best enjoyed for all its physicality, and I am most grateful for the hearty, low lipped bowls that Janet Murie made for me and their ability to knock about on our counters.
Other items from the pottery have found their place in our home. A toothbrush holder with a large central bowl solved our problem of how to keep our electric toothbrushes with the children's traditional ones. Back in the kitchen, our soaps and sponges keep neat and handy in the dishes made by Keiko Hergesheimer. Lidded jars by Janet Murie hold station near the stove carrying salt to season and baking powder to lift our morning eggs and cakes.
On Sunday 22 September 2013, the Yellow Springs Pottery is celebrating its 40th anniversary. They will be holding demonstrations of their craft, no doubt a treat to their many admirers and steadfast fans like myself. Together they will share, as they have for 4 decades, all those elements that make for resilience—skill, beauty, and symphony—for they have found a way to capture the magic of our fair village and fashion it in clay.