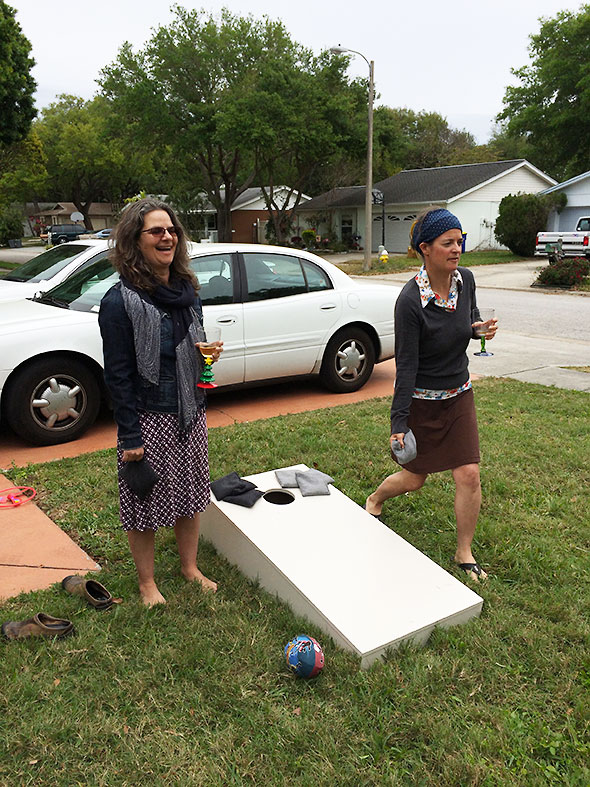 In the first frigid week of January, we planned our escape. I was looking online at plane tickets to Florida when my sister Kate checked in. She lives in Gunnison CO—often the coldest city in American—and I asked her how she survived the subzero temperatures. She said that face masks were standard Gunnison gear. I confided our plan to spend Spring Break in the Tampa Bay area with our father Tom and stepmother Sue. Kate was immediately keen to join us. We began talking dates and, by the evening, our older sister Heidi determined to meet us also.
Code-named "Tennis Camp", the trip was committed to by all parties—including our hosts fortunately—and my sisters and I packed our swimsuits and sandals immediately…a mere seven weeks out. Just as the cold weather finally broke free of the two-coat temperatures gripping the north, Spring Break arrived and sent us south. This weekend found me in short sleeves and open-toe shoes playing cornhole in the front yard of my dad's home in Seminole FL.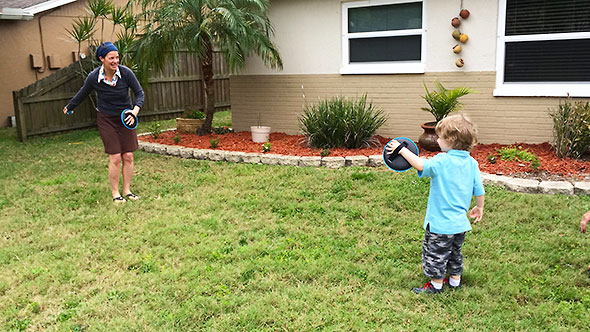 My father and stepmother live close to water. A 10 minute walk will bring you to Walsingham Park and its waterlilied pond. A fifteen minute drive delivers us to either the public beaches at Indian Rocks or Redington. We were overly optimistic in bringing swimsuits. The bay water was much too cold for swimming. Still we slipped on sandals and got our toes wet letting the frigid sweeping waves remind us of the bracing air temperatures we left behind for the weekend.
At my father's house, Jeremy and I helped Tom kludge a sturdy repair to one of his vintage lawn chairs. We had to replace a broken bolt, and, since we didn't want to undo the ancient chair webbing, all three of us were required in combined skill and effort to wedge the frame into position and send the new bolt through. We celebrated our successful at reengineering the fold of the folding chair with a toast and a round of cheers. We opened the garage door and held court in the front yard as neighbors passed by and introduced their children and pet dogs to Tom's grandchildren.
It was here that the cornhole courts came out. The sisters found the wooden wedge-like structures nested together in the garage holding a hidden treasure of rockets seated within their hollow boxes. Popular in the state of Ohio, cornhole came as a pleasant surprise in Florida though perhaps it shouldn't have. My stepmother Sue is an expatriate from Cleveland and, after a prolonged family visit north this summer, Tom and Sue returned devoted fans of the lawn game. Determined to keep up the skill level that they acquired in Cleveland, Tom built two cornhole courts from top-grade marine plywood and Sue made the toss bags from denim and dried corn. Sue fetched the corn bags for us, and we spaced each court a ten generous paces apart in the yard so the kids could play. As the children took more interest in the velcro pitch and catch, we took over the courts ourselves in short order.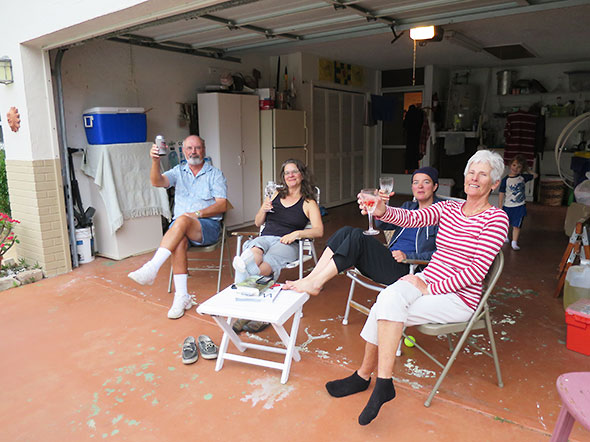 Relieved of wool and fleece, our skin rejoiced in gentle heat of a Florida spring afternoon and in a long-awaited freedom from layers. Stripped of socks and suffocating leather, my bare toes padded about the neighborhood slipping into its sandy soil.
The gardens of the neighborhood are flush with fresh spring blooms and green shoots. My stepmother's garden offered sprigs of parsley and rosemary, and I brushed my fingers over their tender leaves to pick up their savory fragrance. Friday afternoon, I brought in a few clippings with Sue's blessing. Friday night's dinner was a special gathering: a birthday dinner for my man Jeremy, sister Heidi, and stepmother Sue. I pledged a salad of kale and fruit for the meal and, with two hours to go before the meal began my preparation of a vinaigrette to dress the kale. I was honored to use a heirloom dish—my Great Grandma Katherine's stoneware bowl—for the salad's setting.
Sweet Kale Salad

1/4 cup olive oil
1 tsp tangerine zest
2 tsp wine vinegar
1 tsp sweet white wine
1 tsp mint, minced
1 tsp parsley, minced
1/4 tsp rosemary, minced
1/4 tsp thyme
salt and pepper to taste

2 tangerines
1 mango, sliced
2 radishes, shaved
4 cups hand-shredded kale
1/2 cup pistachios

Prepare the vinaigrette in the salad's serving bowl. Zest the tangerines and add the zest to the bowl. Peel the tangerines and squeeze the juice of one quarter of a tangerine into the salad bowl. Separate the remaining tangerine wedges and slice each wedge into three sections. Set aside. Add the olive oil, vinegar, and wine around the inside of the bowl. Toss the minced herbs into the vinaigrette. Salt and pepper to taste. Toss the greens in the vinaigrette first until coated evenly. Then add the cut fruits, radish, and nuts.

Serves 4-8 people.
Uncertain about the quality of the organic greens brought at the big-box grocery store, we decide that my sister Heidi should make a backup salad—a traditional medley of tomatoes and vegetables—in case my salad was a bust. We wanted to be sure of success; the rest of the meal demanded it. Besides our salads, the meal featured three winning dishes by Sue: homemade corn bread, mashed organic potatoes, and a magnificent herbed filet mignon.
The filet mignon—a two pound cut of meat—was topped with a generous coat of compound butter. The compound butter mixed together a tablespoon of butter, a half teaspoon of dijon mustard, a minced garlic clove, a tablespoon of minced onion, a third of a cup of chopped parsley, and salt and pepper to taste. Rubbed then roasted, the steak was done to medium rare in 30 minutes in the heat of a 450 degree oven. My father sliced the roast into tender filets as we prepared glasses of kir royal—champagne and chambord—for toasting.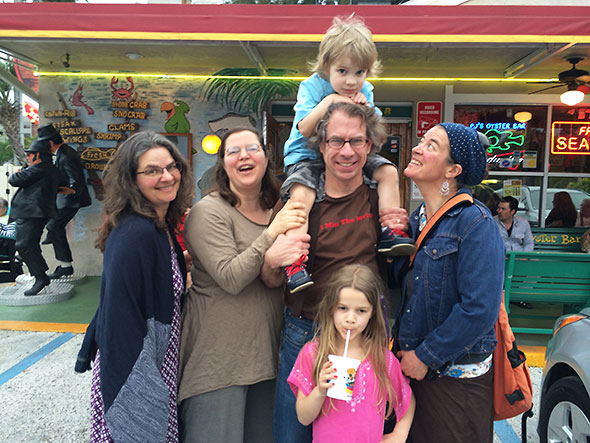 Despite my concern, my fruitful kale salad turned out to be a perfect foil for the flavorful meal. It entirely disappeared along with the rest of the splendid meal. Our spring break vacation is much like that meal…joyfully prepared and shared and gone much too quickly.