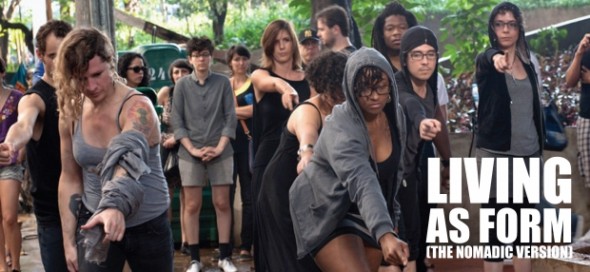 Antioch College to host "Living as Form" symposium
Antioch College and the Herndon Gallery will be hosting a series of events, May 9–11, in connection to its current exhibition, "Living as Form (The Nomadic Version)." Originally produced in 2011 for Creative Time in New York City under the curation of Nato Thompson, "Living as Form" seeks to draw a through-line between the "critical mass" of activism that emerged in the 21st century with the concurrent turn toward the social in contemporary art. 
On Friday, May 9, at 7 p.m., the Herndon Gallery will host a performance by Micha Cárdenas, a Los Angeles-based artist and scholar. Her work seeks to "create community, autonomy, and reduce violence against women, LGBTQI people, people of color, and other groups who continue to combat violence on a daily basis." Cárdenas works with overlapping realms of performance, activism, and technology to organize for change.
On Saturday, May 10, the Compass Group, a collective of artists and activists who have been working in what they describe as the geographic and political area of the Midwest Radical Cultural Corridor, will present the fourth iteration of the People's Trial on Monsanto, a participatory public hearing on Monsanto's public record, and the impact of their products and policies on life—in this community, nation and biosphere.  The hearing has been organized under the collaborative leadership of Sarah Lewison (Carbondale, Ohio), Sarah Kanouse (Iowa City, Iowa) and Claire Pentecost (Chicago, Illinois), and will be staged at the Clifton Lodge in Clifton, Ohio, from 10 a.m. to 4 p.m.  
Local farmers, conservation managers, seed cleaners, agricultural workers, scientists, and naturalists have been recruited to testify as to the significance of genetic modification and associated technologies, as well as the role of government in regulating (or not regulating) these technologies. The trials have previously been held in Carbondale, Illinois; St. Louis, Missouri; and Iowa City, Iowa. The public is invited to attend this free public performative "trial."
The symposium will conclude on Sunday, May 11, with a roundtable discussion in the Herndon Gallery on the Antioch College campus beginning at 10 a.m. The discussion will include independent scholar and cultural critic Brian Holmes; artist and scholar Micha Cárdenas; artist collaborative ESCAPE GROUP; and Sara Black, assistant professor of visual art at Antioch College, as moderator. Following the discussion, ESCAPE GROUP, in collaboration with Sara Black, will present a performance that explores the recipe as form and content. 
All events during the symposium are free and open to the public.