Wednesday was a busy day, and it started early. I woke from sleep just after 4am. Instead of closing my eyes again, I went to the kitchen and started rummaging through the refrigerator. I had prepped pie dough Tuesday night and set it in the refrigerator to chill. Instead of going to bed directly, I stayed awake past midnight studying Galileo and his experiments on gravity until my eyelids dropped. I slept briefly but deeply. It was a gift to wake up early feeling rested.
Awake and alert at 4am, I took out a chilled round of dough—300 grams of flour, butter, salt, and sugar—from the ice box and placed it on the counter. I pounded heat back into the round with a narrow rolling pin. As the dough warmed, its color changed from ghostly white to a pale buttery yellow. Working the now-malleable round from a diameter of 6 inches to 12 inches, I'd roll and turn, roll and turn, roll and turn, lifting the dough off the counter surface as I went to keep the dough from sticking. When I moved the flatted round onto its pie plate, I heard a rumbling bump, bump from the bedrooms. I paused concerned that a child had fallen out of bed. I called out, but no answer. Shortly, I heard another bump, bump, bump and, suddenly comprehending, I pictured my young son lying in bed—restless—his feet running up the wall.
Leaving him be to try and get back to sleep on his own, I researched pie filling. I had a marvelous stash of strawberries in the refrigerator. The children and I handpicked the berries on the previous Friday night from a friend's thick garden patch along with several lean tart stalks of rhubarb. We had promised our friend Jennifer that we would make pie immediately, but God laughed. We were waylaid from our plans and missed our chance over the weekend.
In the early hours of Wednesday, I could act finally and worked as if propelled. I had the pie dough ready. I also had two full hours of the cool pre-dawn morning to construct the pie's layered architecture and bake it in a pipping hot oven. For the strawberry rhubarb filling, I consulted the internet—always awake—and settled quickly on a not-too-sweet composition engineered by Deb Perelman of the Smitten Kitchen. The porch light at Tom's Market would be dim for another 2-3 hours, so I had to make do with the contents of my pantry. I had sugar—white and brown—and salt and even tapioca flour but no source of lemon juice. Not to be thwarted, I substituted orange juice for lemon and carried on.
At 5am exactly, a pitter patter of feet alerted me to the fact that my young man was up. Emerging from the hallway that connects to the children's bedroom, he considered me briefly. I wished him happy birthday, and he nodded. Not quite ready for bright lights, he slipped past the kitchen into the shadows of the living room and tucked himself into a love seat.
His eyes grew accustomed to the light quickly, and his interest in the kitchen improved. He approached and gathered the necessary elements of his morning ritual: A bowl, a spoon, a box of cereal. He set a place opposite me at the kitchen counter and climbed up onto a bar stool. Looking at me all earnest expectation and hungry boy, he made a request. "Milk, please."
After I filled his cereal bowl to satisfaction, he watched me roll the pie dough as he ate his frosted flakes. When he finished eating, he stepped down from his stool, wrapped his arm around the seat, and carried the stool around to set it at my hip. As he climbed up next to me, I asked "Would you like a turn?" and he nodded. He added a determined "Yes" with charming decisiveness and an almost imperceptible lisp. Pleased that I had caught on immediately to his intention, he picked up the narrow rolling pin and set to work confident in his form.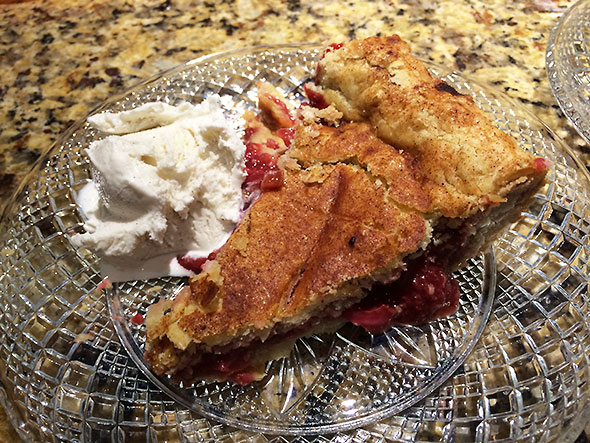 He has a right to that confidence. For a couple of years now, he's joined me in the kitchen to cook. He likes cooking with me. He likes the responsibility and seeks out new accomplishments. What starts with simple camaraderie culminates in honing character-building exploratory skills.
Later that day, we gathered to sing out Happy Birthday. The birthday boy perched atop his stool and soaked in the attention. Sitting straight and tall, our four year old inhabited that place of honor—before a pie he helped make and in the light of unconditional affection—basked with a self-possessed contentment. He looked gratified. He looked ready for more.
And the pie we made together? It was wonderful. Flaky crust sheared at the touch. The bright red interior set to proper consistency and cleaved cleanly into slices. The slightly overripe fruit brimmed with a zinging flavor that bounded off our scoops of vanilla ice cream. It was a pie born of friendship, persistence, and—I see now—no small amount of divine intervention.