BLOG-Halfway to One Hundred
On Christmas Day, my brother Pete entered his fifties. To celebrate this milestone, my brother followed the precedent set by our oldest sister Heidi and invited the entire family and a host of friends for a epic weekend celebration.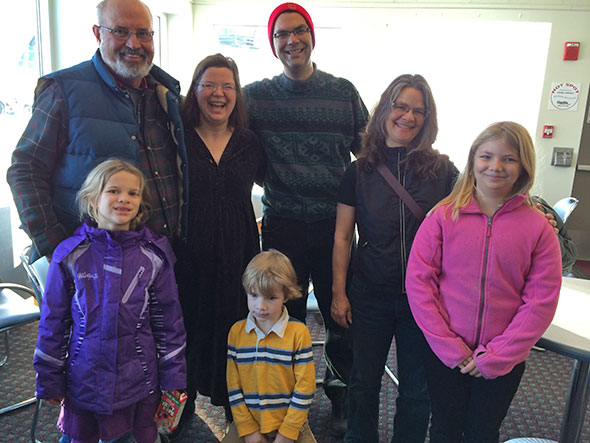 Friends and Pete's immediate family—my two sisters, our parents, and my own brood—converged in Ithaca NY on the week of its first snow. We built a snowman with the cousins, took long walks in the tall winter boots that we wisely procured and packed, and drank a fair share of coffee and hot tea.
Pete and his wife Tami graciously provisioned the lot of us offering several meals even into the week as many family members lingered to celebrate the holiday. Pete and Tami live in the hills on the north end of Ithaca…just outside of the city limits and close to the regional airport. Ithaca itself is nestled among the gorges at the southern tip of Lake Cayuga. My brother's property lies along one of the many fast-running, deep-bedded creeks that feed the lake. The juxtaposition of so much nature and city gives Ithaca its distinctive character.
Introducing us first to a host of homegrown pumpkins on the front porch, Pete gave us an abbreviated tour of the front garden pointing out the year's progress. Since the family moved to the property, Pete has maintained a productive vegetable garden—known especially for its garlic—off the back patio; but, this year, his family made a concerted effort to tackle the front yard and establish a garden there also.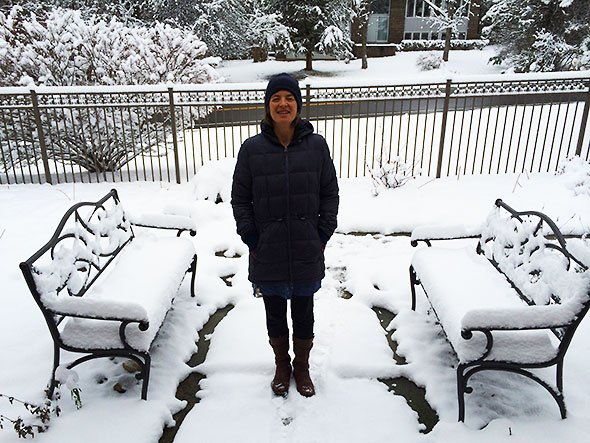 In the past 14 months, they've cleared the bushes from the front, sectioned off a portion of lawn with an attractive and formidable fence, placed benches, and transplanted many native and edible plants. Interestingly, the circling fence stands tall enough to discourage the foraging of resident deer within the garden but not so encompassing as to discourage the deer's migration through the larger property. Even covered with a fresh six inches of snow, the landscape appeared much altered from the tangle of bushes that they inherited. Peter and family have successfully transformed the space into one that invites you to linger.
This first evidence of well-tended diligence was not nearly the last. As one example, I witnessed my brother practice every day in the music room of his home. He played his instruments—giving a lesson on the ukulele to anyone who'd catch interest—and sang in his beautiful bass/bariton voice on our first night of our visit and many times more even on the morning of our parting. Pete worked on several songs with my husband Jeremy and on our last goodbyes made Jeremy solemnly promise to practice the numbers at home. Together with me, Pete worked patiently on a long time family favorite "I've Been Working on the Railroad" showing me the shape of the cords on my borrowed guitar. I had brought my own instrument—a violin—to practice on this trip and even tried to work out a little harmony with his ukulele. I was almost entirely unsuccessful, but I came away with many good ideas about what to work towards as well as my brother's hearty encouragement.
We met about the family dinner table to kick off the weekend's celebration and the next day, again, at Oasis, a local dance club and live music venue. Tami had organized a terrific party complete with catered dinner, a rich chocolate birthday cake, the live band The Purple Valley, and a dance floor that saw a full night of action. The band even asked my brother to join them for a couple of songs in each set. Pete thrilled the house with a bit of Elvis and his own rockabilly renditions.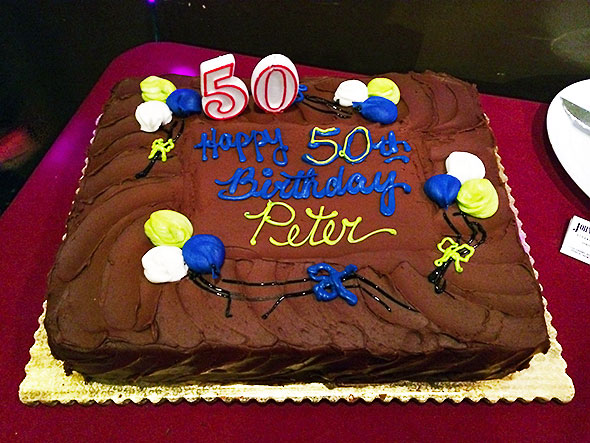 That weekend, Pete met with several exclamations of "I can't believe it!", "You are 50?", "You look too young!". Now, granted, he owes this compliment in part to perspective of the observer. None of us get older, I realize; people just keep getting younger. However, Pete has several things going for him: wise time investments in supportive wife, children, and friends, an attentive love of music and dance, and—no small thing—an excellent gardening ethic.
As I celebrated with my brother Pete, I thought back to another well-executed birthday celebration for a young-at-heart man. I had the great fortune to attend Lloyd Kennedy's 100th birthday celebration at the First Presbyterian Church of Yellow Springs last October. The occasion coincided with the annual children service, and so we gave thanks for all our newest and most enduring blessings. With other community members from about the village, I joined the church choir for an anthem of thanksgiving and, then, stayed for the reception hosted by Mr Kennedy and his wife Fay.
The reception offered a splendid lunch and a cake decorated with a tall flourishing tree. After blowing out the candles, Kennedy cut his birthday cake himself.
As I watched Mr Kennedy work, I could detect the source of his strength. His hand was steady and confident at its task. This hand in fact has mastered many skills. It has worked the land and its vaulting outcroppings to produce a rich legacy in our town.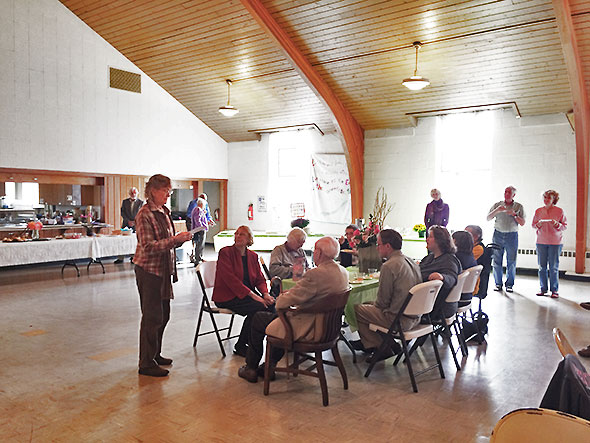 After cake and presents, Kennedy was treated to a reading of William Berry's The Sycamore. The poem's selection was inspired by the white sycamore on Walnut and Dayton Street. The tree is known as a great favorite of Kennedy's. He has taken many cuttings from that tree and transplanted them about the area.
The fact that the sycamore tree at Walnut and Dayton does well in its particular spot is notable. Planted along a main thoroughfare, the tree claims a narrow green patch whose diameter is only half the tree's present canopy. In Wendell Berry's poem, Berry marvels at a sycamore that persists despite abuse and calamity and the fact there's "no year it has flourished in that has not harmed it." The tree manifests a noble principal: sublime, unassailable, intent.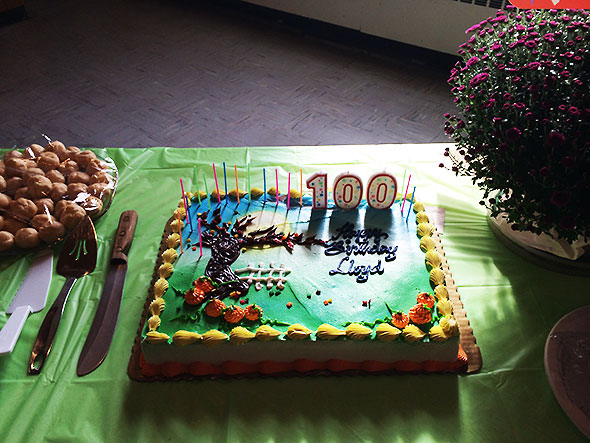 I am two years on the heels of my big brother Pete and almost halfway to Lloyd Kennedy's milestone. Wendell Berry saw in the sycamore's greatness. I see in Pete and Lloyd principles that I too "would be ruled by". They have found a healing place to stand. With attentiveness and disciplined craft, they feed back the roots of that giving place. They are—both in the best sense—native and maker.