BLOG-Rolling Out the Ravioli
This month Chef Corey Elbin is sharing his professional insights in cooking at the Yellow Springs Senior Center, 227 Xenia Avenue. For his first lesson on Friday 8 January, eight local women including myself joined him to learn how to make a favorite dish: butternut squash ravioli.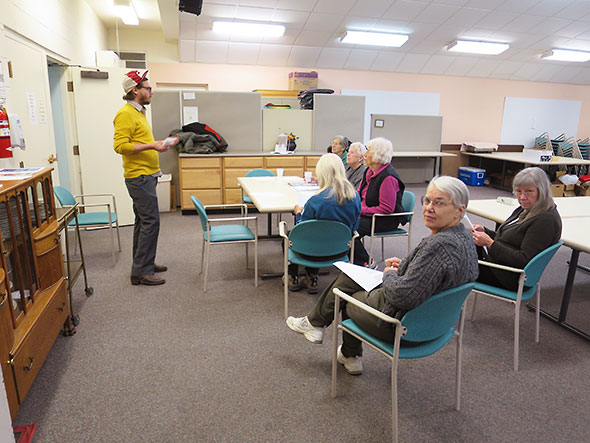 I had taken a cooking lesson in making a similar dish four years ago from Chef Laura Robinson when she was based out of Cincinnati. Homemade ravioli makes for a profoundly memorable meal so I was game for another lesson. I dare say that I was even due.
Corey had budgeted an hour for his lesson so he arrived with a roasted butternut squash and pasta dough prepped. The butternut had been halved and roasted for an hour in a 350 degree oven. Cutting into a raw butternut squash can be difficult so the group discussed practical alternatives. Many preferred to roast the squash whole and let the heat-softened gourd cool before slicing into its flesh.
Corey separated the bright orange pulp of the butternut squash from its skin and seeds and prepped the remaining ingredients for the ravioli stuffing. First he sliced a shallot and three cloves of garlic and softened the aromatics on the stove in tablespoons of butter. He then chopped a half cup of curly Italian parsley admitting when asked that, yes, he would prefer the French flat-leafed parsley. Both varieties, he reassured us, would add a pleasant hint of celery to the dish. He loaded on the dairy next—a cup of Riccota and 3/4 cup of Parmesan Cheese—and then an optional ingredient: Corey highly recommended adding a half of a cup of nutritional yeast as the flaky flour-like yeast gives the dish a nutty flavor and healthy dose of protein. After adding the sautéed shallots and garlic, he salt and peppered the mound of food and mixed it thoroughly with a fork.
Among the tools that Corey brought to Friday's demonstration was a foot-long wooden dowel. This was his rolling pin. He stretch two thin canvases on a table working the pin over the dough with agility and patience. The dough was bright yellow—almost matching the mustard yellow sweater he wore—and Corey noted the color revealed his preference of using more egg yolks than egg whites in his pasta. The ratio of eggs to flour that Corey used was one to two unlike the two to three ratio I had been coached on previously. Corey's version resulted in a superior dough, its texture more like traditional pasta. Its luster was less eggy and had matte sheen; to the touch, it was like satin.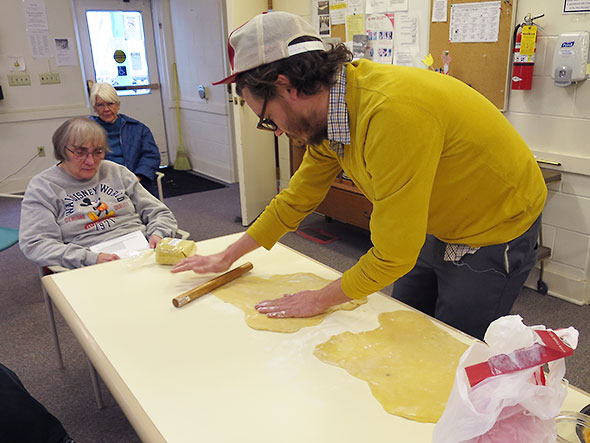 Once Corey rolled each canvas to a transparent skin, he spaced out heaping tablespoons of butternut filling on one of the two canvases. The other he painted with a thin film of water and then, with quick confidence, flipped it painted side down on top of the butternut-loaded pasta sheet.
Corey then pressed out the air around each mound of butternut squash filling so that the gluten in the damped dough could combine and strengthen. When he achieved a good seal, he cut the ravioli out in rounds using a pint-sized, wide-mouthed mason jar. He finished each piece by scoring the round about its edges with the tongs of a fork and placing them on a floured plate to rest.
To cook the pasta, Corey heated water in a stock pot on the stove. While he waited for the water to boil, he started a cream sauce. He used Snowville Creamery Whipping Cream as sauce's base by reducing the cream on the stove with enough heat to bubble but not boil over. He added another shallot and 3 cloves to the reduced cream along with a dusting of green from 12 chopped leaves of sage. The savory ingredients gave earthy notes of mushroom to the sauce and filled the gallery kitchen of the Senior Center with the alluring scent of warm butter.
The scent drew other people from the front rooms of the center towards the kitchen. As Corey prepped plates of ravioli with sauce and a wedge of lemon, his attentive students took over making the final ravioli pieces—rolling out the leftover dough, divvying out the remaining butternut mix, cutting out the stuffed pasta rounds, and sealing them with a fork—until we had enough for the growing crowd. Everyone was in raptures over the prepared meal proving once again how absolutely splendid this particular dish can be.
Chef Corey Elbin will be back at the Senior Center on Friday 23 January at 11:15am to instruct us in making Asian Dumplings. Donations of $3 to $5 are being accepted for the class. If Chef Corey does not succeed in convincing us to cook these lush meals for ourselves, it's because we'd rather hire him to keep cooking!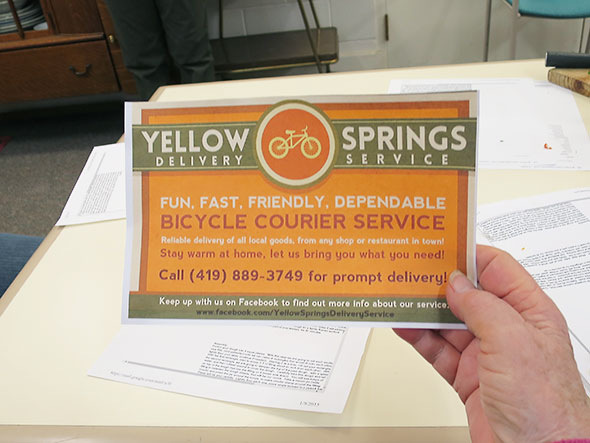 He's ready and willing, delivery included!