BLOG-The Voices of Friends
On Boxing Day, the Friday following Christmas, my daughter and I sat in a hallway like a pair of chastised students awaiting an uncertain fate. Our two chairs were placed outside the nursery of the First Presbyterian Church. Inside, a voice lesson played out. Two voices tested each other: the first, a ringing tenor; the second, a full-voiced baritone. I knew both. The first I heard last year at a benefit concert. The second stirred the memory of a Happy Birthday serenade sung for a highly entertained, appreciative young man. My daughter eavesdropped on the ongoing exchange with intent gathering clues to her own destiny.
When the owners of the two voices emerged, my daughter greeted Martin Bakari and his student Volker Bahn with interest. Volker positively brimmed with a hour's worth of encouragement. My daughter took confidence from his demeanor and with little hesitation changed places with Volker. Taking Bakari's offered hand, she shared her ambition to sing at the annual Mills Lawn talent show. When Bakari asked her what music she might sing, she introduced him to the ear worm "Boom! Clap!" by British artist Charli XCX. They walked through it, verse to chorus to bridge. My daughter began with a quiet, breathy voice turned inward but soon—with Bakari's insight and guidance—she tooled the foundations of a clear, melodic belt.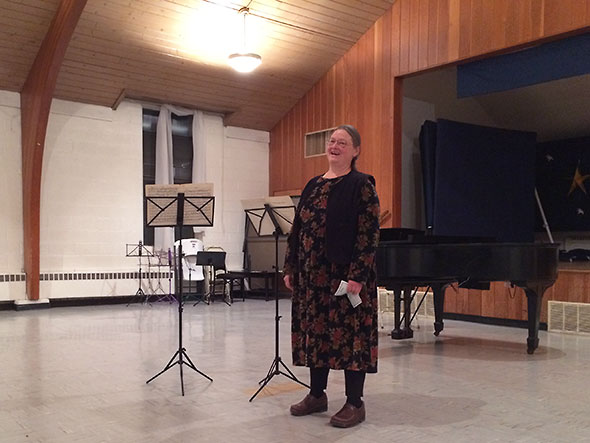 Three days later, my daughter and I made a reverent pilgrimage to the First Presbyterian Church. Bakari was listed among the alumni for the Friends Music Camp benefit concert, an eclectic mix of classical and contemporary pieces professionally performed. We had come, in short, to be amazed.
We were not disappointed. We were in fact pleasantly surprised by not just the superior quality of the night's offerings but the tangible cohesiveness that radiates a tight-knit extended family. Heidi Champney welcomed the enthusiastic crowd and thanked the supporting cast of host families, stage hands, players, and composers. The music that followed was both artistically arranged and choreographed as the artists filled the Westminster Hall with resonate presence and commitment.
My daughter and I watched—with newly formed appreciation–bow holds of stringed instruments and the textured overlay of melodies. Heidi Champney lead an ensemble in three mediative chants which focused on the root, crown, and heart in turn. Each evocative chant was anchored by a single droning instrument—first, the didgeridoo; then, the cello; finally, the singing bowl—which provided a focused living foil for the unmetered voices. Juliet Schlefer's soprano rang like a bell in Antonin Dvorak's Mein Lied ertönt, ein Liebespsalm and I realized how well suited the guttural language of German—with its round vowels and punchy consonants—is to carrying the human voice in song.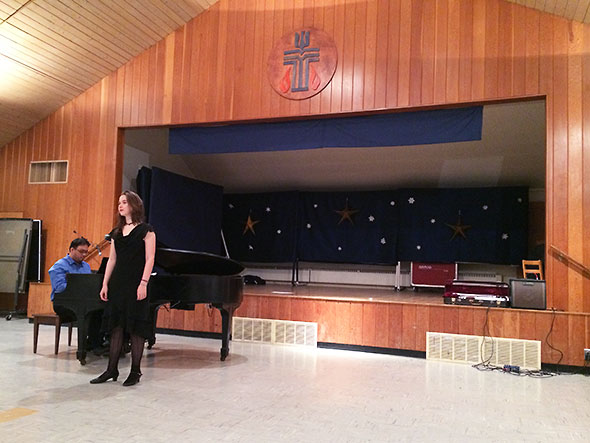 We had come to hear Martin Bakari's dynamic tenor in particular but found ourselves laughing at his comedic timing. He paired first with cellist Lisa Liske-Doorandish in the Stephen Sondheim's Later—a self deprecating monologue by a young man in love with his step mother—then took the first round of a satirical Canon on the name of Bach by Francis Yun, the newly minted Doctor of Musical Arts.
Yun had a busy night accompanying many of the concert's performers on piano and directing piece of no less than 9 cellists. There was, however, one more pianist in the assembly of players. In a surprise duet just before intermission, Sam Salazar took the stage with Rory Papania. Sam played piano and Rory guitar as they harmonized in a style honed at Friends Music Camp. I looked back into the second row of the audience and watched Rory's mother drinking in his deep baritone voice, a rare treat for us all.
As we took our leave that evening, my daughter mingled with concert attendees and the many performers. Encouraged by her level of engagement and obvious enthusiasm, several people asked her age chuckling as she owned her seven years. She responded not fully understanding their interest. She is too young for Friends Music Camp by three years and does not yet know the ambition to go. However, I say another young man—our bass trombone player from the early December's Mendelssohn performance—about age 10 and almost breathless with excitement. I caught him just outside the church nursery which served as the concert's green room for the evening. Inside, the room swirled with activity as instruments tucked into cases and performers lingered laughing in each others' company. "You are among your people," I told him. "Yes", he agreed in earnest, "I am!"