When I turned seventeen halfway through my junior year of high school, I gave serious thought to what I might do for a living. I was a young George Bailey, a small town kid hungry to see the world, somebody who wanted to build things. Three vocations came to mind: theater set design, architecture, and electrical engineering. As much as I loved the thought of pursuing artistic endeavors, I chose the practical route. I had no true idea of what pursuing theatre or architecture meant. I had no way of predicting if I'd be any good in those endeavors, but I knew electrical engineering. It had been the family business—starting with my Great Grandfather Morton Hendrick Andreas Magnus, Sr.—for three generations. Great Grandpa Morton was part of a team of engineers—several of Norwegian descent—who wired the Holland and Lincoln Tunnels between New York City and New Jersey. Great Grandpa also worked in New York City as an engineer for Hurst Publishing and, prospering, raised a family with Grandma Marie in Jamaica, Queens. Their son Morton Magnus, Jr., escaped New York City for a much quieter life in Upstate New York. At the tender age of four, my own father Tom helped his renegade dad wire family farms for electricity. Later, Tom would work for Bell Laboratory and International Business Machines (IBM) building integrated circuits. My mother's dad Kelly also shared the profession. Grandpa Kelly—electrical technician for IBM—made sure that, growing up, I maintained a steady diet of hand-built radios, circuits, and antennas.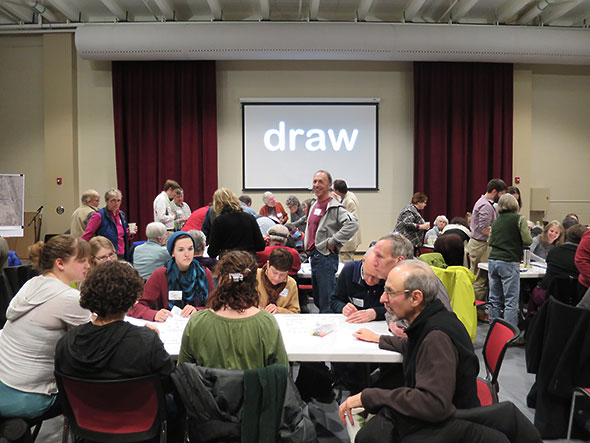 The common skill between the three trades—set design, architecture, and engineering—is drafting. By my junior year, I was pretty keen to pick up this skill. Backed by my Grandpa Kelly and Dad, I pestered my high school guidance counselor until he signed me up for drafting class. I was the only girl in the room and, if that bothered my guidance counselor, it didn't bother me. I sat near the front of the class and leaned into my work pausing only occasionally to flirt. I love my drafting board that my parents bought for me and the drafting tools that I keep to this day: T-square, french curve, compass, dusting brush, and pencils of assorted hardness. I learned to draw a crisp uniform line, twirling the pencil between my fingers as I pulled lead across paper, wearing the graphite at an even pace to keep a fine point. Pleased with the progress I made over the school year, my teacher and softball coach Mr Arbes told me how much he was looking forward to having me in architecture class next year. I blinked at him, my disappointment profound as I told Mr Arbes that I was a graduating senior. Appalled that no one told me until the last month of high school that "we offer an architecture class", I had words with a certain guidance counselor.
Starting 1 March this past week, village residents were offered a master class in architecture and community planning. In truth, we were offered much more than a class. Antioch College is planning a major campus revitalization and organized a charette to map out test solutions with community input. This week's charette has been a golden opportunity to participate in the give and take of the extensive renovation project and to rub shoulders with a impressive team of architects and urban planners.
Sunday night kicked off with a open design session. The south gym of the Wellness Center was arranged in tables. We were there to work more than listen, but, as Sandy Wiggin set the scene with a talk on living communities, I wondered how the audience could hope to contribute in a meaningful way. The team introduced to us had sterling credentials. Reassuringly, they seemed to understand us well as a community and also seemed to appreciate the experts of place represented in the room. They called out the biases—the disproportionate representation of residence who had lived in the village for over 20 years and of residents who were over 65 years old—and also explored the range of priorities both in the larger room and at each design table. Next, we were given an opportunity to make our case and explore the challenges and potential seeded in the campus. If we met with skepticism, we were told, "Argue with your pencil."
On the cue of "draw", I turned my chair around to face the table. Thirteen or so tables were organized to hold small groups. At our table, ten people gathered. My compatriots in the design task were Andrew Kline and Alex Melamed of Green Generation Building, Brent Henderson of Solar Power & Light, Associate Professor of Environmental Science Kim Landsbergen, Kevin Mulhall of the Olive Kettering Library, three people from Columbus OH: a retired environmental scientist, his partner, and a student of environmental science. The tenth person introduced himself as our facilitator. Before us were two large sheets of paper. The bottom sheet was a black and white campus map. The top sheet was a table of 10 items. Our facilitor—a handsome fellow with a shock of black hair—introduced himself and turned over the top sheet. He handed each of us five green dots and, after introductions were made, our facilitator invited us to spend the dots by marking our top priorities. We could even write in our own interest if we didn't see our heart's desire listed. These items included:
– enable environmentally sustainable lifestyles through design
– include a variety of housing types and tenancies
– create walkable and bikable places
– provide connectivity with nature
– utilize green building and site design systems (for energy, water, etc.)
– increase the number of families use our schools and spread our tax burden
– leverage our natural strengths as a destination for those who want to live in an intimate environment of arts and education
– add new residents that help support nearby downtown businesses
– provide financial support to the college
– build a diverse community of life-long learners and increase the interaction between the college and community
– other (your ideas here!)
This quick process demonstrated that we had a fairly balanced set of interests represented at the table. The leading interests at the table were green building and community interaction closely followed by connecting with nature and supporting the college financially. I voiced my surprise over the single vote cast (mine!) for leveraging the village's natural strengths. However, I was quickly reassured by Andrew Kline that "We are talking Yellow Springs. That's given." His assertion earned a chorus of vigorous nods.
Attack fronts drawn and ready, the top sheet was whisked away to reveal the campus map underneath. Our facilitator threw down a dozen color markers along with the challenge to produce the most colorful map of the night. Our facilitator turned out to be none other than Christian Sottile, Dean of the School of Building Arts at the Savannah College of Art and Design. To truly appreciate Dean Sottile's ambitions and what HE means by color, you have to check out the crazy cool SCADpad, his project on urban expansion revolving around the design of intimate spaces. At the time, we didn't fully appreciate what he was about, but we produced a respectable first effort for him and indeed the evening's most colorful map.
Which is to say, we argued a lot. We had a cross section of interests—students, faculty, alumni, past and present village residents—but, agreeably, most felt empowered by the process. Skepticism was expressed and addressed in a healthy progression of ideas. The argument was joined not in gray pencil but in swirling bands of color and perspectives. We covered a respectable amount of ground in the allotted time and built a comfortable consensus around three design points—reinforcing relationships to the Glen, emphasizing the reuse of existing buildings, and revitalizing the south college street corridor from WYSO to the Art Building and perhaps even across Corry Street to the decommissioned energy plant. Our ideas were only three of those resolved in the larger room, still surging with activity and debate. One person from each table debriefed its group consensus. The crowd-sourced brainstorm was captured now in voice as well as text and diagrams. By the end of the night, we could feel common purpose jelling, peppered with insightful ideas, tested by competing interests. We could feel a reassuring weight to our contribution.
Importantly, we had gained an appreciation for the intricacy for the design project ahead. I came again on Tuesday night after the day's open design session and once again Thursday afternoon during a closed session. On Thursday, the team was pressing hard to meet the publishing deadline of the charette's close. Emily Seibel, Executive Director of Yellow Springs Home, Inc., gave me a tour of the week's work and an account of the many hours that she put in herself, working affordable housing and artist live/work lofts. Among her causes was the art building which, perhaps by more perception than actual status, waffled between the extremes of "lost cause" and "favorite element". The draft concept of a ground floor exhibit space with work/live lofts is the most intriguing in the design. Its imagined use completes a vibrant corridor defined by a continuation of South College Street, formed along the Wellness Center and Library, and flanked by the campus farm and Glen Helen.
My own interests drew me to the craft before me equally fascinated by the tables of the architects and the illustrators. Poised over creations, the tools of their trade were not simply on display; they were in bold concentrated action. As I watched, Architect Marice Chael planted a grove of courtyard trees to a rendering of co-housing units. Watching her work, I took an extra bit of bliss in the familiar objects that surrounded her focus of attention…straight edge and curl, compass and stylus. Her fist-sized eraser was set immediately at hand—not hidden—as if she were unafraid to take risks or to reexamine consequences. Veteran illustrator James Dougherty had at least two watercolor prints in front of him at any time adding to the master works in parallel. When I entered the room, he was painting the deepening shadow of trees to street level and birds eye views. On his computer, he flipped through pages and pages of Yellow Springs photography—drinking in the eclectic pallet of color—and selected purples, oranges, and greens to paint variation into intimate clusters of cottages and neighborhood gardens.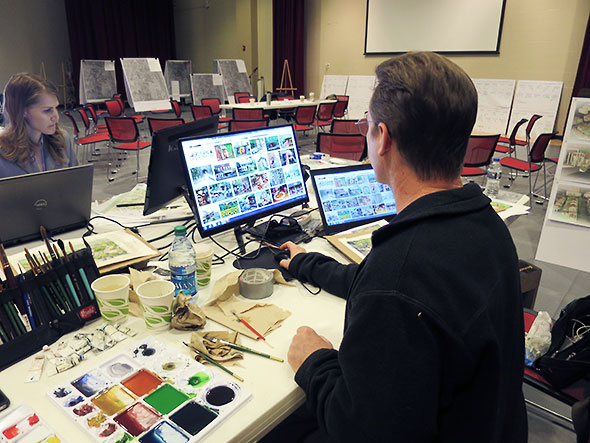 The tables of drafting tools brought to mind the book An Ethics of Excellence which, this past fall, Yellow Springs High School students invited the community to read and discuss with them. The book's author Ron Berger is a proponent of project based learning and assessment of student development through portfolios. In particular, Berger advocates archiving product revisions so that, throughout the development of real world projects, students can gauge their progress as they transition from novice to expert. Introducing students to the craft of drafting promotes a culture of excellence. The students of Berger's rural school start in elementary school—kindergarden really—certainly not, like me, in their last years of high school if even offered the opportunity at all.
I gladly second Berger's advocacy for learning drafting early. One year into college and waist deep in the challenges of math classes, physics labs, and bench work, I was terrifically glad that my family and I fought hard to get me into drafting class. I would have never guessed how important to success drafting skills were that first year…strangely even more important than calculus…but my instructors were mightily impressed by my ability to illustrate concepts on paper. I had a dexterity and ease that my peers lacked, and that ease earned me an extra jolt of confidence.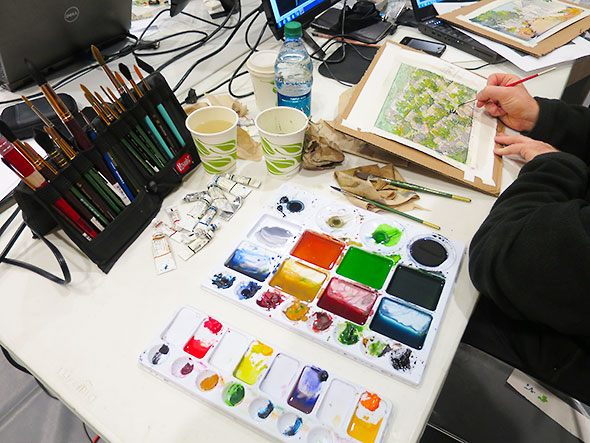 With four hours to go before the charette's closing event, the room was quiet and focused. There was also a surprising sense of ease. The source of that ease was two fold: one having a good story to tell and two having the skills to tell it well.
That story won an surprisingly positive response from Thursday's crowd. Standing in front of the favorable results to the poll question "Are we on the right track?", President Roosevelt admitted to his own skepticism in the lead up to the charette. He thanked the gathered public for their own skepticism and engagement and placed credit for the charette's success at the feet of the design team.
Among my favorite moments of the week's events were the conversations I joined with Victor Dover, co-founder of the firm Dover, Kohn, & Partners and master in the secret art of urban street design. He was especially good at his role as principal of the charette's design process. An engrossing speaker and careful listener, he lead the feedback portions of the open studio using the process to educate, mentor, and facilitate. At the charette's climatic reveal on Thursday, he had the pleasure of unpacking the candy box: the tempting array of housing solutions and the overarching thematic design which reinforces campus landmarks and dynamic rhythms. To the south, art and science meet in play and mingle in serious endeavor; to the north, the urbanite and forested Glen flirt incessantly. Activist urban planner Sandy Wiggin's presentation was sober in contrast but even more empowering in the long view. Though challenges remain—among them, net zero energy goals and grid resiliency under emergency conditions—on the whole the college has given itself an honorable, realistic challenge: Host 350 new residences in the living community model.
The challenge that concerns me most does not concern buildings or BTUs, streets or swales. It focuses on people. How will the fabric of this intentional community reinforce the human connective? Like Sandy Wiggins, I look to our natural strengths. I equate Antioch College with activism like so many others, and the village is indeed a destination for people seeking an "intimate environment of art and education". Still, intentions can be subverted by unintended consequences, and I cannot take as given what I hope will be a generous, diverse neighborhood of activists and life long learners.
Success turns on a collection of individual choices, a common source of rewards and risks. The immediate action that I take away for myself is to expose my children to the art of drafting. There is a distressed school work bench in the children's room that Jeremy and I found in a village antique store. It is the perfect launch pad for those well-loved, often-exercised drafting supplies currently tucked away from view and use. Whether exposed to use or abuse is I suppose not entirely up to me, but I'm ready for my young children to surprise me. They have before. I look forward to the scent of fresh lead shavings and the tender caress of brush on paper. I imagine two sandy-haired heads leaning over creations shaped from their own vivid imaginings and their emerging sense of beauty and justice. We won't be able to recreate the workbenches of the South Gym, but no matter. We have a high ideal to chase.
Besides the charette is beginning, not end. The charette's design team has set up an online forum to extend its open studio through the end of March. In the interim report presented to the public on Thursday, Victor Dover reminded us that the lines inspired, inked, and colored at the charette still have a lot of give and bounce to them. They do not represent permanence but ideas that will morph and warble. Dover made a simple promise to the gathered stakeholders, a promise that stands as a dare to the campus's current residents and the village as a whole.
"More soon…"