BLOG-Spoon into the Neighborhood Nest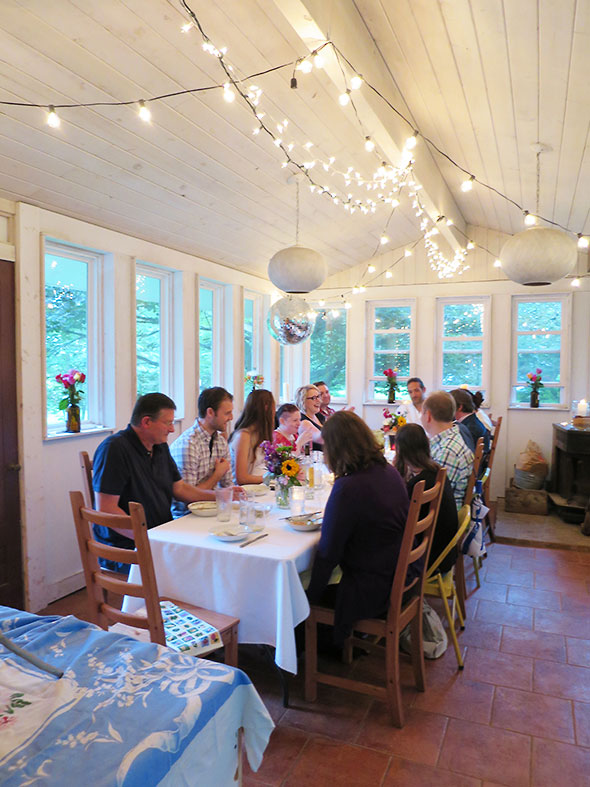 Around Yellow Springs, Amber Tipton is known best as a baker but she possesses a multifaceted talent. She represents a well-run show: diverse product line, high standards of quality, and a striking brand The Neighborhood Nest. At the farmers market, her table is ship shape—full of gluten free wares—when the doors open and clear of product thanks to a loyal cadre of customers when time comes to pack up. She is both approachable and confident—essential traits of a leader—and she readily took on the role of mentoring other market vendors. Her own vision for herself is clearly understood and ambitious. She wants to operate a brick and mortar business, something more than a bakery, a full-fledged restaurant.
Amber, like me, has been cooking and baking for her family since she was 10 years old. Her own mentor was her Great Aunt Wilma, and together they took pride in entertaining with simple, well-made foods. After her children left the family nest, Amber took the initiative to follow long held dreams. She went back to college and earned dual associate degrees in culinary arts and hospitality management.
While focused on event planning in school, she hit a bump in the road. She discovered that she and one of her daughters had celiac disease. Warned away from wheat products, Amber turned major dietary obstacle into culinary challenge: converting go-to recipes to tasty wheat-free formulations. Her purpose established, her entrepreneurial journey began. This week, that journey lead her to a Yellow Springs home where The Neighborhood Nest produced a multi course tasting dinner for a party of twelve.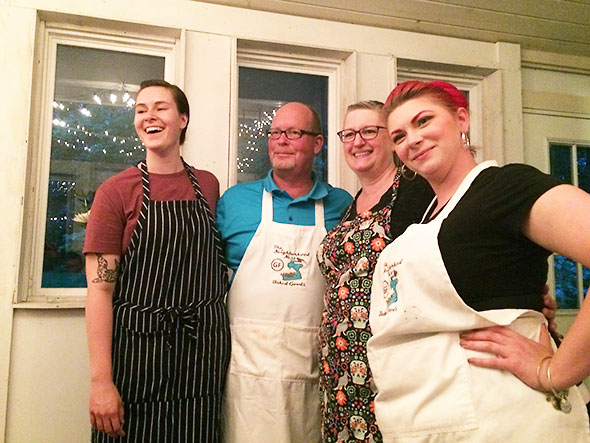 Chef Amber had mapped out an ambitious fine dining experience of seven course for the evening's guests. Catering to devoted fans and fellow celiacs, she intended to amaze all and bring the celiacs to tears of joy by meal's end.
The entire production—a starter, a fish plate, meat, vegetable plate, an intermezzo, and two deserts—was created by a crew of four. Chef Amber was accompanied by Chef Olivia Tipton, a graduate of Johnson & Wales with a bachelor of science in culinary nutrition and currently associate research and development chef at Jeni's Splendid Ice Cream in Columbus OH. Chef Olivia and Chef Amber collaborated on the menu which highlighted Chef Olivia's specialty quickling, her word for quick pickling, in addition to Chef Amber's breakthrough gluten free confections. The two other able lieutenants were Stephanie Downs assisting as server and Gerry Tipton—Amber's husband of thirty years—on duty as dishwasher, heavy lifter, and sous chef.
The gluten free meal kicked off with toast. The snappy wedge of bread held a dollop of goat cheese and rested beside a smear of mint pesto. Pickled strawberry floated on top, the secret of its fruit heart hidden under zesty radish, ribbons of shaved asparagus stalks, butter-poached asparagus tips, and fresh dill. When we bit into the delight and tasted the sweetness preserved within, we at once realized the genius of the planned meal in its ability to surprise.
The next plate to arrive before us was the fish dish: Catfish breaded in corn meal and fried to a sublime crispiness on the outside, flaky tenderness on the inside. The fish was accompanied by ham-infused collards, green tomatoes, a light remoulade made of locally sourced buttermilk, and tiny round jewels that turned out to be pickled mustard seed. Chef Olivia also produced a hot vinegar—heat added by fresh peppers—for us to dribble on the catfish.
Still swooning over the fish, we were treated next to a plate of chicken made three ways: smoked sausage, rillette croquette, and rotisserie. each with their own sauce and vegetable. The tastings were arranged in an elegant arch along the plate each memorable variation accompanied by its own sauce and vegetable.
I ducked into the kitchen just a few minutes before to witness the contraction of the intriguing meat plate. I first took note of the organization, especially with regards to the ingredients that were either just coming off heat or prepped to go on to plates.
Gerry as sous chef took point in browning the chicken andoullie sausage. Chef Olivia sliced the rotisserie chicken and filled the kitchen with the chicken's aromatics before moving on to finalize the accompanying vegetables with Amber. The three of them worked easily with each other in the galley kitchen while Stephanie prepped the plates in an adjacent room.
It was one thing to see the individual elements under preparation. It was quite another thing to see them composed in the artist's final rendering.
When the plates arrived at our place setting, Chef Olivia would describe the dish…the ingredients, something of their preparation, and answers any of our burning questions. Chef Amber emerged from the kitchen with the fourth course—pan roasted baby turnips flavored with cultured butter, salt, and a caramelizing heat.
She stayed to ask our impressions of the meal so far. We answered her query with raptures. A couple who had driven 50 miles from Hillsboro Ohio was particularly enthusiastic with their praise. They loved the idea of being able to dine elegantly without fear of flour—he is a celiac—but wondered if the meal would prove worth the trip. They had been completely won over by the delicious well-paced meal and wondered aloud how the remaining three courses could hope to match up.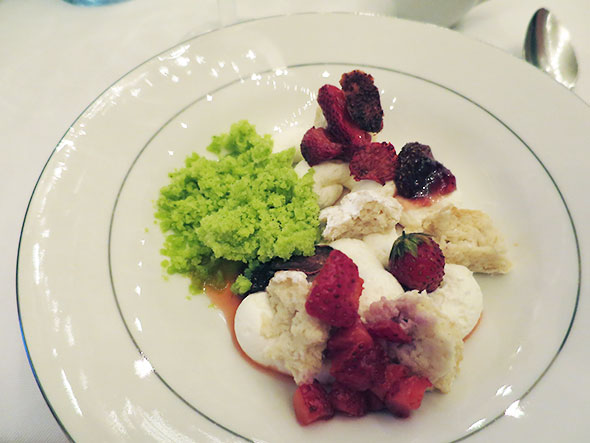 Chef Amber smiled at this challenge and remained with us for the next course—intermezzo or breather—before continuing on to dessert. We were each given a delicate wine glass filled with an Italian-style shaved ice that was the color of grapefruit. We took a spoonful and discovered the granita was in fact watermelon iced, shaved, then mixed with tiny poprocks. Amber laughed at the looks on our faces as the poprocks effervesced and snapped our tongues like sparks.
We learned in the fifth course to not doubt Chef Amber's uncanny instincts. She proudly announced the sixth course herself: a cake donut hole with rhubarb compote. Here is where Amber knew the meal would take an emotional turn. Donuts are forbidden fruit for celiacs; it is extremely rare to find the confection made with a satisfactory substitute to wheat floor. Chef Amber had recently happened upon a naturally occurring culture of yeast and used it to create dough that would make a light airy dough without gluten. The donut itself was delivered in an oiled paper bag dusted with cinnamon sugar. It brought people to tears it was so good and everyone lost their composure cleaning crumb and compote off their plate with their fingers and lip smacking the traces clean.
The final dish arrived at the two hour mark: strawberry shortcake with a sweet pea and mint sorbet. I'm biased but for me it was masterful. A welcome favorite, easily enjoyed and savored, even as we arrived at the end of magnificent wide-arching meal.
In a state of deep satisfaction, no one was in a hurry to hurry off. The host family produced two guitars and several of us stepped forward to play. Our guests from Columbus surprised us as much as we surprised them with two full throated songs and flashing guitar and soon had us all singing along. We laughed and talked and sang in the glow of a meal, a home, a company notable as much for its reverent quirkiness as for its high held quality.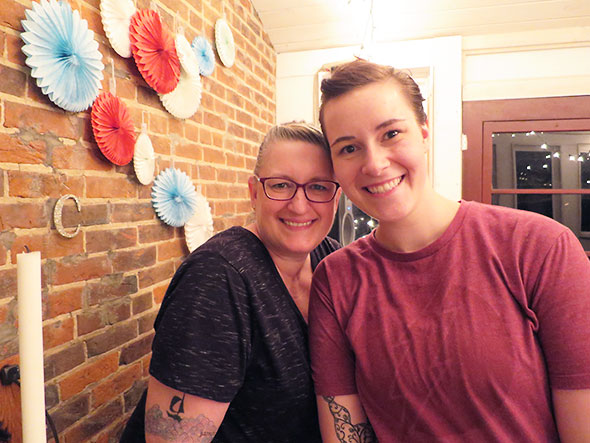 "This is what I'm after," Amber confided in me. "For me, it's not just about good food. It's about community. This is why I work so hard." That night Amber's dream burned bright.