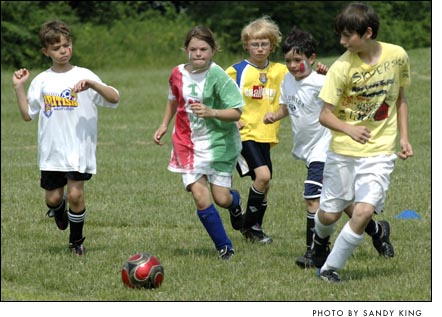 Youth rec soccer to kick off on Friday
Yellow Springs Soccer, Inc. Recreational Youth Soccer kicks off
Friday, Aug. 28
, at Morgan Fields, with registration at
6 p.m.
and a clinic for all players at
6:30 p.m.
Registrants should come dressed to play and must register with parent or guardian authorization. Players will be assigned to teams and their coach will call them in the following week to arrange first practice and game times. Those unable to attend the clinic should contact the organizer for the appropriate age group listed below. Registration forms are available at the YS Public Library, on the group's Facebook page in the photo section or via e-mail. Late registrants may have to wait a week to be assigned to a team.
• Copper Cup, pre-K ages — Nacim and Cyprian Sajabi, 767-7830,
nacimjune@yahoo.com
. (Copper Cup plays "pick-up" games, requiring no registration or practice, beginning
Saturday, Sept. 12
, at
10:30 a.m.
)
Gold Cup games begin
on Friday
evening,
Sept. 11
, and the first Bronze and Silver Cup games are
on Saturday
morning,
Sept. 12
. Coaches generally arrange one or two practices per week. All games are held at Morgan Fields, at the southwest corner of East Enon Road and Dayton Street.
Volunteers are needed to help coach at all levels, officiate, care for fields and assist with events. YSSI is a nonprofit organization whose mission is to encourage and assist in the development and growth of community leagues, associations, organizations, programs, and teams so that soccer is made available to more people at all levels of competition. Donations are gladly accepted. For more information, visit
http://www.Facebook.com/
YellowSpringsSoccerInc.