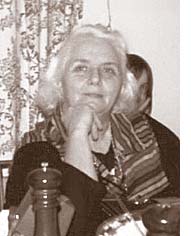 Eileen Monaghan, a resident of Friends Care Community, died peacefully in her sleep on Thursday, Dec. 10, 2015, just five weeks short of her 95th birthday. Eileen, a fun loving, gregarious person, was a devoted wife, mother, grandmother, great-grandmother and friend to all. She will be dearly missed, but remembered by all who knew and loved her.
She was born and raised in New York City (Brooklyn), met and married Paul J. Monaghan and finally moved to Long Island, N.Y. and raised her family of six children (five boys and one girl). Having been an only child and losing her father at 7, she always wanted a large family and had a vivid creative imagination. During her life she reinvented herself a number of times, having been a dental hygienist, Western Union messenger, newspaper columnist, award-winning ceramics instructor/artist, office worker and a truly devoted mother.
She had a large family of six children, seven grandchildren and 12 great-grandchildren. Once widowed, Eileen moved from Long Island to Connecticut, then Beavercreek, Ohio, and then Yellow Springs to be closer to some of her geographically scattered children. Even though two children preceded her in death, Eileen never lost her sense of humor and positive good nature. Always going the extra mile for her family and creating fun, educational activities for her children created many funny family stories.
Imagine wanting six young children to experience the thrill of sunrise with breakfast cooked on Jones Beach, Long Island. The menu was eggs and sand, sausages and sand, bacon and sand, biscuits and sand and a truly spectacular sunrise with sand. Memories which none of the children have ever forgotten but have added to the family lore of what a great person she was and will always be in their memories. A true foodie at heart, Eileen loved ice wine, New York egg cream soda and steak tartare sandwiches. Visitors were always offered Entenmann's crumb cake and a cup of Folgers instant coffee (some N.Y. favorites). Chinese take-out food was another favorite, which the kids never wasted since the egg rolls were always cut into three pieces. Eileen's family will always fondly remember these stories.
The stories of Eileen's Western Union job have always added comedy to the family lore. Long before the advent of high technology, messages were delivered throughout the Western Union facility by young ladies on roller-skates. Eileen was one of these and had to constantly avoid operators jumping up from their switchboards and rolling their chairs (moving obstacles) into the skater's path, like a roller derby but without hazardous duty pay and many crashes. Needless to say, Eileen became such a good skater that she would go to the roller rink as a fun after-work activity.
Eileen was one of those people who always made you feel better about yourself after being in her presence. She had a great gift. We must all leave this world someday and hope that we can leave it a little bit better. Eileen left it a lot better.