Dr. Charles 'Chuck' Ganzert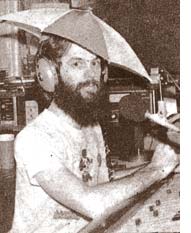 Dr. Charles (Chuck) Ford Ganzert died on March 31, 2016, in Seattle, Wash., after suffering a massive stroke at the age of 63. He was attended by his wife, Patricia Cianciolo, his sister Lynn and brother Dave at the time of his passing.
Chuck was born in Richmond, Va., in 1952. He attended J.R. Tucker High School and received a bachelor's degree from Virginia Polytechnic Institute. While in Blacksburg, Chuck taught school, danced with a clogging troupe for three years, worked at the college radio station and played violin with a number of string and jug bands.
Migrating to Yellow Springs in the late '70s, he began working with Jerry Womacks making furniture and musical instruments, including his own fiddle. Following his strong musical and performing interests, Chuck soon joined WYSO. During his eight-year tenure at the station, he served on the WYSO Advisory Board, acted as program director, wrote for the program guide, hosted the long-running weekly folk show "What's My Line?" and engineered and produced countless broadcasts of live music from the station and other venues. He also performed with local musicians such as Marvin Thordsen, Rick Wagner and Dave Gordon.
In 1986, his eight-part series, "Tis Sweet to Be Remembered," was chosen unanimously as the Radio Program of the Year by the Ohio Educational Broadcaster's Association. It received the highest marks in every category, including production. "Even the cow was on cue."
Chuck and Pish left Yellow Springs in 1987. While Pish was teaching at Rio Grande College, Chuck was earning a master's degree and doctorate at Ohio University.
Dr. Ganzert and Dr. Cianciolo landed in Marquette, Mich., at Northern Michigan University, where they joined the faculty. Chuck was able to follow his lifelong passions as a member of the Communications and Performance Department. Beyond his regular academic duties, he oversaw the student radio station, contributed productions for the local public broadcasting station and was deeply involved with the Hiawatha Traditional Music Festival. In his 23 years at NMU, Chuck is credited with "championing several groundbreaking initiatives" as well as receiving numerous awards. Before his death, he was chosen to receive the 2016 Distinguished Faculty Award, which will be presented posthumously.
Chuck's brother David stated in his tribute: "He enjoyed music of all types, hiking, skiing, kayaking, photography, woodworking, storytelling and, most of all, sharing these pastimes with his loved ones." Every place Chuck went he brought energy, creativity and a sense of humor. We were all fortunate to know him.
A celebration of Chuck's life will take place at NMU in the University Center on April 24, 1–3 p.m.