My husband, daughter and I like to go camping. We try to go a handful of times each year, at the very least hunkering down at the boat launch on Jacoby Road near the Birch House. Last May we camped in Badlands National Park in South Dakota, which was perhaps the most glorious place I've ever visited in my life.

(If my husband is reading this, he is now chuckling, in doubt of the sincerity of the previous statement, clearly remembering the day that we went hiking out among the still-wet-and-muddy mounds of the Badlands and I got stuck up to my ankles in the mud more than once and cursed not only him, but the entire state of South Dakota. That day, I admit, was not glorious.)
It was during this trip to South Dakota that I realized, and forgive me my crassness, how much I have to pee during the night when I go camping. I don't ever have to use the restroom during the night at home, so I figured my frequent nature calls had to do with being cold, or being uncomfortable, or perhaps lying on the ground in such a way that my bladder was put in distress.
One-hundred percent of the men in my life have told me that their favorite way of connecting with the unfettered beauty of God's wilderness is to go out and pee in it. Of all the various joys and privileges of manhood, urinating out of doors with ease, they tell me, is the greatest. My daughter and I, intent on closing what I'm now going to call the "pee gap," also like to do our proverbial biz outside as often as possible. As the classic war-time image reminds us, we can do it, ladies!
Anyway, to come to the point: the only time I don't like to pee outside is in the middle of the night, when I'm warm and somewhat comfortable. To make matters worse, in South Dakota, buffalo tended to roam through our back-country campsite, and I just knew I was going to bump into an angry one out there in the dark.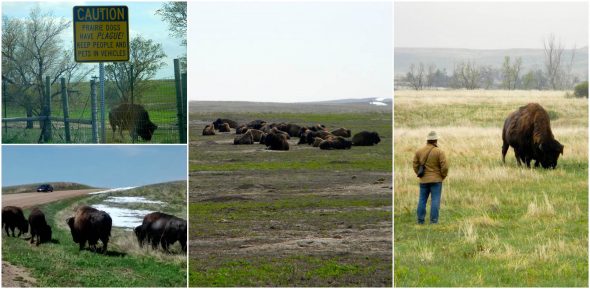 A few weeks ago, my family and I took a camping trip to Great Smoky Mountains National Park. As previously mentioned in a frantic blog I wrote a few months back, the park is home to around 1,500 black bears. As perturbed as I was last year about buffalo, I was even more frazzled this year about the idea of meeting a bear in the night mid-business.
I fought my fear the only way I knew how: with relentless preparation. I memorized what to do if I were to accidentally come in contact with a bear. I learned how to properly store food and the best ways to bear-proof a campsite. I repeated the following sentence from the nps.gov site about bears in the Great Smoky Mountains over and over to myself, like a mantra: "Although extremely rare, attacks on humans have occurred, inflicting serious injuries and death."
I repeated black bear facts so often around the house that my husband started to get nervous about bears himself, and was then mad at me for making him nervous. I nixed the constant bear PSAs around the house, but I quietly bought a lightweight sleeping pad to put under my sleeping bag, hoping that the added warmth and comfort it was meant to provide would keep me from waking up in the night with the need to relieve myself. I was as prepared as I was going to be.
When we finally did get to the Great Smoky Mountains, it didn't take long for most of my bear fears to dissipate. We stayed in a quiet campground in Cosby, Tenn., away from the usual crowds that amass in the parts of the park near Gatlinburg.  In the early mornings, as the sun came up, we could hear the warbling of wild turkeys. Near the edge of the campground, there was a short trail to a thin but rushing creek, made musical by the large rocks around which it had to flow. When it wasn't raining (which it did quite a bit on this trip), the mild evenings were accompanied by the constant swell and release of the tall trees above the tent moving in concert with the wind. I mean, it was tranquil as all get out.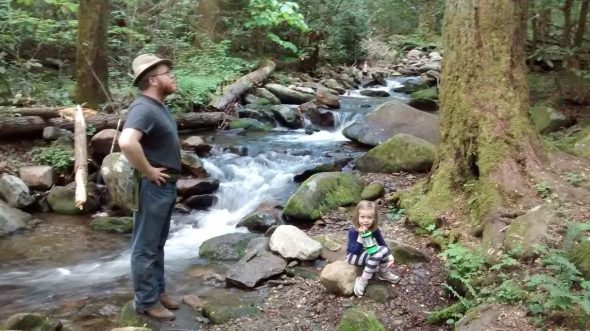 By our final morning, I had yet to see a single bear.
I was so annoyed.
I had read that the best place to see bears was near the Cades Cove section of the park, so that morning, we loaded up the car and drove there. We found ourselves on an 11-mile, one-way scenic driving loop circling Cades Cove, which was dotted with historical sites to visit. We stopped at log cabins and churches and graveyards to look around, and generally just enjoyed the drive.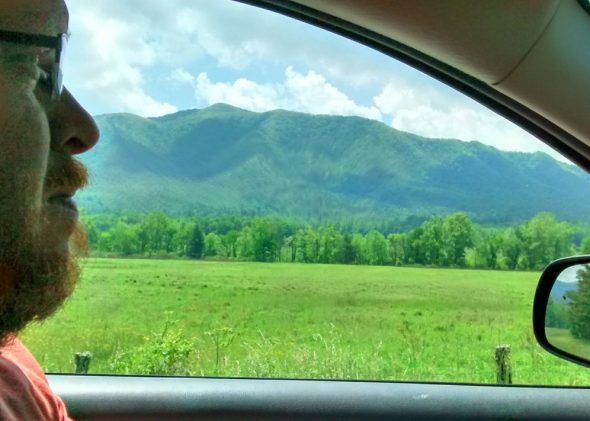 There were small, paved sections all along the driving loop where folks could pull off if they wanted to hike or if they wanted to look at wildlife, so as not to put a hiccup in the flow of cars. Even so, at one point in our drive, traffic came to a halt. After a few minutes of waiting, I decided to hop out of the passenger seat and walk up to the front of the line of cars to see what all the kerfuffle was about.
The kerfuffle, of course, was a bear, hanging out right at the side of the road, placidly ignoring the folks who had jumped out with cameras to get a good shot of it. I froze when I saw it, about 70 yards ahead of me. It was finally happening. I had seen a bear.
The temptation was there, I admit it: the temptation to move closer, to get a really good look, to potentially feel the wanton thrill of danger. To see something wild up close.
There was a crowd of about ten people who had pushed in close to the bear, watching it from mere feet away as it slowly moved to the middle of the street. I could do that, right? If they could do it, I could do it. I moved a few feet closer.
"Sure, put yourself between me and him," said a voice behind me. An older man was leaning back on the hood of his car, watching with undisguised amusement. "Then he'll get you instead of me," he said.
I laughed then, and I remembered my bear facts: it's a violation of federal regulation to willfully approach a black bear within a distance of 50 yards.
"Yeah, I guess," I said to the man. I gestured to the people ahead of us, their camera lenses now an arm's length from the unhurried bear, who had almost crossed the street. "But he'll get those guys first."