Stepping back in time has allure…feeling the length of my years, sensing the passage of one era skirting into the next. The accumulation of my life is in fact the sum of so many others.
Months back, when auditions for Shakespeare's Much Ado About Nothing were announced, I ran into director Lorrie Sparrow-Knapp at the high school's annual French Cafe. There, she told me that the play would be set during the American Civil War. That meant period costumes and singing in a Stephen Foster style. Her ideas were intriguing and I imagined soldiers in blue uniforms trimmed in gold and women dressed in billowing skirts and bustles.
At the French Cafe, Sparrow-Knapp found further inspiration when high schoolers Bear Wright and Meredith Rowe took stage to sing a duet. French teacher Dave Smith accompanied them on guitar as Wright played bass. In the interludes, Rowe and Wright traded flute and harmonica solos. The sweet tune was haunting, and Sparrow-Knapp was particularly struck by their stage presence. Just as I approached her, she approached Rowe and Wright and asked them to consider participating in the summer play. Not wanting to over fill their already crowded dance card, they begged off a speaking part but encouraged Sparrow-Knapp to keep them in mind for music.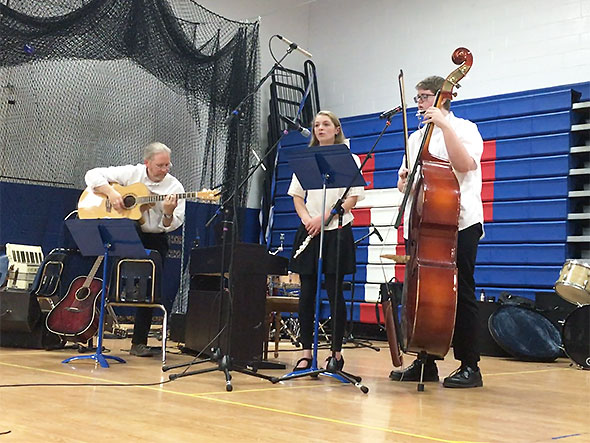 She did more than that…expertly weaving yet another love story into Shakespeare's bustling Much Ado. As play unfolds, my character Friar Francis watches the two with a learned eye catching glimpses here and there, wondering if events are heading towards a happy conclusion.
A few hours before our second performance on the main lawn before Antioch Hall, my daughter and I took in the Dayton Maker Faire at Carillon Park. We were exhibitors ourselves representing the Science Castle of Yellow Springs. For the duration of the faire, the organizers assigned us the park's schoolhouse, a one room brick building furnished with slant top desks, two wood stoves, and his and her cloak rooms. Events like the Dayton Maker Faire get us to focus on content. We pitch lots of little math to the very young…and their parents. Our message to kids and parents alike is you've totally got this. We tap into the twin feelings "Ha, this is easy. I got this!" or "Hey, this is hard but 'cha! I did it!"
Like the ancient classroom, our maker exhibit is low tech…not a diode or lightbulb in sight. We flip pieces of felt instead—one color represents OFF, another represents ON—and show how computers count from 0 to 16 in binary: 0 as 00000, 1 as 00001, 2 as 00010, 3 as 00011, 4 as 00100, 5 as 00101, 6 as 00110, …, 15 as 01111, 16 as 10000. I learn tons by watching kids' expressions—seeing what frustrates, what ropes them in, what delivers a winning surprise. What's easy in binary counting is counting up to an odd number: switch one bit. Counting up to an even number is harder; that involves switching at least two bits. I assign the child the "odd" job of flipping the single bit; for the even numbers, we work together to flip multiple bits simultaneously. By the time we flip the five bits that switch 15 to 16, the child reacts like they just performed a magic trick. "I did that!"
As my daughter and I took our turn around the historic park to check out the other exhibitor's gizmos and builds, Carillon Park's own blacksmiths and carpenters drew our attention from across the lawn. The blacksmith's charcoal forge was throwing a dense cloud of bright orange sparks into the afternoon air. The blacksmith was preparing to cut a long sheath of metal in half and his apprentice was turning the crank on the air circulator that fed air and oxygen to the coals. Checking the temperature of the fire by the color of the sparks, the apprentice stopped cranking and alerted the smithy. The long metal sheath was slipped under the hot coals to make the metal molten. The sheath was then removed from the fire and cut in two after a few forceful strikes at the anvil.
The smithies dressed in period clothes from the early to mid 19th century: white shirt, vest, long pants, apron, and wide brimmed hat. In the small footprint of their demonstration, they had splayed an impressive collection of tools and wrought iron creations forged over the course of the day. The two smithies described the candle chandelier that, at that moment, they were forging piece by piece: the arms, the central shaft, chain, the four cups that would hold the candles. As I watched them work with care—measuring more than once before making a circular punch through the center of an iron arms—my daughter tugged at my sleeve to coax me toward the house where the bees wax candles were being dipped. Along the path, carpentry tools were laid out…the kind that would have been used to build the wooden home and tavern…and we witnessed a small child drilling a perfect one inch hole through a inch thick round of wood as his father looked proudly on.
Around us, there was a lawn full of robots, rockets, and flashing diodes, but we were content here roped into the period pieces…the ancient arts which fashion hard metal and rough wood into gracefully, curving forms.
Circling back to the schoolhouse, we packed up our exhibit and made our way back to Yellow Springs. We made the village just before 6:30pm, call time for the next performance of this weekend's play. I dressed quickly in the linen pieces that I selected for my Friar Francis costume. Around my neck, I placed a small wooden cross hung from a leather strap. I found the cross a couple years back at an Art on the Lawn woodworker's booth. After a patient wait, it had found its moment of purpose.
I joined the cast at Antioch Hall slipping into the central room as others readied for the performance. I passed dark blue wool coats and pastel muslin dresses and, among the props, picked up a wooden stool with my name stenciled across its top in green. My father build that stool over four decades ago in his upholstery shop, and now it too has found a place of honor in this Shakespeare production.
Our stage manager calls us to places, and I take in the details that actors have added. Ribbon trims, bonnet flowers, crinoline shrugs, gold strips, and ivory lace. I think too of the Antioch Hall, its beautiful brick facade, its white marble steps, tiled columns, and heavy hard wood office doors. My heart breaks a little for this grand hall, once jilted, now reawakened to host one of her signature summer events. I walk to the nook where I wait my next cue…the love song of Rowe and Wright…that welcomes our audience to the world we have built. One of my lines pops into my head…
"Trust that success will fashion the event in better shape than I can lay it down in likelihood."
I set my wide brim straw hat on my head and think how lucky I am to be a part…punctuated not by a period, but running across commas in the long, continuing list of Antioch's adventures.