We were heading out the door when our son piped up, "We should ride bikes." My husband hesitated for a second knowing the change would put us behind. We were on our way to the Friends Music Camp concert—its benefit for Glen Helen at the Foundry Theater—and the event's start time was five minutes away. I readily agreed however and soon we were peddling down Allen Street barreling towards Corry. Our seven year old led the way…confident and steady…looking backwards only to check the commanding lead he maintained.
This feat is no small thing considering he's riding a sidewalk bike. He pedals twice as fast as the rest of us to maintain pace…perhaps even faster. He's totally game though. Last month, his training wheels came off after they slowed him down during a terrific bike-trail-based scavenger hunt he joined with a bunch of friends. Struggling to keep pace with bigger kids and more efficient bikes, our son got so frustrated that he was near tears. At the last station of the scavenger hunt, my husband Jeremy vowed to our distraught young man that we'd get him off four wheels and onto two. For the next two weeks Jeremy took him out every day, and every day he mastered a new skill. First, Jeremy ran beside balancing the bike while our son pedaled. Once he had the bike stable, his father let go to see if he could balance on his own. He managed the success of several feet independently by the end of the first day. Each subsequent day, the distance got longer. Soon all Jeremy had to do was launch the bike. I started joining the training sessions, riding along side our son on my own bike so Jeremy wouldn't need to run so far or fast.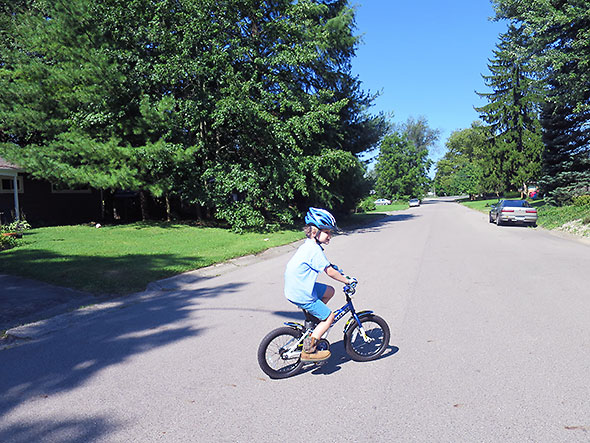 Pedaling mastered, operating the coaster brake came easy. Too easy in fact. Previously, our son's efforts to bike on his own—both with training wheels and without—were frustrated by his instinct to back pedal. The coaster brake frustrated his progress. As a consequence, he mastered his braking skill first…which from a mother's point of view is perfect…no complaints there. However, now as he practiced the art of launching himself forward, I had to be careful following his wheel. Our boy had a tendency to brake suddenly and unexpectedly, usually several yards away from the stop sign that defined the outer bound of his forward flight. Once launched the other direction, he'd stop several car lengths short of the busy main road. There, at a lightly used parking lot, the men would linger and work on setting the bike's pedals so our son could launch his bike on his own. It took a bit but he practiced every day. He asks to practice every day and, once he got it, he got it. There was no stopping him now.
Mind you, he had not mastered turning yet. This hurdle didn't stop Jeremy and our boy; rather it meant that they had to venture forth. They started going around the block. Then, they rode to the homes of friends in the neighborhood. Then we braved Allen Street and the bike path.
The first time down Allen Street I went with the boys. I was nervous of course. Allen is a busy street that T's into another busy street. It also slopes downward at its end where the road borders The Antioch School grounds. We had only traveled on even grades without his training wheels up until then so I wasn't sure how our son would handle the complication of having to manage both his speed and his balance. We knew the road well, though, so he had the advantage of knowing exactly what to expect on the road ahead.
As we turned onto Allen, I took the left hand side of the right lane, my son took the right. He challenged himself along the stretch between Spillan Road and President Street, spinning his pedals fast enough to edge out ahead of me. I both smiled and frowned at his enthusiasm…appreciating the display of independence but knowing the need for restraint ahead. When Allen Street sloped downward, however, he listened calmly as I coached him to take the next section slowly. I turned over my spot to Jeremy and they let me pedal ahead. I set myself at the intersection of Corry and Allen then turned back to look up Allen Street. Corry Street was clear in both directions so was Allen. We had the streets to ourselves but still my heart was in my throat. I wanted this moment to go well. My son approached calmly, his father along side at a measured pace. When they reached the stop sign, my son backed pedaled, set the coaster brake, and leaned into his right hip. The bike spun out subtly to the left in a deftly-executed controlled stop. I blinked. He looked up with me with a smile so broad his cheeks dimpled. It was a perfect landing.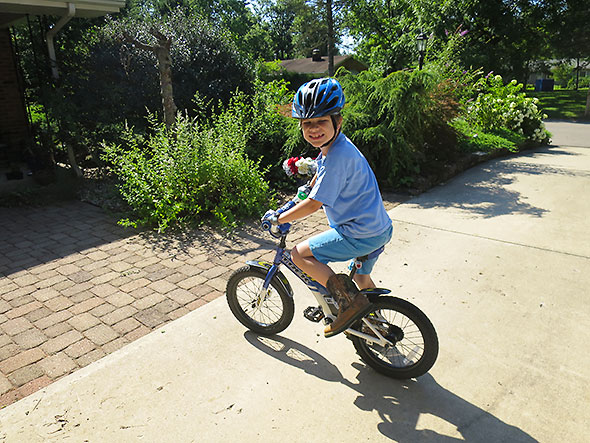 By the end of the second week, he was turning easily. This morning before church, he is riding circles around me while the rest of the family gets ready. He climbs up and down the steep grade of our driveway like a billy goat, playfully, easily. He's wearing the cycling gloves that I bought him yesterday at the Village Cyclery and his helmet sits low over his forehead like a pro's. At this rate, he'll outgrow his bike in no time. Once we get him a bicycle with handle bar brakes, I will have considerable trouble keeping up. That suits our young man just fine.
Our second child is a cyclist. His world has exploded. This village belongs to him.