BLOG–"Refugee 101" and "Muslim Community Voices" offerings by the BCP
The current administration is making it clear that immigrants and refugees, especially those who are non-European and non-Christian, are targets. The Columbus Dispatch is reporting on immigrants here in Ohio who are living the realities of the chaotic immigration system caused by the woefully unfit occupier of the Oval Office.
I have written before about the Beloved Community Project. Our work this fall is another step in a community-wide coalition to educate and activate ourselves around standing with our refugee/vulnerable status immigrant neighbors, most especially those of the Muslim faith.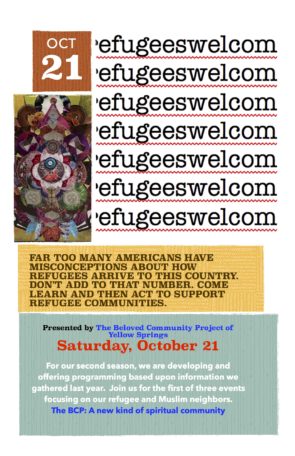 October 21 at 1:30pm, we will gather in 118 McGregor Hall on Antioch College campus as Mike Lehner of Catholic Social Services delivers a "Refugee 101" workshop, with an action-oriented discussion facilitated by me to follow.
+There will be a post-event survey meant to gather information that will be presented to Village Council to help inform policy and practical decisions between our citizenry and government.
+For those who demonstrated an interest when we began in 2015, now is a great time to rejoin the efforts!
AND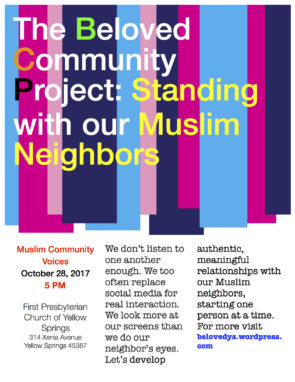 +On October 28 at 5pm, join us in Westminster Hall at First Presbyterian. We will have a community discussion with some of our Muslim neighbors, with particular emphasis placed on Muslim women.
+Falastine Issa and Angela Imam Griffin will help lead a conversation, including a hijab station for those who wish to try on a hijab or to talk to Muslim women about their relationships with ritual dress.
+The event is also a potluck! We encourage those who are able to bring halal food; we will have a separate table for non-halal. Please consider this as a donation to the BCP.
Click HERE for the pre-event survey.
Please mark your calendars for November 16, from 6-9pm. Our first liturgia of the season will feature art, music, a community conversation, and food!
And if you haven't already, please take one of the other applicable surveys currently available.