Antioch College— Major budget effort begins
A major budget overhaul with potentially far-reaching consequences is underway at Antioch College.
While a specific plan has yet to take shape, Antioch recently announced a campus-wide budget initiative and financial planning effort aimed at cutting costs and, ultimately, developing what Antioch leaders are calling a new financial framework for the college.
"The initiative is part of the first major reorganization of the college since it reopened in the fall of 2011," according to a press statement released last Wednesday.
A similar email communication went out to alumni last week.
Related to the effort is a major overhaul of the academic program, including a faculty-led curricular redesign and a new nine-month academic calendar.
"We know where we want to go now," Manley said in an interview with the News this week.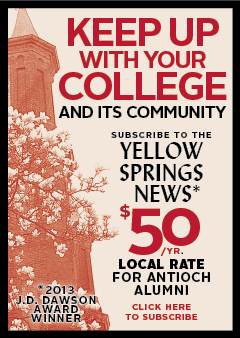 The budget effort launched publicly last week with a series of meetings with faculty, staff and students. The initiative is being led by a committee of about 10 staff, faculty and students, with guidance from an outside consultant. Recommendations for cost-saving measures are expected in February. Additional draft recommendations for a new financial framework are due to be presented March 15 to the college board of trustees.
Manley and the college's vice president for advancement, Susanne Hashim, declined this week to speculate on potential specific budget cuts.
"A lot of things are possible," Hashim said.
However, Manley confirmed that cuts to staff and faculty positions and salaries could be among the options considered.
"The board has said, 'Everything is on the table,'" Manley stated, referring to the scope of the financial planning effort now underway.
The board initiated the effort due to ongoing concerns about the college's finances, Manley said this week. The board has also hired higher education consultant Stefano Falconi, of the Berkeley Research Group. Trustees are covering Falconi's professional fees.
The college's current financial model, which relies heavily on alumni donations and has seen only slight increases in tuition and fee revenue, is "not sustainable," according to Manley.
"Eventually we'll run out of money," he said.
Manley characterized the college's current financial situation as challenging but not dire.
"Are we closing our doors? Absolutely not," he said.
Previous budget measures
The new budget initiative comes just over a year after the college's December 2016 cuts to staff and salaries.
At that time, Antioch eliminated five staff positions and cut salaries for executive and senior administrators. Those cuts remain in place, according to Manley this week.
In addition, the college previously pursued a strategy of attrition and reorganization to further cut staffing levels and costs. Staffing levels have been stable for the past year. The college now employs 31 faculty members and 118 staff members, according to figures provided by the college. (The faculty figure does not include adjunct faculty, and the staff figure does include both part- and full-time employees.)
While faculty positions were not affected by the earlier budget measures, faculty jobs are included in the scope of the current initiative.
"The faculty will work separately to make recommendations on restructuring academic divisions to support changes in the curriculum and meet long-term budget goals," according to the recent press statement.
Assistant Professor of Biology and Environmental Science Kim Landsbergen, a member of the faculty committee that developed the new curriculum, said cuts to faculty positions were recently presented to her committee as one element among many potential actions.
"Pretty much everything is being considered," she said.
The previous budget measures were part of an 18-month effort to whittle the college's budget from $22 million in fiscal year 2016 to a target of $15.8 million in fiscal year 2018, as well as close a $7 million deficit reported in 2016.
The previous cuts succeeded in reducing the budget and deficit, recent financial audits show.
The 2017 audit shows $15.9 million in operating revenue and $17.6 million in operating expenses during fiscal year 2017, which ended June 30, 2017, for a deficit of $1.73 million.
College leaders declined to disclose current budget figures, citing the budget process now underway.
But Manley this week said that the fact that the college continues to run a deficit is one impetus for the budget overhaul.
Seeking sustainability
The new initiative grows out of the nearly two-year Framework for Antioch College's Transition, or FACT, a participatory strategic planning process inaugurated by Manley when he became president in March of 2016. That process generated many new ideas for programs, course offerings and creative ways to use the college's "curricular assets," such as WYSO and Glen Helen.
But FACT also revealed the limitations of such a process for raising revenue, according to Manley.
"Enhancing curricular programs is slow, and it's not going to generate millions of dollars," he said.
A core problem for the college is the slow growth in tuition revenue, according to Manley. Previously projected to grow at a much more rapid rate, net tuition revenues increased only modestly in the past few years, from just under $1 million in 2015, to $1.4 million in 2016, to $1.7 million last year, the college's recent financial audits show.
After reopening to students in 2011, Antioch offered the first four incoming classes four-year, full-tuition Horace Mann fellowships. It scaled back to half-tuition fellowships in the fall of 2015. But tuition remains heavily "discounted," or offset, by other Antioch scholarships and aid. In a previous interview with the News last spring, Manley said the college's overall discount rate averages 91 percent, much higher than the 50 percent average for liberal arts colleges. That means Antioch sees only modest tuition revenue growth for each new student it enrolls.
And enrollment has declined in recent years. Enrollment for the fall of 2017 stood at 133 students, down from a high of 271 in 2015.
This fall, Antioch brought back its former communications chief, Gariot Louima, to head up a revitalized admissions and external relations effort.
Louima said recently that the college's enrollment target for the class entering in 2018 is 75 students. By contrast, Antioch enrolled just 28 students this fall. The admissions department has seen a "pretty good" level of interest so far from potential applicants, he said.
For now, Antioch remains in the same position it's occupied since the massive alumni effort to revive the college in 2009: highly dependent on alumni philanthropy.
"We wouldn't exist without alumni support," Manley said.
Philanthropic giving, most of it from alumni, has supported at least two-thirds of Antioch's annual budgets since reopening, financial statements show.
In fiscal year 2017, Antioch raised $12.75 million in gifts and pledges, with a slightly more modest goal of $12 million for the current fiscal year. Hashim said the college has so far raised about $1 million more than this time last year, a sign that fundraising is on track for the year.
But alumni giving, while "incredibly generous," won't be able to support Antioch at its current level indefinitely, according to Hashim.
"We have known and have stated consistently that our planning ultimately needs to focus on developing a sustainable financial model," Manley wrote in the email to Antioch alumni last week announcing the new budget and planning effort.
New value proposition
The budget initiative goes hand-in-hand with another major change at the college.
In October, the board of trustees approved a faculty-led overhaul of the college's academic program, including a curriculum redesign and a new nine-month academic calendar. Faculty members have been working since last spring on the redesign, which eliminates the college's existing 11 majors and self-designed options in favor of all students pursuing a self-designed major, among other changes.
The Ohio Department of Higher Education recently gave the new curriculum the green light. It will be implemented beginning in the fall of 2018, pending approval from a final body, the Higher Learning Commission.
The revised curriculum aims to give students more autonomy and a deeper engagement with their education in the spirit of Antioch's co-op program, according to Assistant Professor of Non-Western Literature Corine Tachtiris, who led the executive faculty committee that developed the new curriculum last summer.
"It's harder intellectual work, but students have more buy-in and agency," she said of the shift to entirely self-designed majors.
The change also gives both students and faculty more flexibility, as well as expanded opportunities for intensive mentoring relationships, she added.
"Having 11 majors is challenging with a small faculty," she said.
Just a handful of American colleges offer entirely self-designed majors, according to Tachtiris, who previously worked at one of them, Hampshire College, in Massachusetts.
The curricular redesign is part of a new "value proposition" for the college, a statement of distinctive offerings centered on the idea of students owning their education, according to Manley.
"We're trusting students to claim their education to a degree no other institution is matching," he said.
Described in Manley's recent email to alumni as "Own Your Education," the new value proposition also expands students' role in college governance.
"These are things we know Antioch students want," he said.
And that expanded role is evident beginning with the current budget initiative, which is intended to be open and broadly participatory in the college's tradition of shared governance, according to Manley.
"Why wait to live those values?" he asked.
Faculty member Landsbergen recently characterized the campus response to the budget initiative so far as supportive, but cautious.
"People are tying to figure out what's going on," she said.
But there's a great willingness among faculty, staff and students to help the college succeed, she added.
"One student said last week, 'If this is going to help the college, I'm for it,'" she said, a sentiment she described as common on campus.
Several other faculty, staff and students contacted by the News last week declined to comment on the budget initiative specifically or didn't return calls.
Manley acknowledged this week that the participatory nature of the process involves uncertainty.
"We are all going to be impacted by the difficulty of not knowing," he said.
"But bringing Antioch College forward is and must remain our principle and shared imperative if we intend to persist and thrive," he wrote in the recent email to alumni.
Recommendations for cost-saving measures may be made as early as mid-February. As specific budget measures are announced, the News will report on them in future issues of the paper.