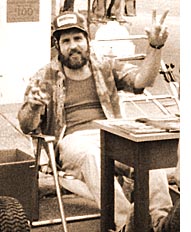 Dirk Ferguson passed away on Sunday, Aug. 5, at Springfield Mercy Hospital after a brief illness. He was 66 years old.
A graduate of Yellow Springs High School in 1970, he went to the Hobart Welding Institute to learn the trade. Thereafter, he went to Louisiana with the idea of working on an oil rig, but found that not to his liking and soon returned to Yellow Springs.
Dirk was one hard-working man — the kind of person who would put in a 14-hour day and then rearrange the furniture in his house to relax. He chafed at having other people dictating when, where and how to work, so it was only natural for him to start his own business. He became well-known in and around Yellow Springs with his mower repair and lawn care business. That business continues on, as he bequeathed it to two of his long-time employees.
Dirk was also a talented jeweler, making beautiful earrings, necklaces, rings and bracelets that he gave as gifts and sold locally.
But perhaps his true passion was fishing. He pursued them relentlessly near and far, hitting all the local areas as well as Ontario, Cape Hatteras, Michigan and many others.
Dirk was always there for his family, and as an example, employed many of his relatives at one point or another. He will be deeply missed by his family, along with all who knew this caring man.
He was preceded in death by his mother Ruby Barnes of Xenia, father Art Ferguson of Yellow Springs, sisters, Michelle Adkins, and most recently Alix Davidson of Beavercreek, OH.
He is survived by his wife of 31 years, Lucinda (Cindy, currently residing in the rehab unit at Friends Care Center in Yellow Springs), step-daughter Jessica Hitchcock Bily, nieces Veronica Davidson, Nita Diane Gibson, and step-brothers Bill Barnes and Tim Judy, as well as a circle of many other family members and friends.
Per Dirk's wishes, no memorial service is planned.