Township candidates, unopposed, seek sixth full terms
Comments Off

on Township candidates, unopposed, seek sixth full terms
By Carol Simmons
The November 2019 Miami Township election features two long-time public servants who are running unopposed for their respective offices. Margaret Silliman is seeking another four-year term as the township's fiscal officer, and Chris Mucher is looking to return for another four-year stint as township trustee.
Both candidates recently spoke individually with the News about why they continue to seek township office, reflecting on some of the responsibilities their jobs entail.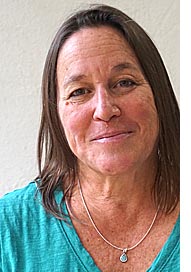 Maragaret Silliman
Margaret Silliman will be celebrating 20 years as the township's fiscal officer in April 2020, when the position's next four-year tenure begins.
A 40-year resident who served as Village Council clerk through the 1990s, before trying for the Township post, Silliman said she has run unopposed in every election except the first one in 1999.
"I was interested in how local government works," Silliman said about what drew her first to the Village role and then the Township position.
"And math was always kind of easy for me," she added. Silliman, who has an associate degree from Ohio University as a psychiatric/mental health services technician, has undergone additional training over the years in governmental fiscal management.
"It's a good job," she said of working for the Township, where her responsibilities also include taking the minutes for the three-member board of trustees' meetings.
The Township trustees have financial oversight of township roads and cemeteries as well as the fire/EMS department (Miami Township Fire-Rescue), which constitutes a large part of the budget, she said.
"I have grown to respect and adore the [fire/EMS] crew," Silliman said. "I feel kind of honored to be a part of them, even if all I do is give them their paychecks."
Silliman said that the Township books are audited by the county every two years, so she feels confident that the numbers are in order.
She said she feels a duty to handle the "public money" responsibly, and she sees her role as fulfilling the trustees' directives about how the budget should be distributed.
"It's not my responsibility to tell them how to spend the money," Silliman said. "I'm not a decider; I'm an executor."
She said the job hasn't changed much over the nearly 20 years she's been at it.
"Things get more and more expensive, as everywhere," she said. But her duties remain steady.
"This job is very important to me," Silliman concluded. "I'm very blessed."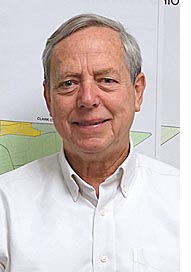 miami miamiChris Mucher
Chris Mucher, who currently serves as chair of Miami Township's three-person trustees board, first became a trustee through a temporary appointment in 1996. He then ran in 1997 to complete the two remaining years of that unexpired term, was elected and has run in each four-year cycle since. He said he's been unopposed only one other time beside this year.
Despite being the lone candidate, he said he is as vested as ever in the process.
"I don't run to get re-elected. I run to do a job," Mucher said, sitting in the township offices on Corry Street.
The undertaking not only gives him personal satisfaction, but also "involves giving back to society what society gives to me," he said. "I've been fortunate to be elected," he concluded.
In assessing the Township's current state of affairs, Mucher said he is pleased.
"Right now, I am enthusiastically optimistic about the health and vitality of Miami Township," he said.
After more than a year's delay, construction has begun on the new firehouse and Township offices on the south side of the village. Completion of the $5.75 million project, approved by voters in May 2017, is expected next fall.
"I'm looking forward to it being done," Mucher said.
And after a decade of tightened budgets due to cuts in state funding, the Township is happily anticipating an influx of about $50,000 a year for roads and other infrastructure maintenance as a result of Gov. Mike DeWine's recently implemented gas tax. (DeWine is Mucher's brother-in-law.)
The measure in effect reverses an action by immediate past Gov. John Kasich, who in cutting state funds to local entities after his election in 2010, caused a reduction in Miami Township's revenue by about $45,000 a year, Mucher said.
"We had zero money for road repairs," Mucher said. "We had to reduce [the number of our] employees. Not good. We had to reduce road maintenance. Not good."
A hard look by the trustees at the budget, and the realignment of some funds, along with a slight annual increase in property tax revenue, allowed the Township to continue minimal upkeep, but some things, especially equipment purchases, were put on hold, Mucher said.
A longtime former business owner in town, Mucher lives in the heart of the village, near Mills Lawn School. As a trustee, he said his proudest accomplishments have included the restoration of the historic Grinnell Mill and the addition of the natural burial grounds to the Township-owned Glen Forest Cemetery on U.S. 68 North.
Next year, the cemetery will open a new section to be called Oak Grove, which, like the natural burial site, was Mucher's idea. The area will feature up to 40 burial spots each planted with a white oak tree. In between them will be room for additional natural burials.
Mucher said the biggest change — "and challenge" — in Township governance over the past two decades has occurred within the fire department, which has evolved from an all-volunteer crew, except for its leadership, to a hybrid organization of volunteer and paid staff. Training requirements have increased as the ability to find and retain local volunteers has grown increasingly difficult.
An upcoming challenge is the anticipated retirement of Fire Chief Colin Altman in summer 2020, Mucher said.
Otherwise, township life remains fairly stable as an agriculturally dominated setting, with three to five new homes constructed each year, Mucher said.
In addition to overseeing the roads, cemeteries and fire department, the Township trustees have oversight for planning and zoning. Their goal is to retain the agricultural nature of the land as much as possible.
Mucher doesn't seem to have grown weary of the work. If anything, he feels readier than ever to serve.
"I have the experience now," he said.
Contact: csimmons@ysnews.com