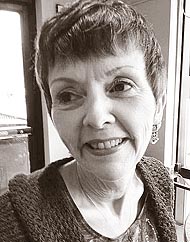 Justeen Scott Keahey, of Fairborn, Ohio — surrounded in her home by those who loved her most — wove her way back into the fabric of the universe on Dec. 20, 2020, after a hard-fought battle with cancer. A healer, a mother and a dear friend, she never met a stranger in her life, and the space she leaves in our hearts is indescribable.
Born in Queens, N.Y. on Oct. 25, 1950, Justeen was often sick as a child and found herself in the hospital fairly frequently. What could have been a sad and isolating experience Justeen turned into a calling, as she developed an admiration for the nurses who cared for her and kept her company. She decided that she wanted to do the work that they did, and she threw herself into her destiny as a healer.
She graduated magna cum laude from Adelphi University, and never stopped helping people and making the world better for the rest of us. She was an ER nurse, a psychiatric nurse, a labor and delivery nurse, a wound care specialist, a clinical consultant and a gifted teacher. Her tireless study of the healing arts gave way to vast, sweeping knowledge that spanned multiple disciplines and allowed her to help thousands upon thousands of people in her lifetime.
But you don't need to read her LinkedIn profile to see how many lives she touched, and she didn't stop being a healer once she clocked out for the day. She regularly held onto extra medical samples and equipment just in case she happened across someone in her day-to-day life who might need it, and was always a phone call away if anyone ever had a concern or a worry. She was a voice of reason and comfort for people overwhelmed by what she knew to be a flawed health care system. Justeen not only knew how to treat wounds and illnesses, she also knew how to mend the spirit. She could always find the places that hurt in other people, and always had the words to help alleviate that pain. She'd open her home to damn-near anybody, and even if you'd only met her once, you always had a place to go and feel safe if you needed one. She would feed you, clothe you, and was always willing to offer an ear or a shoulder to cry on if you needed one. There are few people that exude the love and caring that Justeen Keahey radiated on a daily basis. She burned bright.
She was preceded in death by her father and mother, Frederick Peter Scott and Margaret Elizabeth Lowery Scott, as well as by her big sister, Kathleen Scott Monaghan, who the family is certain welcomed her into the next life with open arms. She is survived by her beloved husband of 33 years, Harvis Keahey; her younger sisters, Maureen Cuiffo and Aileen Norcross; her daughter-in-law, Mary Keahey, who took care of her every single day when she was ill; and by her two sons, Andrew Keahey and Peter Keahey, who will live their lives every day in a way that will make her proud.
As of now, there is no funeral or gathering planned as there is a raging pandemic and she wouldn't want to put the people she cares about in harm's way. Instead, consider raising a margarita in her honor, listening to some Fleetwood Mac and dancing in your living room. In lieu of flowers, please consider making a donation to the Pancreatic Cancer Action Network.