Miami Township Trustees Update — January 2021
The Miami Township Trustees meet the first and third Monday of each month beginning at 5 p.m. When a regular meeting date falls on a holiday, the meeting moves to Wednesday of the same week. Since the outbreak of the novel coronavirus pandemic, the three-member board has been meeting virtually through the GoToMeeting online conference-meeting website. Meetings this month took place Monday, Jan. 4, and Wednesday, Jan. 20. Recent business included:
New year appointments
As part of the business of the first meeting of 2021, the trustees voted on township leadership roles and appointed representatives to area boards.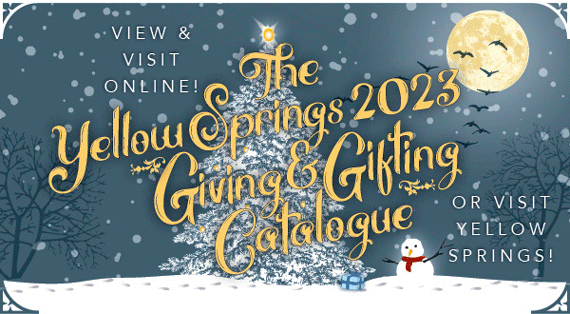 After multiple years with Chris Mucher serving as board "president" and then "chairperson" — after the state Legislature changed the leadership title for township trustees two years ago — the local trustees elected Don Hollister as chairperson for 2021 and Mucher as vice-chairperson.
Further appointments maintained the status quo, with trustees agreeing to continue representing the township on boards with which they already serve.
Mucher will continue with the Miami Valley Regional Planning Commission as well as the commission's executive board; the Greene County Regional Planning Commission and its executive board; and the Grinnell Mill Foundation.
Hollister will continue to serve on the Clifton-Union Cemetery board and represent the township with the Yellow Springs Development Corporation.
Mark Crockett will stay on the Yellow Springs Senior Center board.
Head of cemetery and roads Dan Gochenouer was appointed for another year as sexton of Clifton-Union Cemetery.
The trustees also voted to appoint Linda Parson as a new member of the Miami Township Board of Zoning Appeals, to complete the unexpired term of Cathy Balas. In turn, Greg Shrader was named to the township's Zoning Commission to complete Parson's unexpired term there.
Trustees unanimously agreed to give full-time employees a 2% cost-of-living raise retroactive to Jan. 2.
Miami Township Fire-Rescue
Fire Chief Colin Altman reported Jan. 4 that the department had responded to 35 medical runs, three of which were in Bath Township, and eight fire incidents, one of which was in Bath Township, in the two weeks between Dec. 21 and Jan. 4. On Jan. 20, he reported that since Jan. 4, the department had responded to an additional 38 EMS incidents, four of which were in Bath Township, and five fire incidents, one of which was in Bath Township.
The most serious was a small fire on Saturday, Jan. 2. Altman said that fireplace embers put out on the front porch of a house on West Center College Street burned through the porch and got into an inside wall. He said the fire was extinguished within an hour with assistance from Cedarville, Husted and Xenia Township departments, and damage was not extensive.
• New volunteer fire personnel include Ricky Davis, a Fairborn resident who is certified as a firefighter and currently enrolled in the EMT class at Sinclair, according to Altman.
• The trustees approved a recommendation from Altman that the department enter into a service agreement with the Greene County Board of Commissioners and the Sheriff's Office for access to the county Public Safety Information Sharing Network (PSISN). Cost is a $2,000 annual fee, according to Altman.
• Altman also reported that the new fire-house was experiencing some "heating issues," particularly in the township offices, where temperatures have hovered in the 50s in recent weeks. The Hauck Brothers are working to diagnose the problem, he said.
• Concerning COVID-19 management in the department, Altman reported that 75% of the department members have opted to receive the vaccine, and some were scheduled to get their second dose at the end of last week. In addition, the MTFR is receiving a supply of rapid tests from Greene County Public Health and will be able to test local personnel in-house as needed.
• Asked about his previously stated retirement plans, Altman said he was now looking at mid-July 2022. He was eligible to retire in 2020, but had decided to wait until 2021. He said that recent requests that he wait another year persuaded him to stay. He noted that the township should begin searching for his replacement this fall.
Zoning inspector's year-end report
In his annual year-end report to the trustees, Zoning Inspector Richard Zopf said he issued 17 zoning permits in 2020 for a total building value of over $1.5 million. The year before saw 24 permits and a value of $2.9 million, the highest in Zopf's 18 years of service. Revenue from permit fees for 2020 totaled $937.25.
Zopf said the 2020 permits represented two new homes, six additions and nine accessory structures, specifically six storage buildings, two pools and a garage.
Fourteen of the permits and more than $1.4 million of the value fell west of the bike path.
Zopf also issued two driveway culvert permits, and signed three survey records. The surveys have created two new, potential building lots, Zopf reported.
The Miami Township Board of Zoning Appeals met three times in 2020, Zopf reported, "more often than any time in the last 20 years, I believe." The temporary use hearing requested by Steve Wirrig to be able to host comedy shows by Dave Chappelle and others on the agriculturally zoned Wirrig property off Meredith Road was the first temporary-use hearing in Zopf's tenure, as was the extension request that followed two months later.
Financial requests
The trustees this month received several requests for financial assistance regarding local initiatives. Among them was a letter from the Yellow Springs Community Foundation seeking a contribution toward purchasing wider wifi-5G availability in the village.
Mucher noted that the request follows an earlier related appeal from the Village asking for the township's support in funding hot spots in town to promote better internet connections for local residents.
Mucher said he is wary of spending township money on the project.
"I just don't know how this is benefitting the immediate township," he said earlier this month. "It seemed to be presented as an opportunity for economic development in the village. I might be close-minded, but I don't see" how the project relates to the township's purposes.
Hollister said he didn't think the request was going away.
"We're going to be under continuing pressure to support this," he said, adding that he saw the basic question as being, "How would our current mission be served in this?"
He agreed to work on a letter to the Community Foundation asking for more details.
"If there's an unmet need, I'd be willing to consider it," Mucher said.
The Yellow Springs Arts Council also made a request for another donation to the Wheeling Gaunt sculpture project, which is seeking a total of $44,000 in additional funding to complete the installation of the life-size art work on the Train Station property along U.S. 68.
Noting that they already had made two $500 donations to the project, the trustees expressed some wariness about giving more at this time.
"I think we should just hold that open," Hollister said. "I'm enthusiastic [about the project], but it doesn't really serve our public purposes."
Mucher said that according to his memory, the trustees had committed to ongoing support of the project.
Hollister suggested inviting a representative of the Arts Council to address the trustees in an upcoming meeting.
2040 countywide planning
Mucher reported that members of the Greene County Regional Planning Commission and the Miami Valley Regional Planning Commission had been working for over a year on a comprehensive land use plan for the county and now are looking for input from individuals.
They are asking municipalities, including townships, to name 10 people willing to participate in a "brainstorming workshop" to discuss topics that could impact the area for the next 20 years, according to Mucher.
Because of the ongoing pandemic and restrictions on group gatherings, the sessions will be conducted as a one-to-one interaction during February and March, with participants having a chance to review materials already compiled and then respond to them individually.
The trustees agreed to review names at an upcoming meeting.
Prosecutor's representation
The Greene County Prosecutor's Office serves as legal counsel for the township. The county's new prosecutor, David Hayes, who took office Jan. 4, told trustees during their Jan. 20 meeting that former Prosecutor Stephen Haller would be returning to the office effective Feb. 1 as chief of the legal division. With that appointment, Haller will become the direct contact for all townships in the county regarding their legal questions.
"I can't imagine anyone more qualified than Steve Haller," Hayes said.
Next meeting
The next regularly scheduled meeting for the Trustees is Monday, Feb. 1. Resident Jennifer Adams is scheduled to make a presentation about the proposed solar array in the southern part of the township.