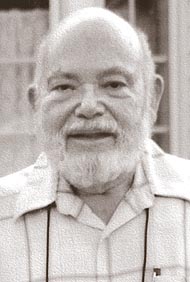 Seymour Charles Wexler died at Friends Care assisted living on Jan. 25, 2021, two weeks after his 96th birthday.
Seymour was born in Houston, Texas, in 1925, to James and Sarah (Freeman) Wexler. After graduating from San Jacinto High School in Houston, he attended the University of Chicago until World War II interrupted college. During the war, he worked in a steel mill in Houston, and later attended college at the University of Houston.
He joined the family business, Wexler's Jewelry, in Houston, which was started by his father in 1919. Seymour ran the store with his father; elder brother, Leon; and later, Leon's son, Dan. In 1953, a mutual friend set Seymour up on a blind date with Houston native Shirley Hochstein, who was then living in New York; two weeks later, they married. They spent their honeymoon in New York, during which time they packed Shirley's belongings to move them to Houston. In 1957, Seymour and Shirley had daughter Sylvia (Tsipora), and in 1961, son Robert.
Seymour loved travel, Shakespeare, archeology, dim sum and classical music. He was one of the founders of Houston Friends of Music — now Chamber Music Houston — which had its first concert in 1960. Shirley was a professional musician who played with the Houston Symphony. After retiring from the store, Seymour and Shirley were able to travel more frequently, often to England, Italy and Israel, where Tsipora had relocated. Seymour and Shirley lived in Houston until they moved to Ohio in 2006 to be closer to Robert. In Yellow Springs, Seymour enjoyed working with Chamber Music Yellow Springs (CMYS), and helped start a Shakespeare reading group, which met weekly until the COVID-19 pandemic put them on hiatus. Seymour treated those he encountered to his playful, rich facility with words — often inspired by Shakespeare.
A loving husband, father and grandfather, Seymour will be greatly missed. Although we grieve that the final months of his life included isolation due to COVID-19, his family is grateful for the care he received at Friends and from Hospice of Dayton, and also grateful that Seymour survived until President Joe Biden was inaugurated.
Seymour is survived by daughter, Tsipora Wexler, son-in-law, Ben Pashkoff, of Netanya, Israel, and grandchildren Solomon (Shai) Seagal, Sara Nataf and Moria Shaar; son, Robert Wexler, daughter-in-law Rebecca Kuder and granddaughter Merida Kuder-Wexler, of Yellow Springs; great-grandchildren, Hadas Nataf, Erel Shaar, Laila Rutkovska-Seagal, Gefen Nataf and Be'eri Shaar; and nephew Dan (Sue) Wexler. He was preceded in death by both parents, brother Leon, and wife Shirley.
Seymour donated his body to the Ohio State University Division of Anatomy Body Donation Program to support medical education. A memorial will be planned for a later date, when it is safe to gather. Meanwhile, to honor Seymour, you may donate to CMYS, or find another way to celebrate Seymour's life through music, Shakespeare or delicious food.