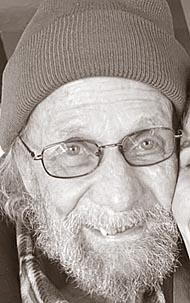 James Melvin Prether died Sunday evening in the warmth and comfort of his home. Jim was born Aug. 28, 1935, in Xenia, Ohio, to Alice Circle and Henry Prether.
Jim lived a full life, going to multiple universities and serving and playing football in the Air Force. He was a successful farmer, heading many committees; a passionate activist; and a skilled carpenter and gardener.
But he'd tell you that none of that matters. He'd tell you that what matters is the love he gave and received and that was plentiful. There was no one quite like him. He thought for himself and had many alternative beliefs that he never hesitated to talk your ear off about. He touched so many lives.
We were blessed to learn many valuable lessons from him. To slow down and notice the beauty and wonder all around us. To stand up for minorities and the poor the way he did. To say you're sorry easily, forgive easily. To live simply. Wave at strangers. Give even when you don't have much. To not judge another's struggle.
He was so loved, so respected and yet humble. He never understood the adoration he was met with from so many. It was well-deserved, though. He radiated positivity and love. And he created a family so full of both.
Jim is survived by his children: son, Les Prether, of Springfield; daughter, Krista, and Robbie Harding, of Clifton; son, Michael, and Vickie Pemberton, of Oregon; and daughter, Shawnee Prether. He is also survived by his grandchildren — who always loved to say, "Papaw said it, so it is so" — Micah and wife Emily, Dane and wife Desiree, Chelsea and husband Elliott, Zoe, Laiylah, Nik, Cody, Sierra, Olivia, Adrian, Cruz, Everly and Jett; by his great-grandchildren, Lilliana, Will, London and Cici; siblings, Richard, Ed and Dave; and so many special nieces, nephews, cousins and friends. He loved so many people but kept few friends close, and the family wants to thank Jack Meyers and Joe and Janice Staggs for their constant love and support.
He created a legacy that will go on changing the world for years and years to come. The world is better because he was in it. May we all treat each other better because we knew Jim Prether. As his good friend Gabby always said, "It's nice to be nice. Try it."
A celebration of life and potluck will be held at "Prether's Lodge," located at 2762 S. River Road in Clifton, on Saturday, Feb. 12, at 2 p.m. Come dressed casually, bring a dish if you're able and be ready to share your favorite Jim memory. There will be no formal service — just a celebration of a wonderful man.