Yellow Springs schools report rise in enrollment
The number of students attending Yellow Springs Schools is up from last year, according to the district's annual enrollment report, compiled in late fall.
According to Superintendent Terri Holden, data for the 2021–22 school year puts total enrollment for the district at 716, compared with 685 the same time last year and 699 the year before that.
Of this year's total number of students, 193 are attending through open enrollment, compared to 192 last year and 184 the year before.

Holden noted that the overall increase is primarily in the number of resident students, which stands at 523 this year, compared to 492 in 2020–21, the first time in over 50 years that local resident enrollment dropped below 500 students. Holden attributed that drop to the pandemic when presenting the numbers last year. Resident enrollment the year before was 515, following a slow decline over the previous decade.
Open enrollment students currently make up about 27% of the district's student body, Holden said. The state allows up to 33% of the student population from open enrollment. The district began accepting a small number of open enrollment students in 1994 — 3% of the total — to offset a decrease in local numbers at the time. The percentage increased over the next two decades, with recent years ranging from 25%–28%. At that level, the district receives compensation from the state of about $1 million each year, according to local administrators.
The increase this year in local resident enrollment is accompanied by a decrease in the number of local students going outside the district for their education. Ninety-seven local students have made other schooling arrangements this year, compared with 115 in 2020–21. The number was 92 in 2019–20, and 84 the year before, the lowest in the past decade. Earlier years stood at 88 in 2017–18, 89 in 2016–17 and about 100 for each of the six years prior, according to past News reporting.
Of the 97 local students pursuing alternative options this school year, 23 are enrolled in area private schools, compared with 39 last year and 40 the year before. No student is attending another school through the state voucher program known as EdChoice after two signed up for the program last year.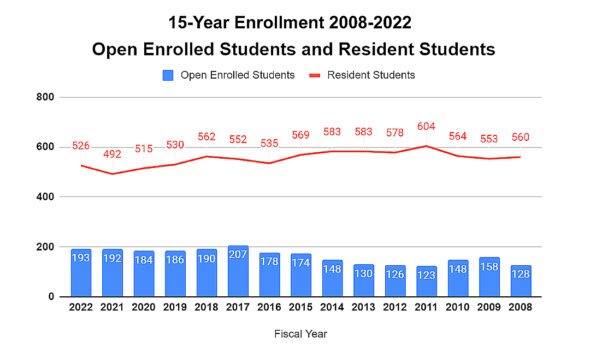 The largest private school group, 20, attend the Antioch School. Typically, 25–30 local students attend the pre-K through sixth-grade alternative school on Corry Street each year. The other private schools currently receiving local students are: the Miami Valley School (1 student), an independent, college-preparatory pre-K–12 school in Montgomery County; Miami Valley Tutoring (1), serving autistic students and based in Fairborn; and Morgan Tutoring (1), based in Springboro.
Thirty-four children are being homeschooled, the same number as last year. The number of home-schoolers had stood consistently at about 20 in recent years.
Twenty-four students are attending one of six community or charter schools, four of which are online. The online schools are Ohio Virtual Academy (5 students), Ohio Connections Academy (1), TRECA Academy (1) and Alternative Education Academy (1). In addition, 14 students attend the Dayton STEM school and two attend Global Impact STEM in Springfield. The numbers are comparable to last year.
Twelve local students are going to other districts through open enrollment there, compared to 11 last year, with six attending Dayton Public, three at Cedar Cliff in Cedarville, two at Greenon in Enon and one in Xenia.
In addition, one local student is paying tuition to attend Huber Heights Schools, and three students are attending schools in other settings due to foster or court placements.
Broken down by school, 331 students are at Mills Lawn, 117 are at McKinney Middle School and 268 are at Yellow Springs High School. Grades range in size from 41 each in kindergarten and second grade and 75 in ninth. This year's graduating class has 67 students.
Open enrollment students are traveling from 16 other home school districts to attend Yellow Springs schools, according to the Yellow Springs district data. Holden said that about 70% of the incoming students originate in four districts: Greenon (22.3%), Xenia (21.7%), Spingfield (14.5%) and Dayton City Schools (10.9%).
Holden noted that open enrollment students "typically have some connection" to the Yellow Springs community, through family, employment or values.