Eugene Richard "Pat" Murphy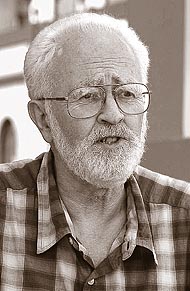 Pat, as he was called since birth, passed away Oct. 1, 2021, at Soin Hospital in Beavercreek, Ohio, from pneumonia. He would have been 83 on Dec. 8. He had become weak due to an aggressive lymphoma, diagnosed on March 3, 2020. After chemotherapy, the cancer was in remission by July. He worked diligently to regain his strength, succeeding in going from being able to do nothing for himself to being able to care for himself again. But he was mostly housebound, so his wife, Faith, took him out for a daily drive. He loved following the cycles of planting and harvest and learning about birds and trees. These drives were their daily walk together, just by car.
Pat was born in Monett, Mo., the second of six children. During WWII, his father joined the Air Force. From then on, they moved from base to base across the U.S., to Germany after the war and to Hawaii.
After high school, Pat joined the Army and was assigned to work programming computers, when hard drives were as big as a car. He fell in love with computing and asked his superior how he could continue. He was told to go to college and study math. He hadn't been good at math in high school, but now had a passion. He attended college in Hawaii, living at home to save money and becoming adept at numeracy, the gift of understanding and working with numbers.
In college, he met his first wife, Merrilee Barkus, and had two children: Gene (Yellow Springs) and David (Portland, Ore.). His work in computing took the family first to Palo Alto, Calif., then to Minnesota, and finally back to California. Pat described himself as a shy computer geek; however, his first boss sent him out on super-computer sales calls to companies like Boeing. Pat said he was so scared he never opened his mouth on his first sales call with his boss. But that changed; he found that his technical know-how mixed with sales and marketing skills gave him an edge: He understood how the computers and software worked and could see why they would or wouldn't work for a client. One of his bosses said to him, "Go out and play golf — when I need you, you'll save us your salary many times over."
Pat also had a philosophical streak that led him to get involved in studying with a group interested in the spiritual teacher and philosopher Gurdjieff. This eventually led him to leave computing. He and his family moved to Sonoma County, 70 miles north of San Francisco, where Pat and Merrilee, along with other families, bought land and started working with their hands — something Pat and the other men hadn't done in their previous work. Pat became a custom home builder, and enjoyed teaching the skill to his oldest son, Gene. Pat also spent time running rivers with friends and loved to ski, play chess, tennis and dance, all of which he was adept at.
After 10 years of being a builder, during which time his first marriage broke up, he took a job with a mini-supercomputer company, commuting weekly to Seattle, Wash. After this job and the end of a long-time relationship with Gerry Schultz, Pat took a couple of courses at the Ken Keyes Center in Coos Bay, Ore. There he met his second wife, Faith Morgan, of Yellow Springs. This led him to his last two careers: as a software developer and as director of a nonprofit in Yellow Springs.
Pat, with the help of friends both in California and Ohio, developed a design-build software program called SolidBuilder. Yellow Springs residents Jerry Womacks, Jonathan Brown and Roy Eastman and graphic designer Bob Bingenheimer all became involved, building a portable computer for software demonstrations, since none was available on the market then; attending trade shows with the startup; testing the software — several homes in YS were built using it; and creating marketing materials. Faith joined him, running sales and marketing. Pat's vision was a program that would bring together computers and building, something that would help small builders compete with large builders. One of its trademarks was that it reduced waste from 19% to 3%. However, after Pat had a severe heart attack in the mid '90s, he eventually had to stop, and he sold the software and closed the business.
After 9/11, Pat and Faith attended a talk by author Richard Heinburg about peak oil and fossil fuels being a finite resource. This was an "aha" moment that set the course of his final career of education and research on solutions to peak oil and climate change. When the board of the Yellow Springs nonprofit Community Service, Inc., or CSI — now Agraria — was thinking of disbanding in 2002, Pat and Faith, along with villagers Don Hollister and Richard Zopf, brainstormed what it might do next. The Board accepted Pat's Community Solutions proposal and, in 2003, he and Faith moved to Ohio and Pat became executive director of CSI. He hired Megan Bachman the next year. Together they made a formidable team, putting on the first U.S. conference on peak oil, followed by four more, and giving numerous talks and trainings.
Pat was an avid researcher, delving deeply into subjects while seeking solutions. On one occasion, he came up with an idea he called "Agraria," a clustering of homes on land with the purpose of leaving half or more of the land available as open space for parks and gardens. In his idea for this development, the buildings would be 50% more efficient than is standard today. Then he learned of the German passivhaus, a way of building that cuts heating and cooling energy use by 80–90%. He embraced this as the standard for the future.
While at Community Solutions, he wrote quarterly reports, chronicling his thinking and what he was learning. He turned these into a book, "Plan C, Community Survival Strategies for Peak Oil and Climate Change." He, Megan and Faith also traveled to Cuba, producing a film, "The Power of Community," which chronicled how Cuba overcame the sudden loss of fossil fuels after the Soviet Union collapsed. He and Faith produced a second film, "Passive House Revolution," that explains how the German passivhaus method of building reduces energy use so drastically.
It pleased Pat that his son David got involved in work helping businesses with energy efficiency. Pat greatly enjoyed their talks about this and being able to use his business skills to help his son.
Pat became interested in Buddhism and this, along with nonviolent communication (NVC), learned in Yellow Springs, was central to the last years of his life. He focused on giving up what he called "ill will," i.e. being angry at or judging other people and himself. After becoming severely ill in 2020, this practice intensified. It became his way of bringing deep love and compassion into all aspects of his life, both past and present.
Pat took up bike riding in Yellow Springs and hanging out with friends at the Emporium, philosophizing. After retiring from Community Solutions in 2015, he and Faith created a website, http://www.plancurtail.org, which showcases his thinking on peak oil and climate change. He believed that the future requires us to reduce energy use, and that thoughtful planning is necessary.
In Pat's memory, contributions may be made to Heartbeat Learning Gardens, P.O. Box 831, Yellow Springs, OH, 45387; or to the Yellow Springs Dharma (Buddhist) Center, 502 Livermore St., Yellow Springs, OH, 45387. Pat was deeply committed to Heartbeat, giving a yearly donation to help it purchase seeds. Since 2020 and COVID, Heartbeat has donated all its fresh produce — thousands of pounds the last two years — to local food banks. Pat was also deeply involved in the Dharma Center. And please visit his memorial website: http://www.plancurtail.org.
A celebration of Pat's life will be held May 21, 2022, at the Glen Helen Building at 2 p.m. All are welcome.