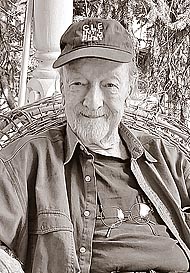 Thomas R. Verdon, 92, local artist of Yellow Springs, passed away on Sept. 29, 2022, at the Dayton VA Hospice. He was born on Sept. 12, 1930, in Detroit, Michigan, the son of Robert J. and Viola M. (Boufford) Verdon. He grew up outside of Kalamazoo, Michigan, on Gull Lake.
Tom moved to Yellow Springs in 1979 and set up a practice as a family therapist. He developed a close network of friends during his 43 years there. At the age of 70, he transitioned into being a full-time fine artist, graduating from Wright State University with a degree in fine arts. He became an accomplished portrait painter. Working in both acrylics and oils, he had numerous shows of his work, including a retrospective when he turned 90.
Besides many close friends, Tom leaves behind his children, Michael, Julie, Daniel and David; granddaughters, Fiona (Michael) and Madison (Daniel); son-in-law, Jeff Balazs (Julie); daughters-in-law, Catherine Norris (Michael) and Deirdre Miller (David); nieces, Maribeth Verdon Andrews and Teresa Peattie; and nephew, James Verdon.
A tribute service will be held at the Little Art Theatre in Yellow Springs, on Nov 12, at 10 a.m. All are welcome.
Memorial donations may be made to the Wheeling Gaunt Sculpture Fund, yscf.fcsuite.com/erp/donate/create/fund?funit_id=1562, or Dayton VA Veteran Services, va.gov/dayton-health-care/work-with-us/volunteer-or-donate.