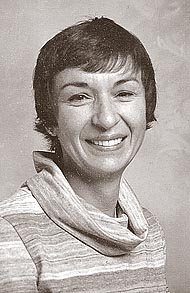 Ann Marie Breza died March 5, 2023, in the company of her family at home. She was born Oct. 15, 1939, in Buenos Aires, Argentina, to Guillermo Pacheco, M.D., and Ella Pacheco, nee Hindsgaul, and spent her formative years in La Paz, Bolivia, with her older brother, Guillermo, and younger sister, Ethel Pacheco. She left Bolivia in 1956 after finishing high school to attend Miami University in Oxford, Ohio. She was awarded a degree in education in 1960, obtained U.S. citizenship in August 1963, married Michael Breza in June 1963 and had sons Michael II in 1971 and Mark in 1975. Ann Marie moved to Yellow Springs with her husband and sons in 1976.
Ann Marie's working life was devoted to education, a profession she deeply loved. She worked as an elementary school teacher at Meadowdale, Jackson Primary and Northridge, remaining with Dayton Public Schools for 33 years. After retiring, she continued as a Spanish teacher for various schools in the Dayton area, including Stebbins and Xenia high schools and the Lutheran School of the Miami Valley, teaching for a total of 52 years.
Ann Marie had a wide range of interests and activities: attending the opera and musical theater, gardening, bowling, playing bridge and involvement in book clubs. Ann Marie was never empty-handed, a cup of coffee in one hand, a book in the other and a cat on her lap. She volunteered at St. Paul Catholic Church in Yellow Springs and organized a nursery for children during Mass and funeral receptions. She actively supported charities such as the Christian Foundation for Children and Ageing. She was a member of many teachers organizations, including the NEA, OEA, Dayton Classroom Teachers Association and the sorority Alpha Delta Kappa.
Ann Marie was preceded in death by her brother and her parents. She is survived by her husband of 60 years, Michael Breza; two sons, Michael II and Mark Breza; four grandchildren, Felix, Miguel, Frida and Zander Breza; a sister, Ethel Pacheco; and many friends. There will be a visitation at St. Paul Catholic Church on Friday, March 24, 6–8 p.m., and a Mass of Christian Burial on Saturday, March 25, at 10 a.m. Funeral arrangements handled by Conroy Funeral Home.