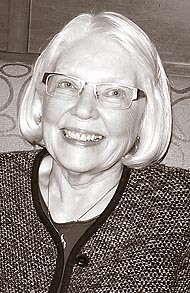 Eloise Agnes (Weddle) Pitstick was a beloved grandmother, mother and wife during her 83 years of life. She passed into the kingdom of our Lord on Monday, April 17, holding the hand of George R. Pitstick, her loving husband of 61 years. A woman of strong Catholic faith and fierce convictions, she also believed in the importance of science, research and education.
Eloise is survived by her children, Dr. Hannah M. Pitstick (Dr. Dougald Gilmore), Gregory J. Pitstick (Michelle Pitstick), Elizabeth Ann P. Smith (Elliot Smith) and Dr. Daniel P. Pitstick (Kenitay Pitstick); and grandchildren, Jacob Pitstick, Josephine Eloise Smith, Samuel Pitstick, Adelaine Smith, Clare Pitstick, Dylan Pitstick, Thomas Pitstick, David Pitstick and Drew Pitstick; as well as nieces, nephews, friends and colleagues. She was preceded in death by her parents and sister, Mary Ann (Weddle) Heeg.
Eloise was born in Xenia, Ohio, to Harry and Alvina Weddle on April 26, 1935. She graduated from St. Brigid High School in 1957. That summer, she met George Pitstick through Jack Heeg, her sister's boyfriend. She attended St. Louis University and the University of Dayton, earning her degree in medical technology in 1961. After a long engagement, Eloise married George Pitstick on Sept. 1, 1961, and moved into their home at 309 N. Winter Street in Yellow Springs, where they would live until 2005.
While starting her young family, Eloise worked as a medical technologist. As her family grew, she stopped working outside of the home and focused on meeting the needs of her four children and husband. Eloise was very multi-talented. In managing the household, she did the cooking, baking, gardening and canning, sewing, and even home improvement and repair! If you needed advice about cooking, cleaning, an ill child, or a myriad of other things, Eloise was the one to call.
Throughout her life she was proud of her knowledge and skills in science, and inspired by the educational needs of her son, applied them to earning a master's degree in education in 1983, with a focus on special education. She was a passionate educator, working diligently to meet the needs of her students. She was also a 4-H leader, helping children build skills and creativity, while having fun.
In 2005, Eloise and George moved to Mason, Ohio, to be closer to their children. While leaving their home of 44 years was difficult, Eloise quickly became very involved in St. Susanna Catholic Church. Among other things, over the years she taught catechism, was involved in women's groups to raise money and otherwise support the church, was a sponsor for those wishing to join the faith and supported ministries, such as the bereavement/funeral ministry and respect life ministry. She developed many strong and lasting friendships through this work, and will be missed by many.
Eloise was a devoted grandmother to her nine grandchildren. She loved nothing more than having her entire brood, loud and happy, in her home. Traditions such as Easter egg decorating, huge holiday meals, and chaotic Christmas gift openings are treasured memories. She tried to pass on some of her many skills, teaching her granddaughters to bake pies, sew, knit and crochet. She was happy to apply her teaching skills to those who needed academic help, and was an eager babysitter. Most importantly, she showed what love of family and God looked like in a faithful life. She truly lived her life focused on her goal: "I want to save my soul and spend eternity with the Almighty God."
Ever the educator, Eloise donated her body to Ohio University, Daniel's alma mater. A memorial Mass will be held at St. Susanna Church, 616 Reading Road, Mason, Ohio, on May 30, at 11 a.m., with a rosary at 10:30. A reception will be held at the church immediately following the service. In lieu of flowers, donations can be made in Eloise's name to Elizabeth New Life Center, 2201 N. Main Street, Dayton, Ohio, 45045.