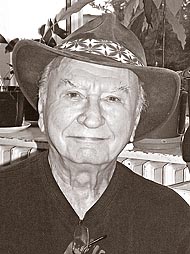 He loved to tell stories, loved jokes, single malt scotch whiskey and strong coffee, his signature cowboy hat, loved to drive and fix things, and flirt. But above all, he loved to sing: anything from Waylon Jennings to shape note music to Bach, and he loved to share that with others by bringing them into the singing fold. Mark Munger died April 27, 2023, just shy of his 85 birthday, of complications from a stroke; his second son, Eric, had taken him to Texas for palliative care.
Mark was born in 1938 to Margaret and Robert Munger in Oneida, New York. As a young man he went into the Navy, where he was the mechanic on the admiral's barge serving on the aircraft carrier USS Valley Forge. During that time, Mark received a commendation for rescuing six people from drowning.
After leaving the Navy, Mark took many other jobs, which included automotive mechanic, drilling specialist and local and long-haul truck driver. After a devastating truck accident that nearly took his life, he changed his focus and opened two fitness centers, and became involved in coaching high school football, weightlifting and wrestling. Eventually, he was hired by Nautilus fitness equipment inventor Arthur Jones to sell the MedX brand of medical spinal rehabilitation machines. He excelled in both sales and operations management, and earned the position of West Coast sales manager. Mark was involved with the sale of these machines until his retirement in the early 2000s, after which he moved to Yellow Springs.
Mark's time in Yellow Springs found him unwittingly getting involved with the Dayton Philharmonic Choir, when friend Ron Siemer took him, impromptu, along to a rehearsal. The experience and beauty of the sound so moved him, Mark recounted, that he joined the Dayton Philharmonic Choir and sought to participate in other groups, such as the Yellow Springs Community Chorus, the World House Choir and the First Presbyterian Church choir. Eventually, he formed his own ensemble, Vocal Vortex. He was known to talk up perfect strangers if he thought their voice might be a proper fit for the group. Mark's last performance with the group was a holiday program in mid-December 2022 at the Mills Park Hotel, though he had successfully organized a musical offering for Earth Day that was performed at the First Presbyterian Church on April 23, four days before his death. His last solo performance, at 84, was Handel's aria "The People That Walked in Darkness," with the Yellow Springs Community Chorus "Messiah Sing-along" in early December.
Mark was as proud of his musical background as he was of his Cherokee roots. He laid claim to both through his grandmother, a full-blooded Cherokee who became a well-known operatic mezzo-soprano in the early 1900s, sharing the stage in New York with such greats of the era as Enrico Caruso.
Ever since his near-fatal accident, Mark lived with constant pain, culminating in his final years with a second hip replacement and complicated by an ongoing bout with bladder cancer. But his determination — some say his stubborn streak — to pursue his music and enjoy life saw him in and out of hospice at least three times in 10 years.
Mark's son Eric wrote: "Many may not have known, but he truly suffered through life. Yet, he always found a way to smile and find his own peace and joy in this world." "Peace and joy" was also his invariable sign-off on texts and emails.
Mark is survived by his three sons, Scott, Eric and Danny, several grandchildren, at least two "adopted" grandchildren, six marriages — one of them twice to the same woman — and many friends and musical collaborators.
A private remembrance is being planned.