Building Community | 'Encoded' meaning, identity in Migiwa Orimo's work
BUILDING COMMUNITY

This is the tenth in a series examining the meaning of community through the eyes of residents working to build and shape it in Yellow Springs.

Perhaps you've seen Yellow Springs-based artist Migiwa Orimo's banners, created in collaboration with community activists: Visual representations of various social justice movements, screen printed in her studio through the Peoples Banner Project. The messages on the banners are sometimes colorful, other times stark, but always urgent, poignant.
Orimo has worked with YS Speaking Up for Justice's Wrecking Crew young people to produce banners that were carried across 25 weeks of protest in 2020.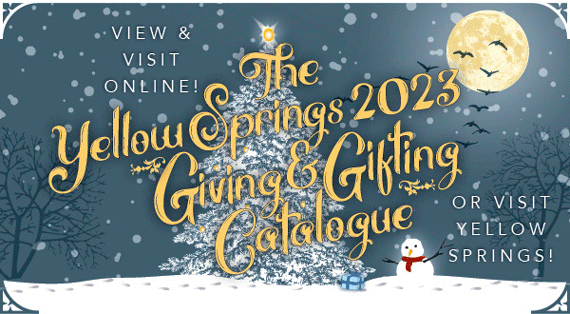 On mustard yellow cloth with the slogan "Black Lives Matter," she created an image of John Crawford, a Black man slain by a Beavercreek police officer while talking on a cell phone and holding a toy gun in his hand at the local Walmart in 2014. A "Vote No on Issue 1" banner was recently splayed across the entryway of the Emporium, a reference to a failed Republican-led August special election effort to control the reproductive rights of women in the state of Ohio.
"I've been doing these banners for over 20 years, but during the Trump [re-election campaign] in 2020, or 2019, I decided to actually name them," Orimo said in a recent interview with the News. "By naming it 'The People's Banner Workshop,' it gained a platform. It's a free banner for the activist. … The banner will be passed between … activist[s] and it might come back. It might not come back to me."
Orimo's personal art is imbued with a different type of power — sometimes quiet, requiring the viewer to spend time engaging with the layers of meaning in her work more contemplatively. But the banners produced through the workshop have more immediacy because of their purpose. They must visually pop to grab the attention of people passing by.
"The banner cannot be a subtle and layered expression. The banner has to be legible. Understood. Within two seconds when the car drives by — 'What's that crowd, you can see people holding something, but what was that about?'" Orimo said. "It's a real opposite treatment of words and text, from what I do for my studio. It's always consciously that I try not to put too much of my creativity … sort of a twist."
Orimo consciously tries to keep the language on the banners simple and clear, so that there is no question about what they're communicating. She alluded to the fact that sometimes protest events, where banners like the ones she creates might be seen, are shown by the media in photographs or broadcast.
"For people who are eating and watching TV, or cooking and watching TV, even far away — if the banner is in the image, immediately people know what that crowd was doing. So, all of that comes down to clear, big, simple," Orimo said.
For Orimo, community-based art is a way to contribute to the causes she supports outside of leading marches and chants or wielding a megaphone.
"When I worked with the young people who did the banners with me, [they were] the artists in the crowd who are not going to do a megaphone," she said. "They were doing some of those [banners] already every week, but the people who gathered here are the ones who wanted to do this different kind of statement."
Some of Orimo's individual work is currently featured in the show "A New World: Ohio Women to Watch in 2023" at the Riffe Gallery in downtown Columbus. The curators of the show nominated five artists from the exhibition to be considered for the show, "National Women to Watch" in the National Museum of Women in the Arts in Washington, D.C., and Orimo was one of the artists chosen to represent Ohio. The work selected for the show is an installation of women's writing from different parts of the globe, translated into Morse code. And for viewers engaging with the work, it involves using the senses beyond sight and touch.
"Dashes and dots and knots. These are women's writing — women who were against difficult environments — like Afghan women, a Syrian blogger who was detained, Chinese activists whose husbands were in prison," Orimo said. "They're available in an English translation from their native language. Then I encoded that into Morse code and then I stitched them. It's not legible, in a sense — Morse code has never been a readable thing anyway; you have to hear it."
Orimo has the recorded sound of the coded writings, and has proposed that a small speaker be placed underneath the work so viewers can also hear the beat of the code.
An artist's origins
Orimo was born the daughter of an artist and writer in Tokyo, Japan in the 1950s. She described her young self as being "very much an only child with artistic temperament in a bohemian household." She credited her upbringing for guiding her toward a love of art. Her father was a writer, whom she described as "not a very typical Japanese salary man." Her mother had an artistic bent and had wanted to pursue a life as a painter, but as a woman, she was discouraged from doing so. Instead, Orimo said her mother went into hat-making and design and sold her hats from her studio in Tokyo.
"She didn't have an image of herself being an artist," Orimo said. "She didn't have any sort of a process of documentation like an artist does, but she was making a bird cage [hat] on the top of a head, stitched insect skin to make a pill box, sort of like [Jacqueline] Kennedy's. The pill box had all kinds of weird material — so in a way, she was making sculptures."
Orimo said her parents made friends with writers and artists, who were part of the fabric of her family life growing up. She was encouraged to join in conversations with her parents and their friends — conversations that sometimes supplemented her grade school education, and sometimes replaced it.
"Even in elementary grade school, if I were part of a conversation of grownups and stayed up too late … if the conversation was important enough for me to hear, they all said, 'Go ahead and stay, and then you don't have to go to school tomorrow,'" Orimo said.
From an early age, Orimo said her parents nurtured her inquisitive spirit. She was encouraged, she said, to learn by observation and experimentation.
"My parents, especially my mom, consciously pointed things out when we were in the subway. 'Look at that yellow that person is wearing, or somebody's holding. What is it, what is it about the yellow?'" she said. "Rather than teaching how to do it, she let me sit next to her [making] ribbons and using materials and stuff like that. I did a lot of creative work not in a formal way."
With those sorts of creative and curious foundations laid, Orimo said there wasn't an exact moment when she knew she wanted to be an artist. Instead, she said, the inspiration came from a spiritual level.
"There are a lot of little moments that you're like, 'Okay, this is what I'm drawn to,'" Orimo said. "Also, in the 1970s when I was in Tokyo, becoming a teenager, college student, it was kind of a bursting time for Japanese design, the fashion and photography and design. Of course, being in the middle of Tokyo, you are exposed to all of that the minute that it comes out, so, I saw a lot of that energy, and also a very avant-garde theater movement."
In listening to Orimo describe her work, an interesting narrative — that of family lineage carried just under the surface — emerge. Her parents' creative endeavors — the visual language of art combined with the literary, fabric and verbal language — are deftly utilized in her works of art, which combine her different interests.
"Rather than being an expert who knows everything about certain things, I really appreciate that art allows me to take different areas and bring all those elements [together]," she said. "That's a way for me to sort a love of literature, language, visual [art] — all of that culminated into a forum."
She added that there is personal importance in the tactile nature of her work.
"I honor that fine texture: I wash the linen and then let it dry, but never press it to make it neat, and I try to retain the subtle picture to catch shadows," she said.
Making the village a home
Orimo immigrated to the U.S. in the 1980s. Originally, she had planned to travel for two years before heading back to Tokyo, but decided to go to the U.S. first to learn English. Living between two languages, Japanese and English, is a running theme in Orimo's work, she said.
"Maybe because English is my second language, no matter how much I study, the language stays pretty abstract still. And then my Japanese language is becoming more abstract because I'm being away from it. It's a very interesting space that I'm aware of," she said. "There's a gap between what's happening inside my head and what's being expressed. And so, as a result, you become mute."
Orimo said another theme of her work is what she terms "slippage.," which she described as "points of disjunction, interrupted continuity of land and time, the fragility of connection."
"Physical, political, or cultural, we become sensors," she said, reading from a previously written statement about the particular theme. "Sensors are as the antenna, the sensors experience the slippage as a shifted sense of equilibrium, trying to regain balance."
Orimo said she wound up in Ohio because of her aunt, Ikuko "Iko" Wright, who was a chef and one of the co-founders of The Winds Café, though originally the local stop was only supposed to be a pitstop on the way to Europe. She noted the prevalence of Japanese tourists in the 1980s, as well as the stereotypes that followed.
"Hanging the camera [around the neck] — that was kind of a laughing joke about Japanese tourists," she said. "I was not interested in that sort of postcard tourism, but I was interested in staying someplace to really experience the seasons, and the whole life cycle."
Towards the end of her Ohio trip, Orimo met her future husband, Tony Dallas, but was unsure at first how she could stay in the country.
"I was not allowed to extend my visa because I already was here for one year. I was going to leave for Europe anyway, but at that point, I wanted to prolong my stay so that we could have that relationship," Orimo said.
At first, Orimo said, she was against the idea of marrying anyone.
"I'd already declared that I'm not going to marry, or I'm not going to have a child," she said. "I wasn't really a believer [in] a wedding dress and institutional marriage because I was not that person."
But getting married turned out to be a way to prolong Orimo's stay.
"We got married, and we are still married after 40 years," Orimo said.
Orimo's work can be viewed as part of the Ohio Arts Council-sponsored group show, "A New World: Ohio Women to Watch 2023," at the Riffe Gallery in downtown Columbus through Oct. 6.