After 48 years, Dr. Englefield has retirement in his sights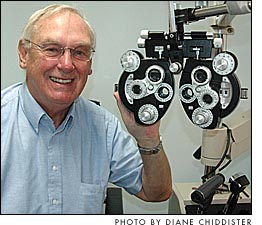 After almost five decades as an optometrist, there's just one thing that still knocks the socks off Dr. Robert Englefield — and that's the miracle of human sight.
"When you realize there's this never-ending light that comes in and stimulates the eye and then sends messages to the brain that lets it become a vision — I've never stopped being amazed," he said.
While Dr. Englefield continues to be amazed, he will cease being on the frontlines of that miracle at the end of June, when he retires after 48 years serving the eye care needs of the village. Most of all, he wants to say thank you to the village.
"I am so grateful to the people of Yellow Springs who gave me great support and loyalty and friendship," he said in a recent interview.
To say goodbye to his friends and former patients, Dr. Bob will host a farewell get-together on Saturday, July 11, from 2–4 p.m. at Bryan Community Center.
His attachment to his patients — some who came to him as children are now grandparents, whose grandchildren are also patients — and the inherent challenge of his profession always sustained him, Englefield said.
"When you put a patient in a chair, you don't know what the answer will be," he said. "It's always unknown."
According to Englefield's wife, Ruth, "There was never a day he didn't want to come to work."
Four years ago, Englefield sold his Southgate Avenue practice to Greene County Eye Care, at the time agreeing to work two days a week until the end of June, 2009. At the time, the 2009 date seemed far away and he thought then that surely at this point — he's almost 75 — he'd be ready to retire completely. Now that the time has arrived, he has mixed feelings about leaving, but a contract is a contract, and so Englefield will stop working. Dr. Lindsay Florkey, who owns the practice and will keep it going in Yellow Springs, is seeking a younger colleague who wants to take on a partnership with her, according to Englefield.
Dr. Englefield, who continues to commute from Springfield, will be in the office Mondays and Tuesdays for two more weeks until June 30.
After that, he will continue to practice optometry by filling in at area offices when he's needed.
Englefield's fascination with eye care began when he was 24 years old and had already attended two years of engineering college and served in the Army. He had studied engineering long enough to realize that it wasn't quite right for him, but he had no other profession in mind. So he was floundering a bit in life when he realized one day that his eyes were blurry. Having never had an eye exam as a child, Englefield asked a friend where to go when you can't see right, and shortly after, for the first time, he sat in an optometrist's chair.
And when he got his glasses, everything changed.
"I could see so clearly," he said. "I went home to my wife and said, 'Now I know what I want to do'."
It took four more years of school at Ohio State for Englefield to get his optometry degree. Born and raised in Springfield, he always expected to set up his business in that city, but he looked around and realized many other optometrists were already there. Looking further south, he noticed that the little village of Yellow Springs had no eye doctor. Because he had a wife and two children, he needed "a place to get a quick start," Englefield said, and so he set up shop in a house on Xenia Avenue across from what was then the Yellow Springs Clinic, in what is now the Wellness Center.
"My goal was to someday make $8,000 a year," he said with a smile.
Starting off, he had no help at his office. After Englefield's first patient received new glasses and gave the doctor $20 — the bill was $18 — Englefield realized he had no change.
"So I ran out the back door and went to the bank and got him some change, then ran back and gave it go him," said Englefield, who also answered his own phone at the time.
But he quickly became established, and had a steady stream of village men, women and children coming for care. One of his early patients was a small child whose parents brought her in because her eyes were crossed. Englefield correctly identified the problem as extreme farsightedness and fitted her with glasses. The child's eyes quickly corrected themselves, and she was no longer cross-eyed.
While he always loved helping people see more clearly, Englefield felt especially gratified by cases in which he may have saved someone's sight, and perhaps their life. In two cases, a patient came in for a routine exam with no symptoms, and Englefield suspected after administering a visual field test that they might have a tumor on their pituitary gland. In both cases the patient did have a tumor, and after it was removed, they did fine.
Many things have changed over the years. When he first opened, Englefield offered his patients about 20 varieties of frames, and when he opened a second office in Jamestown, he carried 10 frames — mainly plain metal or tortoise shell-colored plastic — in a bag for his Jamestown patients to choose from. Now, he has more than 400 frames in his Southgate Avenue office, in all shades, shapes and materials, and patients can also make a special order if they don't find what they want.
Some of his equipment has remained similar to that he started with, Englefield said, including his trusty phoropter, the piece that he places against a patient's eyes during a routine exam, when he asks, 'Which is more clear, number one or number two?' as he changes lens strengths. (Sometimes, Englefield admitted, he gets a little tired of that question.) But some pieces of equipment that he uses routinely now, such as one used to test eye pressure, weren't even invented when he began in 1961.
What hasn't changed, though, is the bond he feels with the people in Yellow Springs.
"I made the right decision for the wrong reasons," he said with a smile, referring to his decision to come to Yellow Springs to make a quick start. It turned out to be not only a quick start, but an excellent lifetime opportunity for a man who, even after 48 years, never stopped loving his work and the patients who became his friends.