UPDATE: Census shows rising age, declining diversity
Updated June 3, 2011
Yellow Springs has become a much less racially-diverse community with 40 percent fewer people of color than in 1970, according to the latest 2010 U.S. Census data released. The largest losses have been from the village's African-American community, which shrunk by two-thirds since 1970, far faster than the total resident drop in the community, which fell by about one-quarter over the same period.
In 2010 African Americans accounted for just 12 percent of the population, down from 26.2 percent in 1970. And over the same time period, white residents have steadily increased to 78.1 percent of the population, higher than the national average. But in the last 10 years, multi-racial residents have grown to a much larger share of population and percentage-wise the village still counts more people of color than Ohio and Greene County.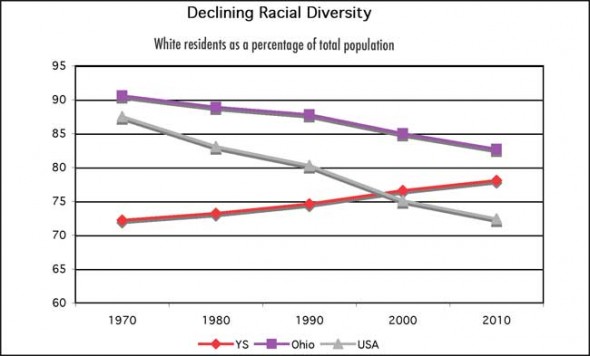 See the June 2 edition of the News for the fully story.
Median age rising in Yellow Springs
Yellow Springs is aging more rapidly than anytime in at least the last 40 years, as its median age rose more than seven years in the last decade alone, according to the latest U.S. Census Bureau figures.
The village's median age rose to 48.5 years in 2010, more than double its median age of 22.7 in 1970. Yellow Springs now has the highest median age in the Dayton area. Yellow Springs is aging faster than the rest of the state and the nation as well. Yellow Springs' median age is now nearly 10 years higher than the rest of Ohio.
Meanwhile the number of village youth remained steady over the last decade while the largest population losses were seen in its college-age population and among the middle aged.
See the May 26 edition of the YS News for the full story.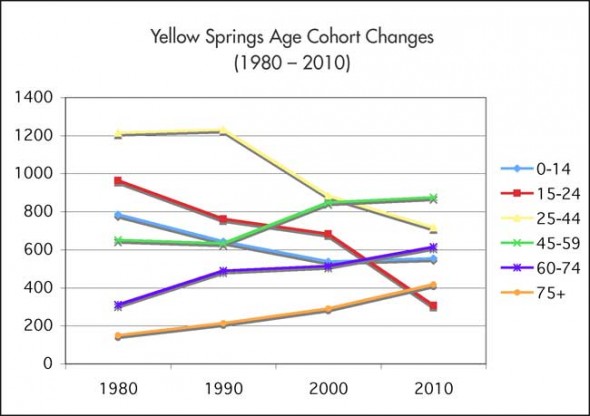 See also New Census data shows areas of growth decline and Census results show declining population and diversity