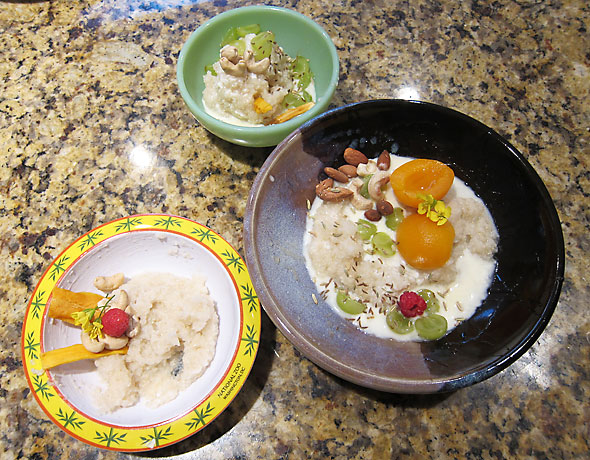 BLOG-Breakfast with My Babies
Founded in 2009, the Yellow Springs Montessori School fills out the wonderful choices for childcare in town. The school offers 3 hours of daily instruction Tuesday, Wednesday and Thursday for children ages 3 to 5. My husband and I chose to send our four year old because of the fun, effective way Montessori introduces math, science, geography, art, and other subjects. I like to linger in the classroom, a well thought out space filled with adventure.
We also like the teachers Eve Strum and Christy Comerford. They have a gentle grace and a gift for direction. I felt their influence myself at our first child-teacher conference where the main topic was breakfast. I was surprised, but their case was sound: The healthier and more rounded her breakfast was, the better our child could focus during the three hour school day. The teachers advocated a protein, good fiber, and—really, please—no sugar.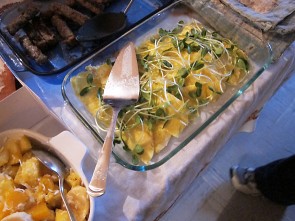 I took their advise to heart and to demonstrate brought a plate of omelets to the Montessori School Thanksgiving potluck. Omelets are a hit with my kids, and we have them at home at least twice a week. Made with local eggs, I fill them with Blue Jacket Dairy's Silver Lake chevre available at Tom's Market or the Winds Wine Cellar. For the potluck, I topped the omelets with sunflower sprouts aka "helicopters"—also available at Tom's—because, well, all vegetables should be so fun.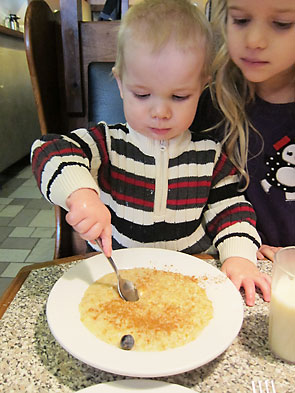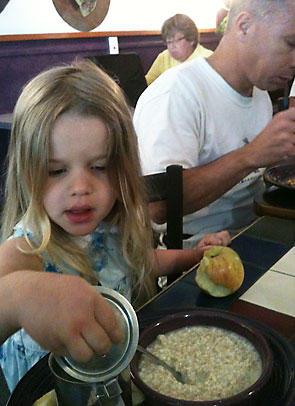 Among the kid's breakfast favorites are:
cottage cheese and a side of mandarin oranges;
a bowl of granola topped with yogurt, grapes, and nuts;
a couple slices of ham, a sliced pear, and a wedge of cheese
But the big hit? Hot cereal. My little dears love oatmeal and grits. I fix them a bowl, top it with a handful of berries, and they are as happy as clams. We love the oatmeal that Current Cuisine offers daily from 9-11am; weekdays before school, we're regulars at the Emporium's breakfast bar enjoying the prepackaged oatmeal or the homemade granola by Cassandra. Our favorite dish in town is the multigrain hot cereal at the Sunrise Cafe. Chef Brian Rainey mixes his own organic blend of oats, flaxseed, quinoa, and cornmeal which my children have been caught in awe over.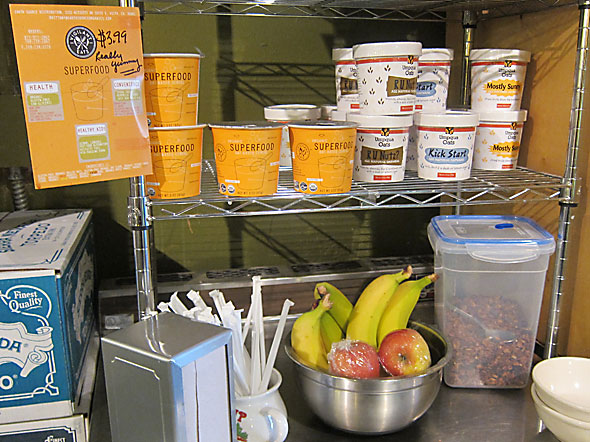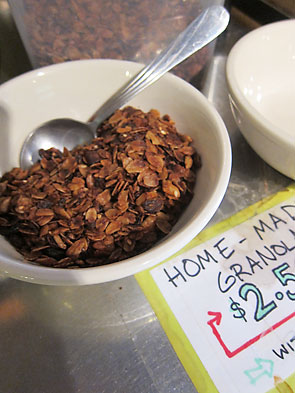 Despite all the super hyped sugar fest cereals, the good news is that feeding children a healthy breakfast is easy… especially when you introduce wholesome choices early and treat the sugary cereals for what they are: a "sometimes food" as Elmo would say. Sure, my kids eat Fruit Loops but on vacation at a hotel breakfast bar, not every morning. The reward for making this change is reward indeed: calmer children.
If you would like to learn more about the school, today Saturday February 4th from 6-9pm the Yellow Springs Montessori School will hold a fundraiser at the Yellow Springs Presbyterian Church, 314 Xenia Avenue. The theme is "Anything Flies" so strap on a set of wings and join the fun. The event will have live music, games, crafts, food, drinks, a silent auction, and a raffle. The suggested donation is $10 for adults, $5 for 11-18 year olds, and free for children 10 and under. Look for my dish of pinwheels and helicopters!