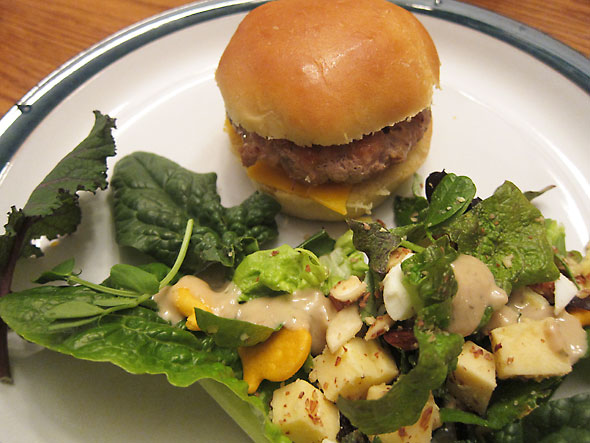 BLOG-Family Fare: Pork Burgers
Our favorite meals of the week come after a trip to the farmers market. We are fortunate in Yellow Springs to have access to fresh local produce year round even in the winter. For the months of January, February, and March, the Yellow Springs United Methodist Church, 202 S. Winter St, hosts a Saturday market from 9am to noon. Arrive early and you can collect greens, eggs, bread, and meat for a scrumptious family-pleasing meal. Last weekend, our trip to the Yellow Springs Winter Farmers Market yielded a dinner of burgers and cobb salad with almost every item coming from with 15 miles of town. Our bounty included ground pork, slider rolls, and mixed salad greens, and the wonderful experience putting it all together.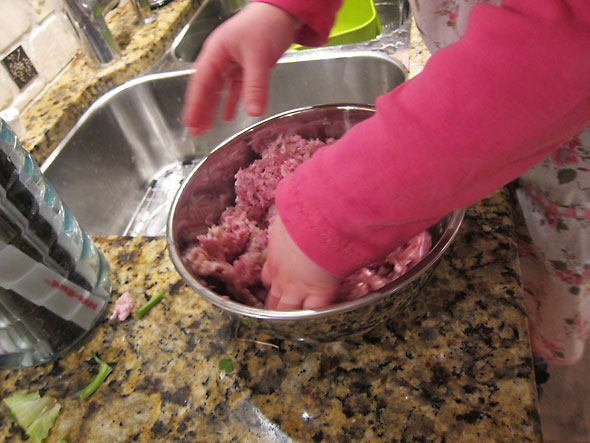 The ground pork comes from Anderson Farms located 3 miles south in the town of Xenia. Doug Anderson has been with the winter market since it opened in 2009 and, in addition to the ground pork, he offers pork chops, sausage, and assorted jams. In the summer, the Anderson Farm is a rare sources of local blueberries. The soils in the Greater Dayton area tend to be too alkaline to bear my son's favorite fruit, so we are happy to see Doug's stand in the months of June and July. To contact Anderson Farms, come to the Saturday market, email andersonfarmmarket@gmail.com, or call (937) 269-2684.
The slider rolls come from Lydia Parker aka the Meadowlark Lady. Lydia joined the winter market last year where we first sampled her cinnamon rolls. Now when my daughter comes to market, she makes a beeline to Lydia. Not only are her desert rolls glorious, but so too are her dinner rolls which come in two variations: milk and multigrain. Lydia will deliver so you can enjoy fresh baked bread any day of the week. We special ordered the slider rolls; the size is right for the young ones… and for the adults who are cutting back on serving sizes in meat dishes for health and well being. Email meadowlarklady@gmail.com to place an order.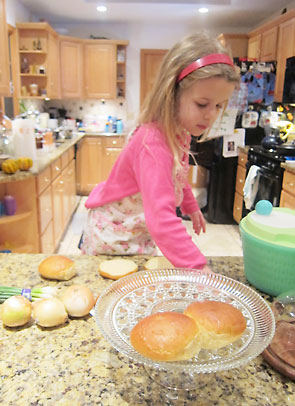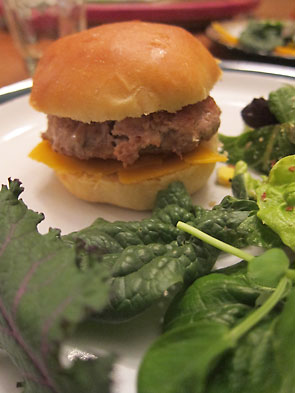 Our greens this week came from Peach Mountain Organics, a farm in Xenia 15 miles south. A great favorite of the summer market, Doug Seibert and Leslie Garcia have recently stood up greenhouses to continue producing their high quality vegetables all year round. This winter, Doug has been offering mixed salad greens and yummy bundles of beet and pea shoots. The salad greens are lush and tasty of any I've ever had and the microgreens frankly a revelation. For their Saturday location, contact Doug or Leslie at (937)862-5259.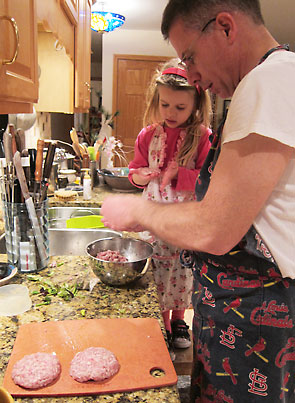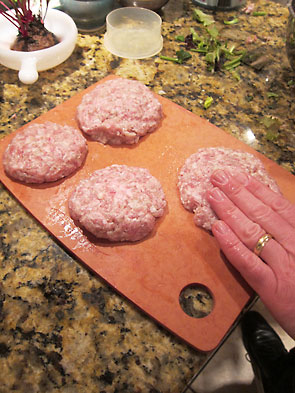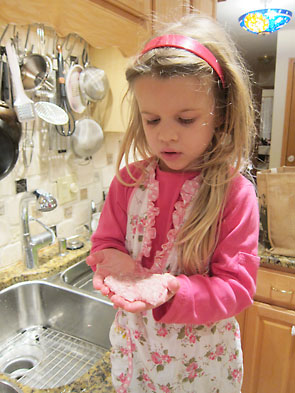 On Monday night, the family gathered these goodies and prepared the meal. Our four year old took an active part mixing the meat and onions, forming the patties, tossing the salad… and instructing the adults on the proper use of aprons. Dad took charge of flipping the burgers which left me to snap pictures and set the table.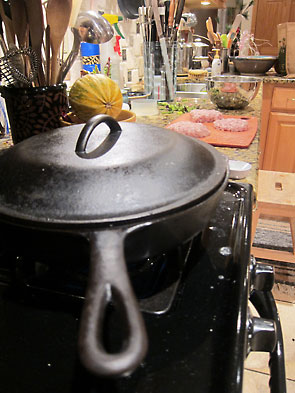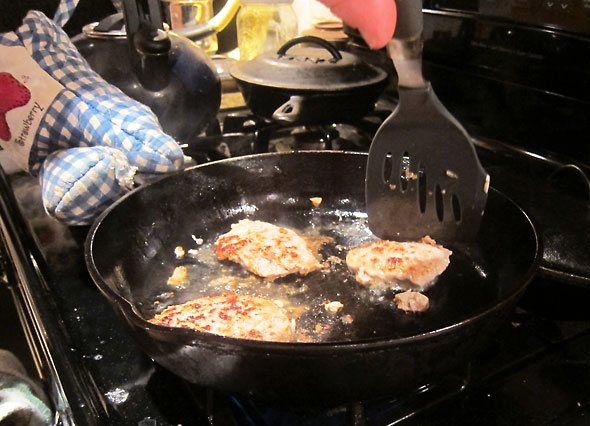 The recipe is my husband's. He has made many kinds of burgers this year: lamb, pork, goat, even beef. He strongly recommends adding onion to ground pork to give it a savory kick.
Pork Burgers
1.5 lbs Ground Pork
1 medium onion
Salt and Pepper
Mince the onion finely. Mix the onion and pork by hand adding about 1/2 tsp salt and pepper to taste. Fashion into patties about 1 inch deep and 4-5 inches wide (or about an inch wider in diameter than the buns).
Place patties in a ungreased skillet set to Medium High. The heat will rend the fat in the pork which is why you can skip greasing the pan. Cover and heat until the pale pink top whitens and the bottom starts to get crispy brown. Flip and cover for 4 minutes or until both sides are crispy brown.
Top the burger with your favorite fixings like a slice of cheddar, lettuce, and tomato. Personally, I skip the ketchup. Enjoy!
Serves 6.
So come to Saturday market and check out the fine fare. Remember, today February 11 from 1-3pm, the market is hosting the root cellar workshop presented by New Liberty Farms. Hope to see you and your favorite root vegetable dish there.