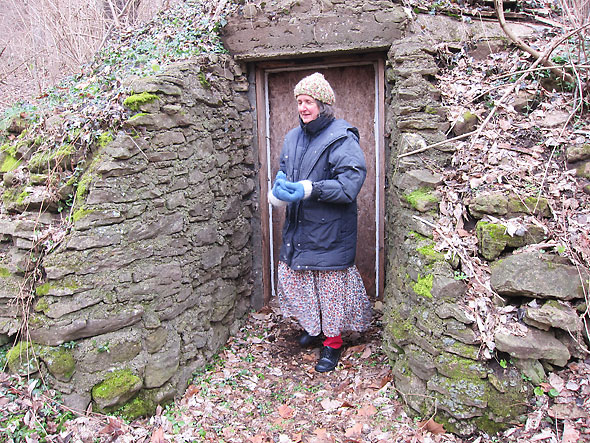 BLOG-Seeking shelter and shared wisdom
On February 11 from 1-3 p.m., New Liberty Farms is hosting a workshop on root cellars and tasty winter root recipes in the Yellow Springs United Methodist Church fellowship hall, 202 S. WInter Street. Learn the many ingenious ways to store root vegetables whether you live on 100 acres or in an apartment. Register with Beth Bridgeman this week by calling 937-768-7240 or e-mailing Beth@NewLibertyFarms.net and enter your best winter root recipe: rutabaga ragout, brussell sprout sensations, breathtaking beets, parsnip perfections, toothsome turnips and sweet potato savories. I'll be there to test recipes, and the winner receives a gift certificate from New Liberty Farms.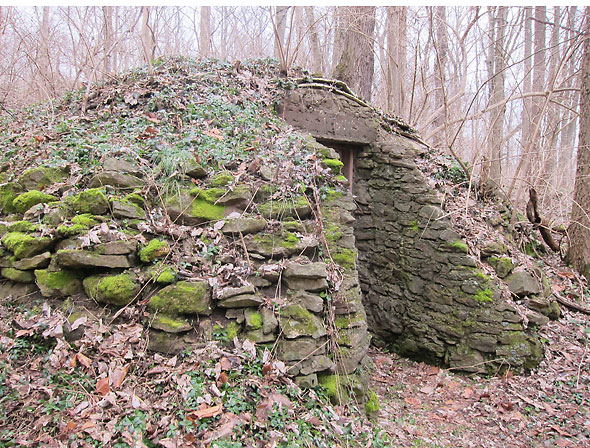 A root cellar can be a shared community resource. I encountered one on Wednesday on a walk with Vale residents Kitty Jensen and Patty Gehring. The cellar sits on a north facing slope. It is striking on approach: a moss-covered mound made out of mortared stone. Its deep recessed entrance protects contents and visitors from wind and elements. The frame is sturdy and used to host a Dutch door, Kitty tells me, so the lower door could block drafts while the upper let in light.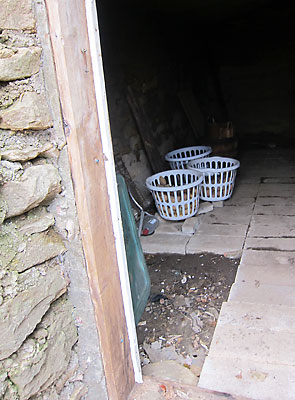 The quality of the cellar's construction is apparent as we enter. The room is warm, and the air pleasant and moist. The earthen ground is mostly covered with pave stones like a patio.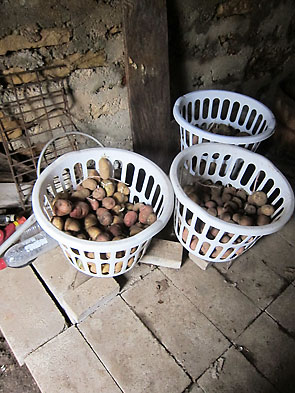 Potatoes are stored in baskets and crates. The open frames of these containers keep the vegetables well ventilated and thus hydrated and healthy in the cellar's moist air. Smaller bricks raise the containers off the ground to again assist ventilation, stabilize the food's temperature and minimize cross contamination. The season has been unseasonably warm so temperatures have crept above the optimal 32-40 degrees Fahrenheit. As a result some of the potatoes have sprouted. Still everything looked healthy and happy.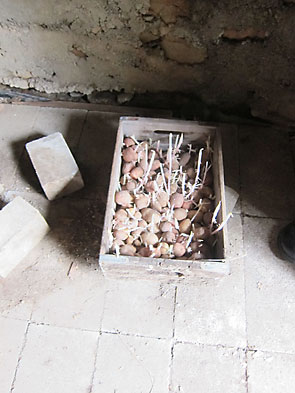 Cold storage allows us to harvest abundant food at its peak and preserve it in a near optimal state for later use. A root cellar is a time tested, no power alternative to refrigeration that can easily scale to household. Besides potatoes, root cellars provide great storage for a range of roots, their greens and other winter vegetables: arugula, beets, brussell sprouts, carrots, chard, collards, garlic greens, kale, kohlrabi, leeks, lettuce, mizuna, mustard greens, parsnips, parsley, radish, rutabaga, scallions, sorrel, spinach, turnips and watercress.
I found the Vale's root cellar inspiring and wonder how I can modify its decades-old form to my resources and needs. Please register with Beth for the Saturday workshop, and come share your solutions in preserving and preparing your favorite root. We will all benefit from the shared wisdom.