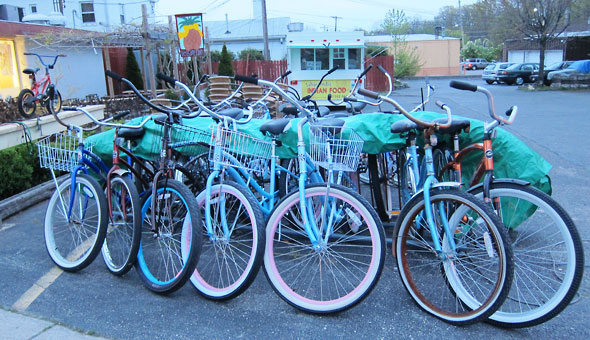 BLOG-Where the Townies Gather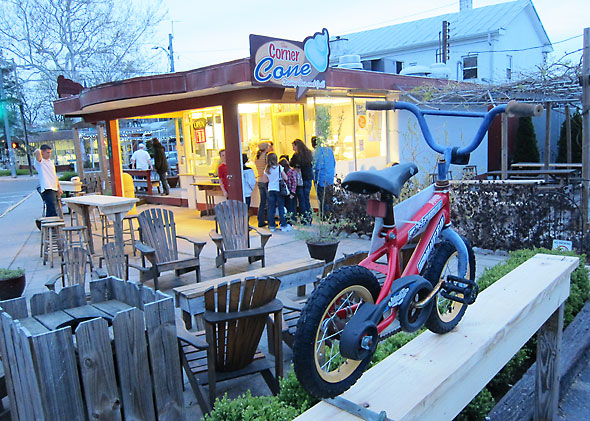 Three springs ago when my first born was age two, we would stroll around the neighborhood. I was drawn by the gardens of south town—the flowering trees and beds near our house—and the decided need for exercise. A long walk was preferable, and on nice days we might roam downtown. My daughter would practice her words along the way pointing to objects as we encountered them naming "plane", "tree", "cat", "flower","dog" with ever increasing authority. When she first pointed toward Xenia Ave, I thought she might have been drawn by the street noise and the urge to practice "car". That she had a particular destination in mind was unfathomable—she was two after all—but when she directed me a second time to Xenia Ave, I humored her. Her goal turned out not to be "car" or "truck" but "ice cream" for she led me to the Corner Cone, a full mile and a quarter away, on 101 South Walnut Street.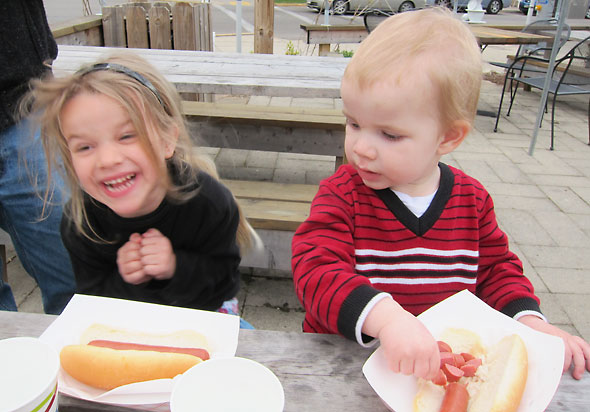 The Corner Cone was the first place that my daughter had ice cream. In tackling that first cone, I was quite impressed by her dexterity—needing only occasional help with drips—and now I was further impressed by her fortitude in seeking out another experience. My sense of place remained underdeveloped until I started driving, but here my clever toddler had clearly formed a picture of her hometown and her favorite places within it.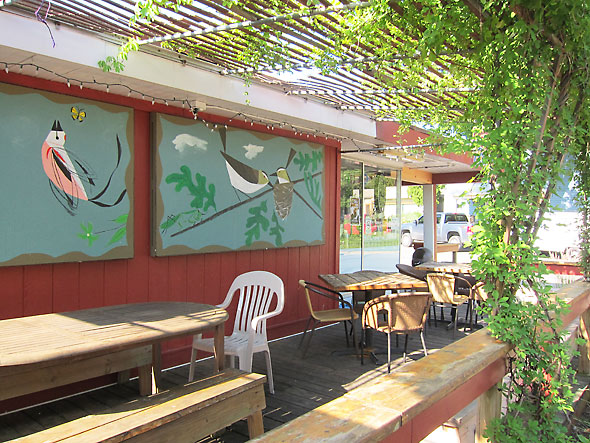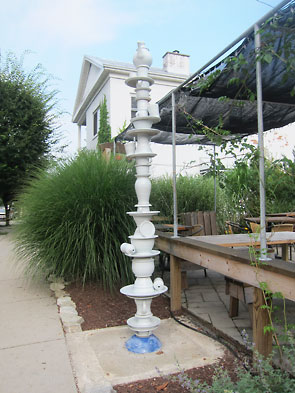 The Corner Cone is a favorite haunt of other townies as well. Open April thru October, it's particularly busy after a toddler T-ball game or a high school play rehearsal. Owned by Bob and Sue Swaney since 2006, we've been enjoying their steady improvements: the art installations, the gorgeous Charley Harper inspired mural, and a stage for live music and the occasional play.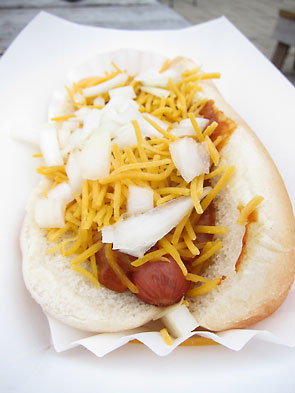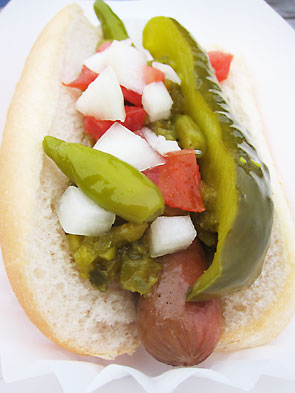 As we sat down to our meal, the look on my daughter's face summed it all up perfectly. Her expression was not just delight with a single meal but the sweet anticipation of a whole season. To kick off spring American style, we opted for hot dogs. Dad and I got specialty hots: a Coney style for him, and Chicago for me. The Chicago dog was a yummy mix of hot and sour loaded with a dill pickle, onion, mustard, and hot peppers. We'll return next week for hamburgers and our favorite fries, or perhaps the splendid and spicy Indian food offered at Akhilesh Nigam's new food trailer hosted in the Cone's parking lot, before settling into our cooling dessert of ice cream or—my favorite—lemon ice.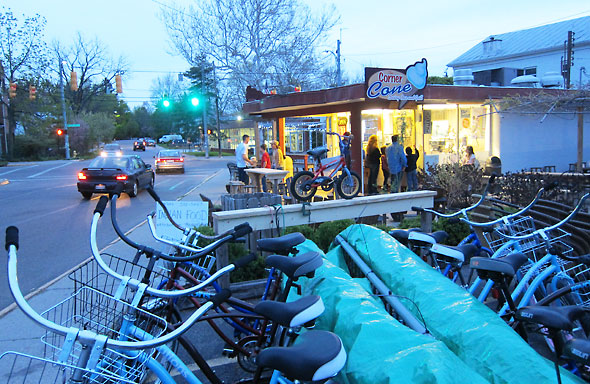 Bob and Sue Swaney have created a spot that's just the kind you hope to find in any village. The open air eatery buzzes with youth, alive with enjoyment of the day and twilight hours. Now that the soft serve dispensers are humming again, my daughter is not the only one anticipating a summer of delights…oh, certainly…not the only one by far.