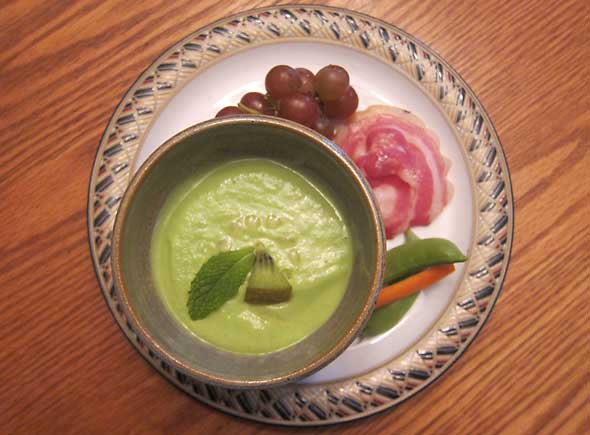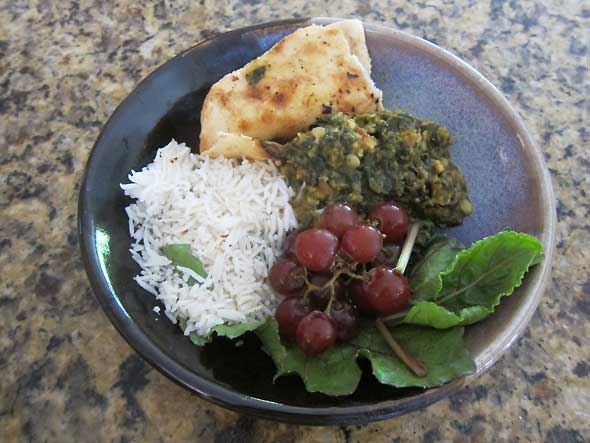 There is something instantly gratifying and refreshing about soup. At least that is what I found in the heat of our first full day of summer.
Yesterday was a day of three soups, all wonderful varied, flavorful, and immensely appealing. I started my morning with a chunky helping of saag daal from Aahar India Food Corner. I never had spinach with lentils before, and the combination makes a hearty stew. With a side of rice and handful of grapes, I can also attest it makes a lovely savory breakfast. Aahar India is a food cart in the parking lot of the Corner Cone, 101 South Walnut Street; and they have been providing our family with spicy, nutritious meals regularly since they opened this spring. Open Thursday thru Sunday, we especially like to pick up lunch after church. This Thursday night, my husband had a sore throat, and nothing sounded better than indian food and a bit of soft serve ice cream so to the corner of Dayton and Walnut we went. Mr and Mrs Nigam's menu present traditional Indian dishes. Several offerings I have never seen before though I been exploring this favorite cuisine for some 25 years. Their servings are generous and often make the next day's breakfast slathered on an english muffin with a dollop of cream.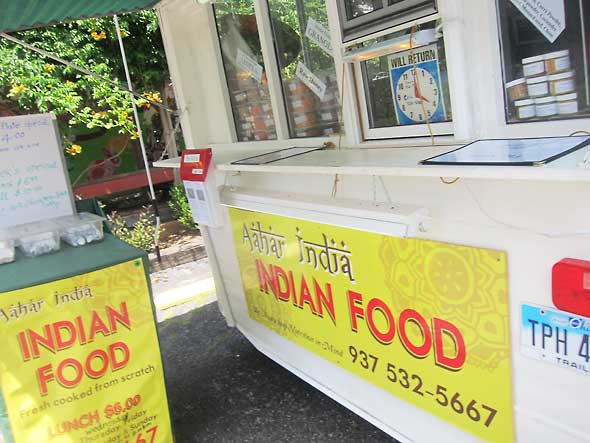 Fridays are my day off, and often I use them to enjoy the village and our snug home. I sat at my front window with my breakfast bowl and a favorite book Persuasion by Jane Austen. There I lingered for the morning. Persuasion was her last publication and, left untitled at her death, a love letter to the British Navy. It's a surprisingly fast read. I was more than halfway through the book when the heroine Anne Elliot sat down to tea with an old school chum and, coincidently, it was time for me to do the same.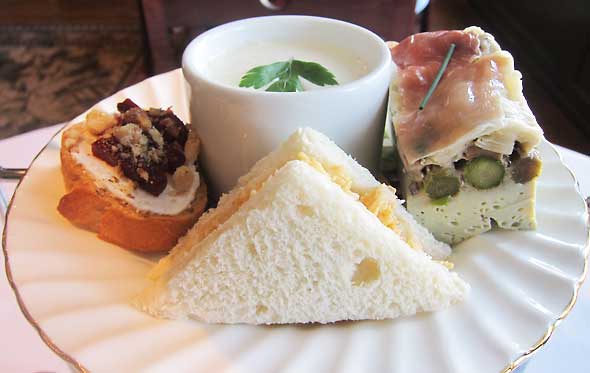 I had a 11:30 am reservation for tea at Basically British, 501 East Third Street in Dayton. A wonderful establishment hosted by co-owners Terry Ronald and Vicki Morris, I was soon enjoying a pot of Vanilla Black as Anne drew near her heart's desire. Within the splendid three tier presentation of scones, savories, and sweets prepared by the talented Vicki Morris was my heart's desire: a frothy zucchini vichyssoise. My husband also loves potato and leek soup, and here was a splendid, even perfect, rendering. Vicki makes the savory and sweet tea nibbles daily—thus the need for advanced reservations—and has a real gift for infusing her confections with brilliant splashes. Feeling as well supplied and attended as a high born lord in Bath, I read the lines, "I must endeavor to subdue my mind to my fortune. I must learn to brook being happier than I deserve." and nodded with a true understanding of my luck.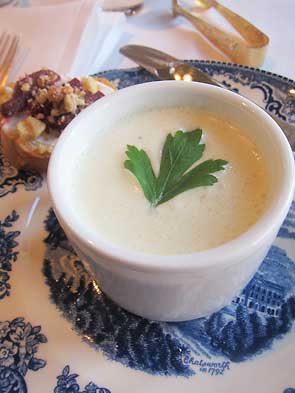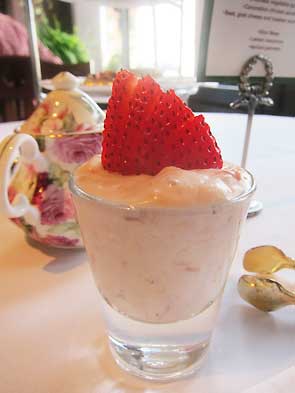 You can't help but want to share such good fortune. I know Mr Nigam feels the same. Aahar means nutritious, and he aims to make cooking more assessable and attractive to anyone. The windows of his food cart are stacked with spices and brightly colored soup kits. Today I am soaking his chickpeas. They are on their way to accompany lamb spiedies later this weekend.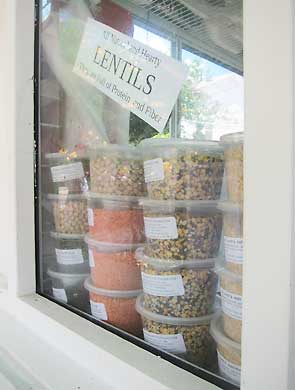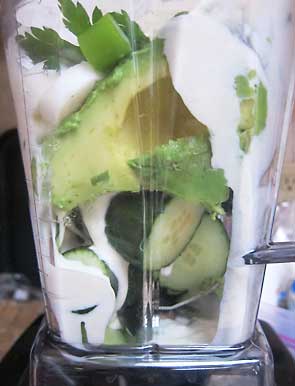 Friday night, I decided to combine the joys of my morning and noon meals by preparing a dinner of finger food that I know my children will enjoy and a cold cucumber soup for their parents. The soup recipe is an old favorite to which I added a bit of ginger to sooth Jeremy's head cold.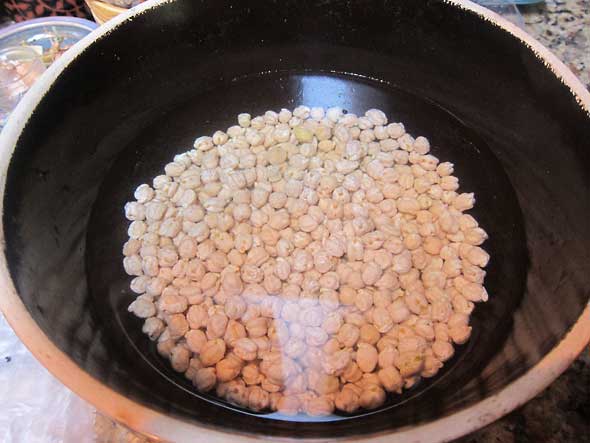 To the plate of fruit and veggies, I added a quarter pound of pancetta from the deli counter at Tom's Market… crisped up just as they recommended. For just a whiff more flavor, I added little pearl drops of the pancetta's rendered fat to the soup and a kiwi slice. It was a Vicki Morris inspired flourish and worked well, happily stumbled upon, and even inspiring my five year old—naturally suspicious of green food—to give the soup a try.