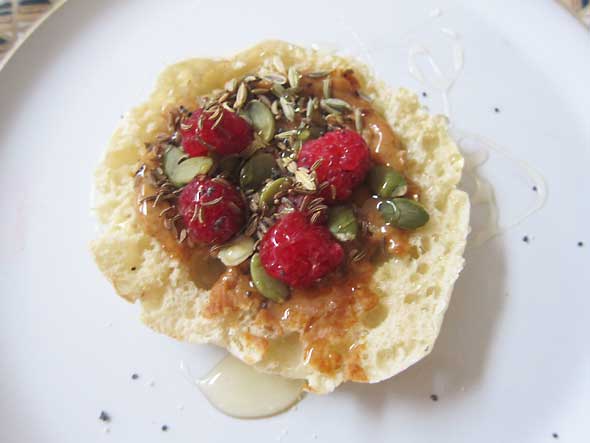 BLOG-Adventures with Peanut Butter
A mainstay of my childhood was peanut butter and jelly sandwiches. My mom would fix lunch for the four of us and pop our treats into a paper bag that she would decorate with a flourishing rendition of our name and a heart. We could feel the love, no doubt…right down to our tummies. We had our share of baloney sandwiches, salami (my personal favorite), and the occasional bowl of soup, but often our surprise entree was the trustworthy PB&J.
Funny how the way that Mom makes lunch becomes your standard. Dad would step in now and then, and we could always tell when. His loving mother made his sandwiches with butter, and that's how he liked them.
Our daughter starts kindergarden soon, so I've stocked up on paper bags and Sharpie pens in anticipation of my new role as lunch provider. It should speak to how much of an impression my mom's lunches made on me that I've been thinking about school lunch prep for over two years now. I had a spell where bento boxes filled my imagination…that, for my daughter, her swirling hearts might come in the form of rice pads or boiled eggs. One thing I have not thought about was peanut butter and jelly sandwiches.
In the United States, 1 out of 4 children have an allergy, and my daughter is one of the unlucky 25%. Her first reaction was to lemon of all things—a mild one—and then a stronger reaction to shellfish which sent us flying to the Emergency Room. She also had one mysterious reaction that we attributed to peanuts and, when we had her tested for lemon and shellfish, we asked for a peanut test. She came up sensitive to all three, so we went home and, with regret, tossed out our jar of Jif. In the hopes that she would outgrow her sensitivities, we've had her tested annually; and, fortunately, she has grown out of two of them. The lemon sensitivity waned quickly, and the peanut faded as of this year. For peanut sensitivity, she had a skin test, then a blood test, and finally Friday we opted for a controlled tasting.
We showed up to the hospital on Friday with my girl cheerful by my side until we reached the allergy clinic. She knew this clinic and had no good opinion of it. She knew it's where they administer shots. I naively reassured her that we were there to eat peanut butter, and so there would be no shots. She remained skeptical and rightfully so. When I asked the doctor if he could reassure her, he could not. They wanted to set her up with an IV shunt, so they could respond immediately to any reaction. We were both horrified—me at the unforeseen necessity, her at the confirmed fear—but my girl bravely contained her horror as they missed her tiny veins twice with a rather large needle. The nurses called in reinforcements and soon the medical center's best arrived pockets full of IV shunts with assorted needles. The lead nurse asked my daughter about her summer adventures and, after a lot of practiced prodding, found a good vein. My daughter approved the needle that the nurse inserted and pronounced its stick like a mosquito's. Whew. After so much fuss over the IV, she thought we might be done, but that was only the first hour of three. Fortunately, the rest of our time went uneventfully and, in between screens of Cut the Rope, she was able to eat two tablespoons of peanut butter in stages with no adverse reaction.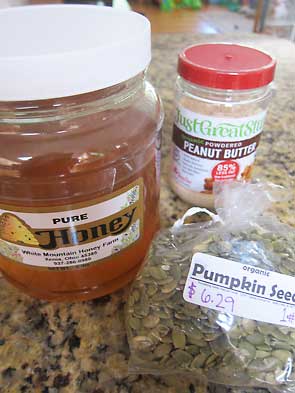 Now peanut butter sandwiches are most decidedly in our future. Interestingly, the doctor recommended that we include peanuts in her diet twice a week to keep the sensitivity from returning. We came home—she was satiated, I was starving. In checking the shelves, I came across a jar of powdered peanut butter. I discovered this product at the checkout counter of Starflower Natural Foods, 142 Dayton Street, as another customer purchased it. Owner Marnie Newmann said powdered peanut butter had been flying of the shelf since Dr Oz recommended it. I've had a distant relationship with peanut butter since the great peanut butter recall of 2007 when, 16 weeks pregnant, I got sick from a bad batch of buckeyes. Oof. But I like this product. It's good peanut butter—less sweet than Peter Pan or Jif and easier to get to than natural brands whose paste and oil tend to separate. Plus, mixing the powder with water makes me more serving conscious.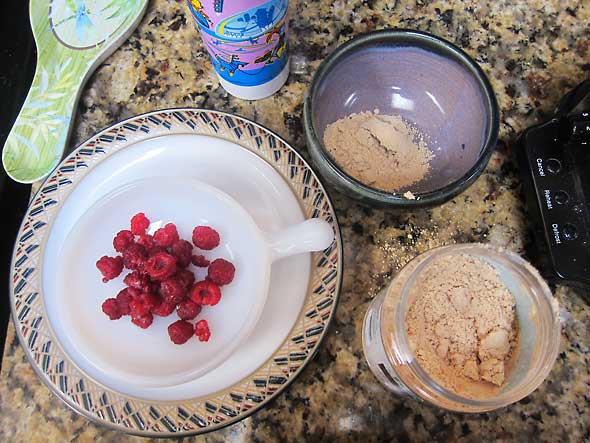 For my lunch, I made an open faced sandwich of English Muffin, peanut butter, fresh raspberries, and assorted seeds. This snack was a great favorite of mine before 2007, and it made a happy return yesterday. My daughter had understandably had her fill of peanut butter and opted for quince jam. "Everything is better with sprinkles, " she told me adding poppy seeds to the top of her toast. I got the works: Pumpkin seeds, poppy, caraway, and fennel. We topped my seeds with a drizzle of honey and then dug in.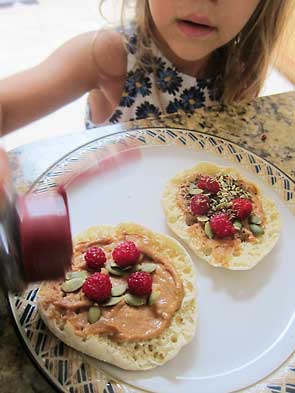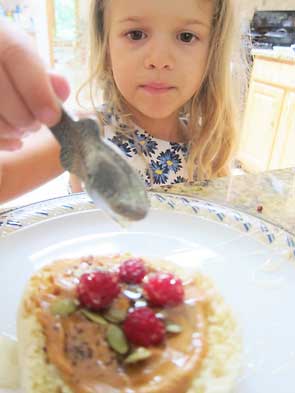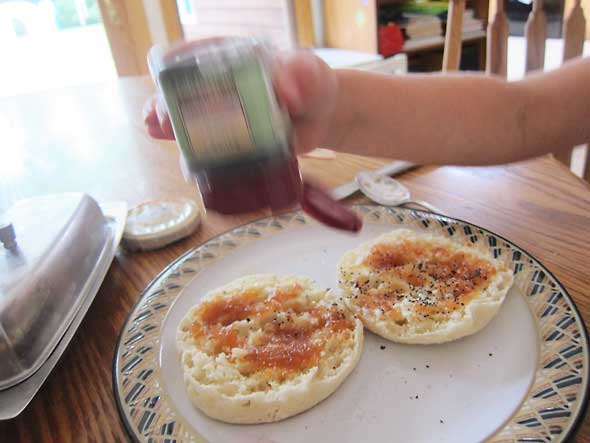 The raspberries came from Homestead Berry Farm, 5427 West Enon Road, where we had handpicked two pints on Wednesday. The bees were busy pollinating new flowers on branches already heavy with raspberries in various stages. My daughter happily hummed along and sang a song about how fun it was to pick berries. She reminds me of how much I enjoyed going out to the strawberry fields near home teasing the farmer that he needed to weigh us along with our baskets before we headed out to pick. Here is one of the joys of parenthood: how the magic of my children's first encounters bring me back to the old favorites and simpler days of my own childhood.