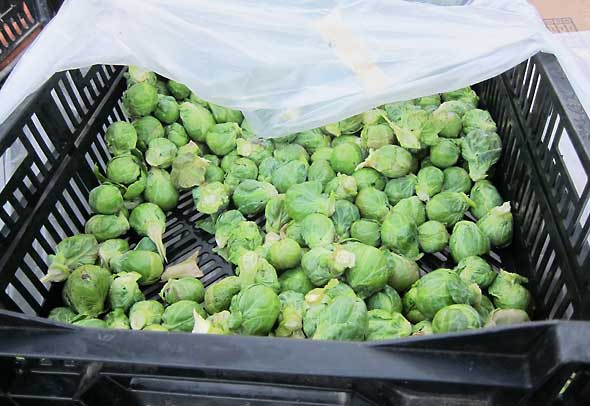 At this morning's farmers market, I was like a kid in a candy store. In a way, I was. The root vegetables of the season are sweet from ripening in colder temperatures. The carrots from Flying Mouse Farms were an amazing orange, and I could almost hear their crispness just looking at them. I gathered a handful along with salad greens and kale. At Anderson Farms, I took up fresh broccoli that the kids will love and golden cauliflower that will surely cross their eyes.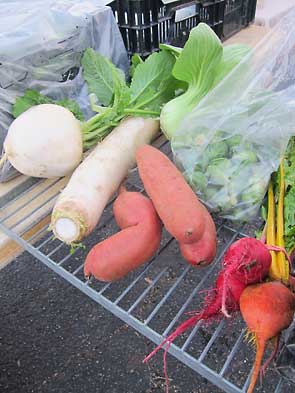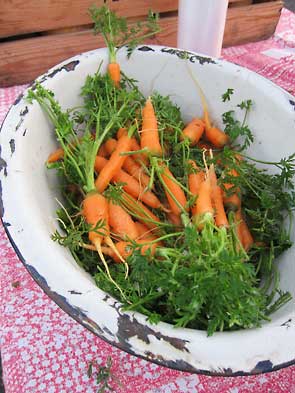 I turned next to Peach Mountain and rejoiced at their harvest of brussel sprouts. The vegetable is easy to grow, but their season is fleeting and their harvest labor intensive. They arrive just in time for the Thanksgiving table although Doug says he's been eating them daily since they've matured. I load up a bagful adding several varieties of radish and potatoes.
A Springfield woman and I got into a conversation with Michele Burns of Flying Mouse Farms. We had just both signed up for weekly notices from the farm in the month of December. During that month, the farm will send out a list of what is ripening and, then on Friday afternoon at 4pm, customers can come to the farm to pick up what they want from those offerings. The Springfield woman asked how long the farm was going to keep harvesting and she marveled at Michele's reply, "All winter". I chimed in here and added that several local farmers had invested in greenhouses, and the demand for fresh winter greens within the village could support more.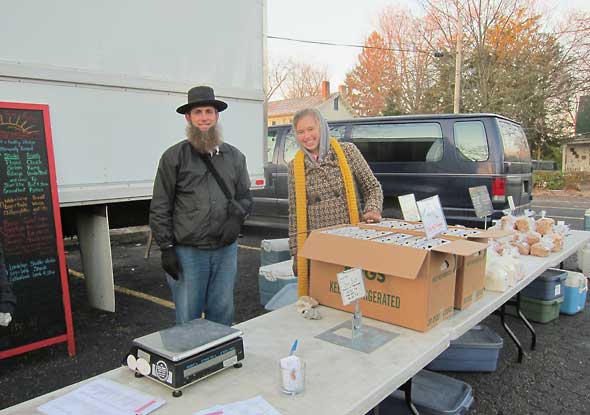 The woman from Springfield and I discovered that we had a common interest. She had heard Warren Taylor of Snowville Creamery speak passionately about wholesome food systems, and she was excited about his advocacy for local investment in our region. I am also passionate on the subject as one of my roles in the Yellow Springs Winters Farmers Market is recruiting new produce vendors. In addition to enlisting local farmers to the cause, this year I've been checking out Slow Money. Mr Taylor is active in the newly formed Slow Money Central Ohio.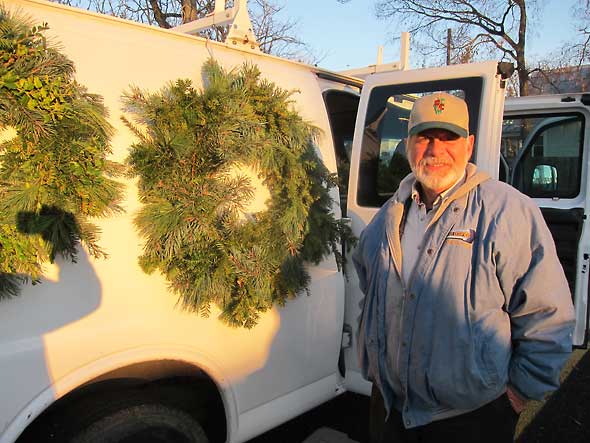 The chapter meets monthly at Till—an amazing restaurant dedicated to dynamic fare—and just this last Thursday discussed an investment in irrigation for a Granville farm. Yellow Springs has all the raw resources to start a Slow Money chapter, the only question is if there is sufficient sustainable interests.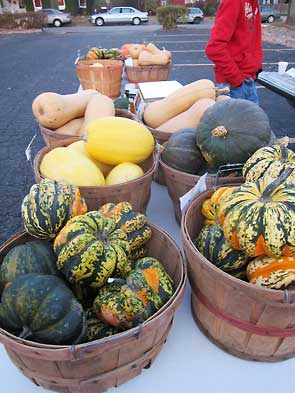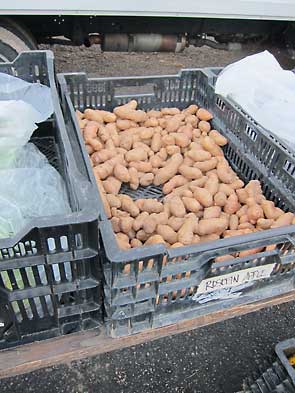 The bustle of the Yellow Springs Farmers Market was just getting started as I left. At 8am, Dale Filburn began selling his fresh turkeys to a growing line of customers. Most have been preordered, but he has several fresh whole and half turkeys for sale. This year, I brought home a 24 pound bird…by far my most ambitious. I bought my first fresh turkey from Mr Filburn four years ago. After seeing a steady stream of regular customers come for their turkey at the Saturday market before Thanksgiving, I got in line myself and brought home a 14 pound half turkey.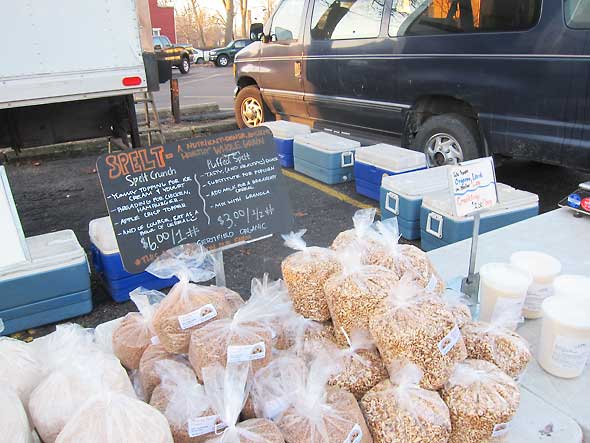 That night I trussed up the turkey with some difficulty while my husband looked on skeptically. Once bird came out of the oven and he tasted it, his conversion was instantaneous. On the spot, Jermey pronounced the establishment of a new family tradition: the Pre-Thanksgiving Feast.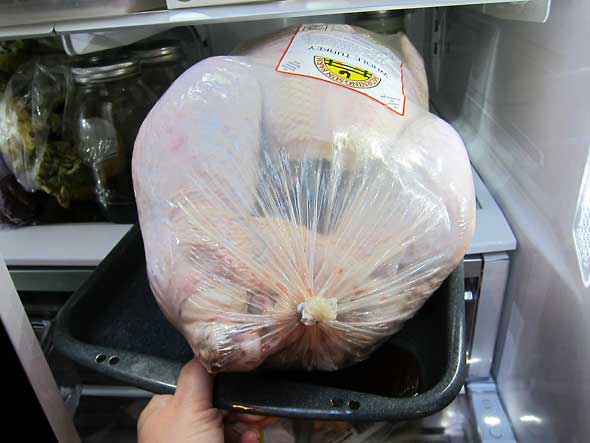 The next year we invited two families, the following year three families, the next year, four. At today's annual feast, we will gather 24 guests. Over the next week, we will disperse far and wide to spend Thanksgiving with our extended families, but the Pre-Thanksgiving Feast is for friends. Certainly, we are grateful for the amazing people we have met since settling in Yellow Springs. Now I go to cook for them.